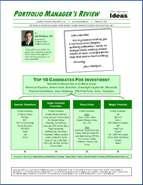 We are pleased to provide
an excerpt of the latest issue
of
Portfolio Manager's Review
, the acclaimed monthly publication for serious investors. In the new "Magic Formula Issue,"
The Manual of Ideas
research team takes a look at 100 companies scoring high on the dual criteria laid out by superinvestor Joel Greenblatt. We profile 30 companies and highlight the Top 3 investment opportunities.
The report also includes an exclusive interview with up-and-coming fund manager Brian Gaines of Springhouse, an investment fund that was seeded by Joel Greenblatt's Gotham Partnership and has achieved annualized net returns of 17% since inception in 2002.
The following is the editor's commentary in the latest issue of Portfolio Manager's Review:
The "magic formula" has been good to us. Last November, we published a report profiling 100 companies that scored high in terms of "cheapness" and "goodness," based on criteria laid out in Joel Greenblatt's The Little Book That Beats The Market. We highlighted ten of the 100 profiled companies as particularly attractive in the context of the "magic formula" screening methodology.

Not only have those ten selections trounced the broader market indices and other magic formula stocks, but the reception of the inaugural report set us on an exciting path of growth. Some of the world's top investors now rely on Portfolio Manager's Review in their idea generation processes.

Performance of Top 10 "Magic Formula" Stocks Featured in Inaugural Portfolio Manager's Review (published on November 20, 2008)*




In this issue, we profile 30 magic formula stocks—companies whose operating income is high relative to both enterprise value and capital employed in the business. The list of companies scoring high on these dual criteria has changed considerably since late last year, so it's once again time to look for new opportunities.

As we worked our way through the latest screen results, we found, perhaps not surprisingly, that today's magic formula selections as a group are less compelling than stocks passing the magic formula screen in November 2008. Prospective returns from the companies in this issue should be materially lower than the historical returns shown in the table above. Nonetheless, the companies highlighted herein strike us as quite a bit more interesting than the average S&P 500 stock. As a result, magic formula stocks remain a "must-consider" group.

The following three companies deserve closer attention:

Company A (name disclosed in Portfolio Manager's Review) is an Asian online gaming company with a strong balance sheet, trading at an attractive 15% trailing EBIT-to-EV yield. While the company has disappointed growth investors' aggressive expectations this year, EPS is projected to increase from $0.40 in 2009 to $0.62 in 2010. With the stock at $5.18 per share, the company is selling at less than 10x earnings (even without adjusting for net cash). The company retains ample growth opportunities and appears well-positioned to exploit monetization platforms such as Everest Poker, a leading global poker site. The shares offer a compelling risk-reward tradeoff, in our view.

Company B (name disclosed in Portfolio Manager's Review) is a niche player providing database management software to small and medium-sized businesses. The company has a strong balance sheet, with close to one-half of market value in net cash. Insiders own almost 20%, with aggressive share repurchases signaling a high regard for shareholder value. The company landed its biggest deal in history earlier this year and is expected to grow earnings, yet the shares trade at a 14% EBIT-to-EV yield. With ample opportunities for incremental value creation, both operationally and financially, we view Company B as meaningfully underpriced.

Company C (name disclosed in Portfolio Manager's Review) is one of the leading defense contractors in the country, with revenue diversified across a variety of programs. The shares trade at a 15% EBIT-to-EV yield—quite low for a strong player in a market with high barriers to entry. EPS is estimated to increase from $4.78 in 2009 to $5.06 in 2010, putting the shares at less than ten times earnings. While investors may be worried about the trajectory of the government's defense spending, we continue to live in an uncertain world that should demand considerable military expenditures for a long time to come (unfortunately).

We also draw your attention to the following five magic formula stocks: Company D (name disclosed in Portfolio Manager's Review) is a drug maker owned by Bruce Berkowitz. The company has a 2012 patent expiration issue, but the shares may be too cheap to ignore at eight times forward earnings (unadjusted for almost $3 billion of net cash). Company E (name disclosed in Portfolio Manager's Review) essentially trades at an enterprise value of zero, yet owns a global cement plant engineering business with material normalized earning power. Company F (name disclosed in Portfolio Manager's Review) may be the cheapest large-cap pharma stock, trading at delevered multiples of eight times 2009E earnings and seven times 2010E earnings. Bruce Berkowitz, David Einhorn and Dan Loeb hold substantial investments in the company. Company G (name disclosed in Portfolio Manager's Review) is a niche services firm that helps retailers, wholesalers and the government save money by auditing transactions and recovering overpayments. While the company's retail customers may be reluctant to engage any service providers, Company G provides high ROI to customers. The shares appear overly cheap at an EBIT-to-EV yield of 22%. Company H (name disclosed in Portfolio Manager's Review) is one of the leaders in the somewhat insular electronic design automation (EDA) software industry, which serves the global semiconductor sector. Long-term growth opportunities and a relatively wide moat for a technology company make the shares a potential bargain at 11% trailing EBIT-to-EV and 13x forward earnings.
Some of the world's most successful investment managers rely on Portfolio Manager's Review in their idea generation processes. Shouldn't you?
Subscribe
today
.


Past performance is no guarantee of future results. For full terms of use, visit http://www.manualofideas.com/terms.html

Ownership disclosure: Long PRXI.