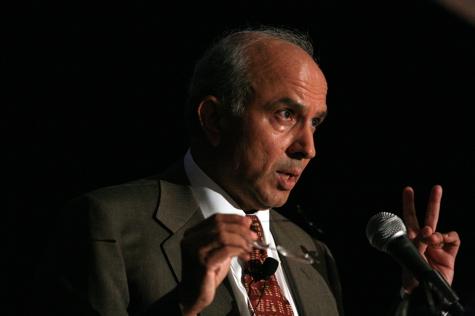 Diane Francis of Canada's Financial Post recently spoke with Prem Watsa, chairman and CEO of Canadian insurer Fairfax Financial (FFH). Watsa is one of the savviest long-term investors in Canada (and beyond); those who know him well compare him to Warren Buffett. Over a period of more than two decades, Watsa has amassed an impressive investment and value creation track record at Fairfax. Here are highlights of his interview with the Financial Post:
Q: One commentator noted that Fairfax's stock has declined by 3.4% this year, why?
A: "We are long-term investors and our company is a long-term investment. Short term fluctuations are market driven and not value driven. We began in 1985, 24 years ago, with US$30 million in assets and about US$7.5 million of shareholders' capital. Today, coincidentally, we have US$30 billion in assets and US$7.5 billion in shareholders' equity. That's up 1,000 times. Our per share book value has grown from US$1.50 to US$372. Our stock price has gone from C$3.25 to between C$375 and $390 a share. These are all long-term results."
"We are thankful for our track record. More recently our book value in 2006 was US$150 a share and now, as of end of September, it is US$372 a share, more than double and the stock price has naturally followed suit. Over time the book value and the stock price tend to go together."
Q: You are in India today, and were born there, how is it doing?
A: "The Indian economy has come back up in spades. This country has recently built the interstate road system which took forever because of their bureaucracies. Now, however,economic development is spreading out of the biggest cities like it did in the United States one hundred years ago. India is looking at growth of 8% - potentially even 10% - next year. Our Indian company, ICICI Lombard, was started from nothing less than ten years agowe have 26% ownership of it, and today it is underwriting almost US$1 billion. It is the largest property and casualty insurer in India and the potential is huge. Only 1% of all homes are insured."
Q: Bubbles are developing in a lot of asset classes, so what do you continue to bet long-term on?
A: "We like the stocks that we have such as Johnson & Johnson, Wells Fargo. Our thinking is that the stronger get stronger and good management will prevail. Look at the commercial/industrial mortgage problem. There are 100 regional banks in this and say they all go bankrupt. That means there's opportunities for strong banks like Wells Fargo who can buy regional or smaller banks for cheap."
Read the full interview with Prem Watsa
.
Disclosure: No positions.