In true research analyst fashion, we were buried in work today and almost missed lunch. That is, until hunger came knocking and we had to take a few minutes to place an online order with Domino's Pizza (DPF). Always fast and reliable, Domino's is the obvious choice for us (nearly) lunch-skipping analysts, always working hard to ensure our members are getting their money's worth. Domino's new American Legends pizzas are nothing to sneeze at, by the way, and we wouldn't be surprised if the company saw a bump in sales thanks to the new, more innovative product offering.
Which brings us to Domino's website. The latter sports a snazzy order tracking bar that shows exactly the stage of the delivery process at which the much anticipated pizza finds itself at any point in time. So far so good. But then, right before the pizza was taken out for delivery, the update read as follows: "DELICIOUS CHECK COMPLETE - Shaik double-checked your order for deliciousness at 2:43 PM." Wait, what? Shaik did what? An image of Shaik (last name withheld) dipping his finger into our pizza and saying "Yum!" as he licked it clean sped into our collective minds. (The pizza was no less delicious, by the way.)
So here is our humble suggestion to Domino's: Please tell your Internet product manager to go easy on the instant update bar. Drop the DELICIOUS CHECK. We won't mind.
To see what we saw today, click on the following image, then look at the text at the bottom of the image. Ready to order?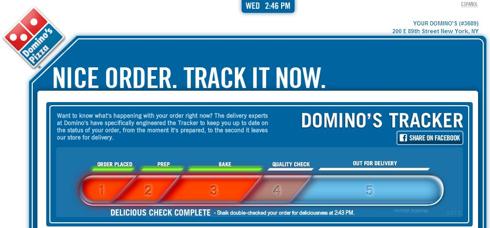 Disclosure:
No positions