International monetary fund has updated their 2012 forecast. Mostly GDP growth was increased. U.S. growth was increased from +1,8% to +2,1%. Japan growth was increased from +1,7% to +2,0%. These two markets will defiantly lead to increase. Also EU recession estimation was decreased from -0,5% to -0,3% while its main economy Germany growth was increased from +0,3% to +0,6%. UK growth was increased to from +0,6% to +0,8%. The only China estimation was unchanged at +8,2% growth. So US as Japan as predicted is the growing markets and Europe remains a decreasing market. Although China soft landing scenario seems inevitable, their growth remain more then twice the world average +3,5% so companies that has strong holding in China will continue to grow faster then others. Europe main market companies will meet with problems and decrease.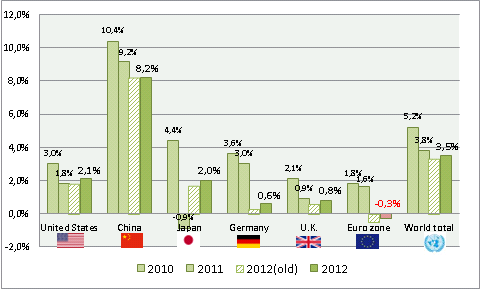 Commodity price was changed quit a lot. Mostly oil. Previously -5% price decrease during Y2012 was estimated, now its +10% since larger growth is estimated which lead to increase on demand. Other non fuel commodities price decrease was lowered from -14% to -10%. So this is good news for energy companies.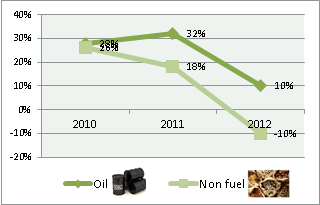 Source: World economic outlook by International monetary fund (2012 April)
Disclosure: I have no positions in any stocks mentioned, and no plans to initiate any positions within the next 72 hours.