By Harry S. Dent Jr. and Rodney Johnson, Editors, Survive & Prosper
Some people go church on Sunday… Then there's the generation of Harley Davidson (NYSE: HOG) riders who climb on their Hogs and take to the open road. That generation pushed Harley's share price up 6,428.3% between 1990 and November 2006. Unfortunately for Harley, after 2006 that same generation brought their stock prices tumbling back down.
So what next for Harley Davidson?
To answer that, we must first understand one crucial fact: demographics drive companies, industries and economies.
People follow predictable spending patterns as they age. Knowing who will be spending money on what, and how many people will be doing the spending, we can forecast booms and busts.
The typical spending cycle looks like this: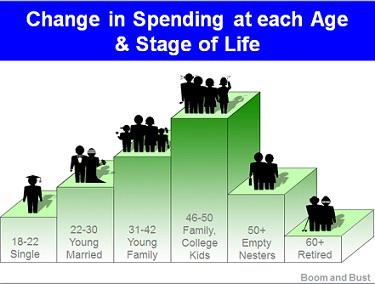 The average person gets married at 26. It's then that apartment rentals peak and shopping centers get built for all those new shoppers. Then, the average couple has their first child at 28. That's when you see a spike in all manner of baby-related products. Child care peaks five years later, when people are at age 33.
We buy our first home right after the kids are born, at age 31. As these kids get older and become teenagers, we buy a bigger home. Mortgages - the biggest debt we take on in our lives - peak around 42 years of age for the average family. But the spending continues ever after that. We pay high school tuition, peaking around 46. College tuition peaks at 50.
We know all of this by analyzing the data government collects in its Consumer Expenditure Survey, which covers thousands of people every year, in 600 categories.
How the Baby Boomers Rode Harley Davidson Up
This brings us to the Baby Boomers - the largest generation in our economy. Because they are such a large group, if we track them through the economy from when they were very young to where they are now, we can see how their demands for goods and services changed as they aged. This brings us back to Harley Davidson.
The demand for motorcycles peaks between 45 and 49. That's when the typical Baby Boomer's children were leaving home. They now had extra time. They had extra money. They were even trying to recapture a little bit of their youth. So they went out and bought a big Harley.
And Harley had taken the right steps, at the right time, to meet the increasing demand from the Baby Boomers.
It was this incredible convergence of a product people wanted with the growing number of people at the age to demand it.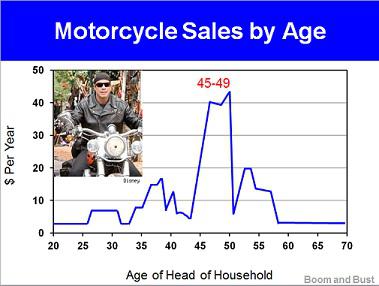 Harley Davidson rode this wave through the '80s, '90s and mid-2000s. During that time we had the first gulf war in 1990. We had the Internet bubble in the late '90s. We had the Internet bubble bursting in 2000. We had 9/11 and Hurricane Katrina. Through all of that, Harley's sales continued to ride higher, from about 60,000 bikes in 1990 to 340,000 in 2006.
Then, in 2006, Harley's sales rolled over. And it happened because it had a demon it simply couldn't beat: the demographic of their target market was shrinking. The boomers had been through their motorcycle phase. The company went from producing 344,000 bikes at the peak in 2006 to making only 220,000 bikes by 2009. That's a 35% drop in just a few years.
Why History Will Not Repeat Itself for Harley
This brings us back to why Harley Davidson will not return to the heights it enjoyed six years ago. The Baby Boomers are the largest generation in the U.S. They are moving into retirement. They are no longer in the market for what Harley sells.
The generations following the Boomers are not nearly as big. They are not yet at their peak spending years of 46. And they want different things to what their parents wanted when they were snapping up Harleys.
So Harley must find new markets. And it's doing that by looking to the East and the Pacific Rim. It's looking to women. In doing so, it will grow. It will survive and prosper. But, without a new generation as big as the Baby Boomers, Harley's growth will always be limited.
We discuss the challenges that Harley faces ahead, and how you can use this information to forecast the rise and fall of other companies, industries, and the economy in general, in a three part video series. You can view this video here.
If you're looking for explosive investments, Harley is not the company for you. But by analyzing simple demographic trends, we'll look at what sectors are primed for growth in the years ahead.