I have recently seen quite a few posts / comments severely critical of Cisco, because the stock has not performed well at all in the last decade, which is true.  CSCO has not rewarded investors with dividends and the stock has fluctuated between around 13 to around 33 dollars.  The majority of time, it was it was trading in the 18-26 dollar range.  So, naturally, everyone is down on the stock.  However, I think we are coming up on a really great opportunity to buy this stock. I am noticing some large cap companies, who used to be more growth plays, whose P/E ratios have steadily decreased for the last decade...such as Microsoft (NASDAQ:MSFT), Wal Mart (NYSE:WMT), etc.  Consequently, although they have performed well in terms of their business execution, stock price has been blah. 

Below is Cisco's chart for a decade with corresponding P/E ratio's and EPS growth for the same period.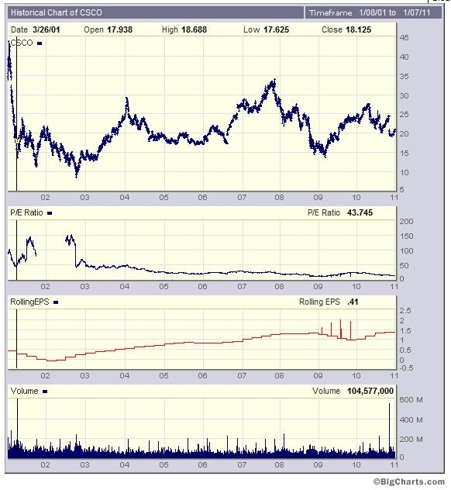 As you can see, this is not a good looking chart in terms of price appreciation or any strong trend.  Ordinarily, I like charts that more or less move up in pace with EPS growth or divident growth.  I guess I am just conservative like that.  However, with Cisco, people who bought in 2002-2003 never had any appreciation because they bought at a P/E of nearly 150!  Wow.  Even after the dip, people were buying at p/e of 60.  Still very high.  Since then, the company itself has performed great in terms of growth. 

Cisco is a dominant player its market, no doubt.  Juniper (NYSE:JNPR) and Alcatel-Lucent (ALU) are the other competitors.  I am no expert on the future mind you, like SOOOOO many of soothsayers seem to be on Seekingalpha, but I have to think the world is only going to continue to be more networked and need more Cisco products.  Right?  All you can do is assess probability in life, and I think I am probably right. 

So here is what I am thinking:  At some point Cisco's P/E will probably complete its contraction phase and become more range bound like a mature company and as EPS grows, the stock price will then begin to move up in unison with EPS.  I mean, I think this is a reasonable prediction.  I wish I had a lot of examples of this happening, so if you do or disagree, let me know.

Right now, per finviz.com, Cisco's free cash flow per share is under 12.66.  I mean, I could not even buy an apartment complex in Atlanta that cash flowed like that.  Mind you, cash flow doesn't necessarily mean an increase in stock price, but it does mean they can buy companies and grow. 

Furthermore, take a look at the shares outstanding over the last 7 years.  I got this from AAII stock screener: 





Cisco is reducing shares outstanding and is going to implement a dividend, which will potentially smooth out the stock price.  Its BV per share is growing nearly low double digits on average, which I like to see along with revenue that grows while outstanding shares decrease.  

So what could go wrong? 

Timing this idea of mine is what could go wrong.  Take a look at the three year chart...I don't think it is looking so hot?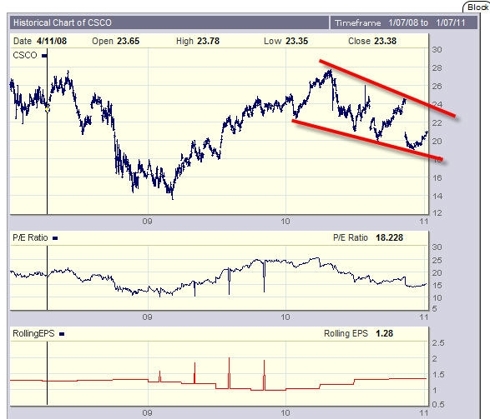 Here is a one year chart: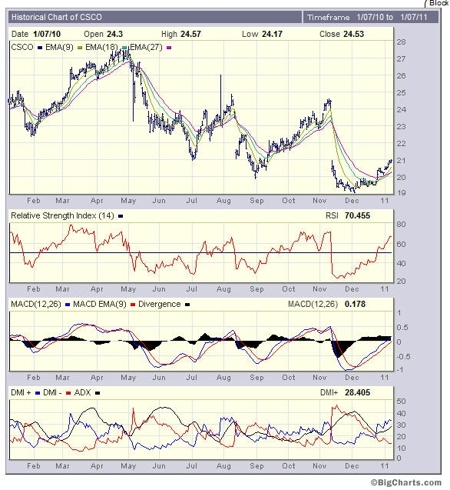 I think Cisco may get to $23 per share, after which the price may come down again.  If it does, and the price either begins to consolidate and or breakout out of the current down trend, I believe I will buy shares.  I already sold puts in December when the price was at $19.50 with a January 22nd strike price of $19, hoping that I would either make the money or get the shares and ride the price back up.  At the time, Cisco had poor earnings news, and the RSI went nearly to 20, which I don't think had ever happened in 10 years and the MACD was crossing over favorably.  It was only 2 contracts, but I wanted to give it a try.

Anyway, what else could go wrong?  I don't know, another stock market crash, but besides that, the only thing I don't like about Cisco is that the ROA and ROE ratios  have decreased in the past two years, which could signify increased competition?  I think this is something to keep a watch on.  Also, I think the economy is going to pick up and demand will pick up again for Cisco's products.  Over the long-term I am not really worried about that.  

Overall, my main point is this: I don't think the P/E will go below 12 on this, not with the future growth in technology and the internet. At some point, the P/E will finish shrinking and it will begin to go up in conjunction with EPS growth.  So, I think this is a great long-term play if you get in at the right price.  If possible, and unless something changes, I will look for a time to purchase Cisco shares with the hope of appreciation and dividends.  

Lastly, I am mainly writing this for my own edification, because I like writing / investing, and my job is really boring.  However, please let me know what you think.  I value constructive criticism and feedback.