Insider Cluster buying Pluristem Therapeutics Inc (NASDAQ:PSTI)
Pluristem Therapeutics Inc. is a leading developer of placenta-based cell therapies. The Company's patented PLX (PLacental eXpanded) cells are a drug delivery platform that releases a cocktail of therapeutic proteins in response to local and systemic inflammatory and ischemic diseases. These diseases collectively cost the U.S. healthcare system tens of billions of dollars. PLX cells are grown using the Company's proprietary 3D expansion technology and are an "off-the-shelf" product that requires no tissue matching prior to administration. Pluristem has a strong intellectual property position, Company-owned, GMP certified manufacturing and research facilities, strategic relationships with pharmaceutical companies and major research institutions, and a seasoned management team.
Cluster Insider Buys
From September 16 to September 22, Pluristem Therapeutics' CEO, CFO, COO and Directors bought 66,228 shares of PSTI. The purchase price range is $2.75-$2.96.

Pluristem Therapeutics 52 week range is $2.58-$4.63. Latest Insider buys of Pluristem Therapeutics before this September was in December 2010. It is the first time for so many Insider buys in same month. It is usually a good sign for the stock.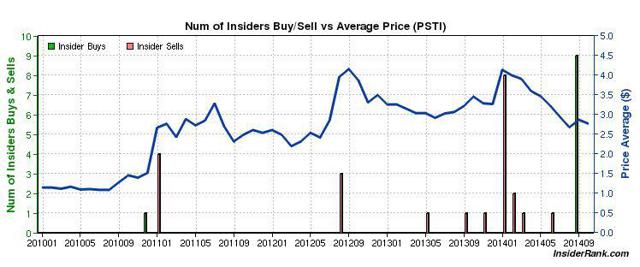 From the insider trading history of CEO Zami Aberman, he sold the stock at almost historical high in January 2014 and August 2012 at $4.29 and $5 respectively.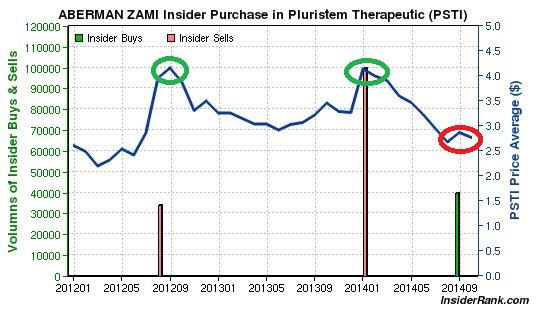 The table below shows the selling performance of the CEO Zami Aberman.

Product Analysis
PSTI is currently pursuing the development of its PLX cells for 12 different indications that are in various stages of development, from preclinical to Phase II, throughout the world.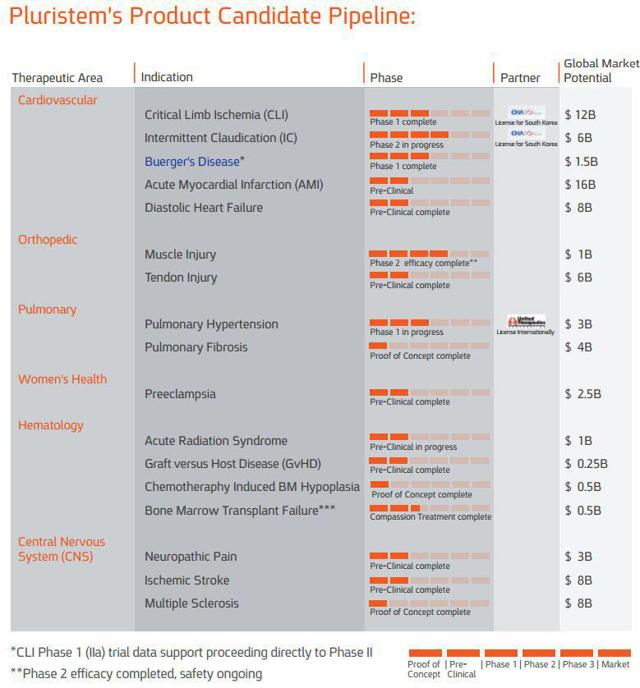 The company's proprietary 3-dimensional cell growth methods and manufacturing facility have an estimated $1 billion worth of production capacity per year, setting PSTI apart from the rest of the cell therapy market.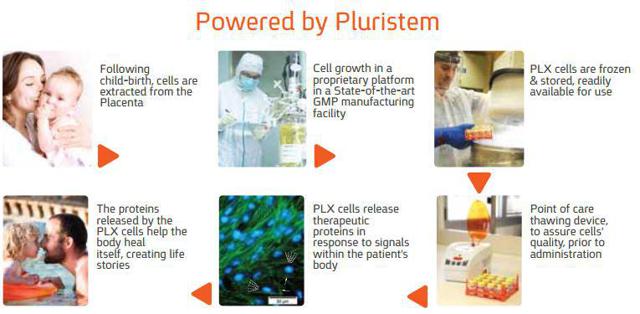 United Therapeutics has licensed the exclusive global rights to PLX cells for the treatment of pulmonary arterial hypertension (NYSE:PAH) in a deal valued at over $55 million.
CHA Bio&Diostech has licensed the rights to PLXcells for the treatment of peripheral artery disease (PAD) in South Korea,with deal terms including a 50/50 joint venture, CHA covering all costs of clinical trials and subsequently sharing post-commercialization profits equally with PSTI.
The U.S. National Institutes of Health are working with PSTI on a development program for PLX cells in the treatment of acute radiation syndrome (NYSE:ARS).
Risk Analysis
PSTI does not have marketable products with associated revenues.
Larger, later stage clinical trials may not produce results that are favorable as the company's pre-clinical and earlier stage trials.
Competitive risk: Several companies are developing cell therapies that are in various stages of clinical development. One or more of these companies may come to market with a cell therapy to treat one or more of the indications for which PSTI currently has therapies in development.
Disclosure: The author has no positions in any stocks mentioned, and no plans to initiate any positions within the next 72 hours.
The author wrote this article themselves, and it expresses their own opinions. The author is not receiving compensation for it. The author has no business relationship with any company whose stock is mentioned in this article.