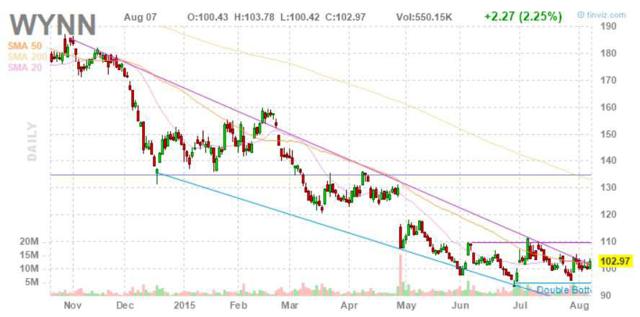 Why not head out to Las Vegas for a little R & R? While you are there check out Wynn Las Vegas resort. Owned by Wynn Resorts Ltd. (SYMBOL: WYNN), the resort has a large portfolio of hotel rooms and gambling facilities. Wynn Resorts also has a destination resort in China.
You have got to be kidding, right? Both the fundamentals and technical for Wynn Resorts are terrible. For the quarter, net revenue declined by 26% and net profit fell by 72%. The dividend payout is 144%! What is to like about this company?
Disclosure: I/we have no positions in any stocks mentioned, and no plans to initiate any positions within the next 72 hours.