AFTER
Monday's strong rebound in all the indices, it's time to take a look at the two recent additions to the model portfolio to determine whether further buying may be warranted. 
Atheros Communications (
ATHR
)
develops wireless and networking systems using radio frequency (NYSE:
RF
), mixed signal and digital semiconductor designs for chips used in mobile devices, PC's, networking equipment, etc.  With the growth in wireless communications, we like the industry space, and ATHR is well positioned in it. 
First quarter revenue more than doubled to $214.7 million
from $87.9 million in the same period last year.  Earnings were
27 cents
per share, compared to a 12 cent loss per share in the first quarter of 2009.  Shortly after the quarterly earnings announcement on April 19th, analysts increased ATHR's 2010 earnings estimates
from $2.11 to $2.54
.   This was on top
of estimate increases from $1.70 to $2.13 just three months ago.  
There are two key fundamental reasons why analysts have been underestimating
Atheros 
revenue and earnings growth over the last three quarters.  First, the company has been gaining market share for chips that go into Bluetooth wireless technology for PC's and handheld GPS devices. Second, and more importantly, the expansion of new Wi-Fi consumer products, such as as e-readers, tablet computers and new gaming devices, have increased demand for the Wi-Fi chips.  This broadening of the end market for the chipsets that 
Atheros
designs and produces has produced the kind of revenue growth that has enabled the company to keep its gross margins stable at
49%,
despite heady competition from Broadcom (
BRCM
) and Marvell (
MRVL
).
An unknown is how the company's new
Powerline communications
(PLC) technology will affect results going forward.  While the PLC technology presently contributes less than 10% of
Atheros'
top line, revenue from this segment of the business has more than doubled since the beginning of the year.  PLC uses existing electrical wiring and outlets in a home or business to connect PC's, broadband modems, set top boxes, gaming consoles, audio/video players, flat screen displays, security cameras and other electronics devices. In effect, every electrical outlet becomes an Ethernet jack or network connection point, without adding any new wires. In 2009,
Atheros
came out with the first PLC chipset--the AR7400--that complies with IEEE standards.  By installing the
Atheros
chipset, a consumer can make every room HD-compatible. A critical factor will be the extent to which
Atheros
can
encourage installation of its PLC chipset by service providers
such as cable, DSL and satellite companies.  Should Atheros succeed in getting their chipset adopted as the standard by one or more heavyweight providers, the business could be a goldmine for the company. 
Presently the stock is priced at a
PEG 
ratio of
.64
with a
foward PE
of
14
.   At a 19x forward earnings, the stock valuation is $49.  On a fundamental basis, the stock looks cheap.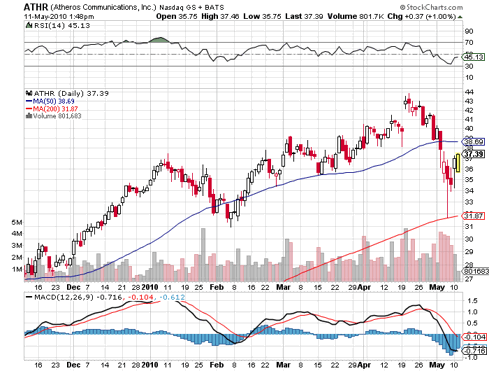 The technicals are shaping up nicely.  
ATHR
bounced off its 200-day moving average on May 6 ("Freaky Thursday"), and the stock is just under its 50 day moving average of $38.69.  Watch for a penetration to the upside of that level in the next few days.  If the stock can breach that level on decent volume, it means the uptrend remains intact and further buying is warranted.
First Trust ISE Revere Natural Gas Fund
(
FCG
) is an equity
ETF
that seeks to match the performance of the
ISE-Revere Natural Gas Index
, a benchmark of companies that derive a substantial portion of their revenues from the exploration and production of natural gas.  As such, the ETF doesn't exactly track the price of the commodity, but it's a great option for those who don't have the expertise to play the futures market or the knowledge to pick individual gas players.  With
natural gas
prices at multi-year lows, and
the ratio between natural gas and oil prices wider than ever
, the general bet here is on an eventual recovery in natural gas prices.  Such recovery, when it happens, will be magnified in the earnings of the companies that comprise the ETF.  That being said, it will take time for prices to recover.  
The recovery in natural gas prices that some analysts predicted last year has yet to materialize.  On May 6, it was reported that at the New York Mercantile Exchange (NYMEX), the futures contract for June delivery at the Henry Hub settled at $3.991 per MMBtu, declining by $0.24 or about 6 percent since the prior Wednesday.  A review of natty gas prices over the past year shows strong support at the $3.95 per MMBtu level.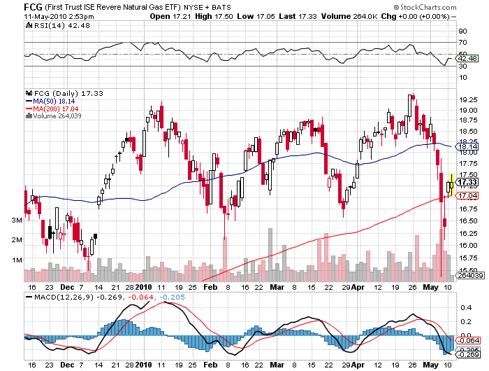 So far,
FCG
has stayed above its 200-day moving average. Over the past year, whenever the price of natural gas has fallen under 
$4 per MMBtu
, we've found an attractive entry point for FCG,  Until the fundamentals start showing signs of improvement, we view 
FCG 
as a
short-term play.  Buy in
 at as close to
$17
 as possible, with a (mental) stop at $16.70 and a sell limit at around $19. 
Disclosure:
Long ATHR, FCG
Disclosure:
Long ATHR, FCG