SPAIN'S PAIN IS ASTUR GOLD'S GAIN
By Metal Investment News
Last week Spain's debt rating was lowered two levels to BBB-, one level above junk, by New York-based S&P. Spanish general unemployment is 25%, and 51% for youth. The government has requested a 100-billion euro ($129-billion) bailout. S&P assigned a negative outlook on the nation's debt.
But gloomy economic conditions in Spain are favourable for an innovative gold company offering investment and long term jobs.
Astur Gold (AST-TSX) has a 100% stake in the Salave Gold Project near Tapia de Casariego, Asturias, Spain. By Barrick (ABX-NYSE) or Gold Corp (G-TSX) standards, Salave is not a huge project, but for the 3,900 people who live in Tapia, it'll be a life changer.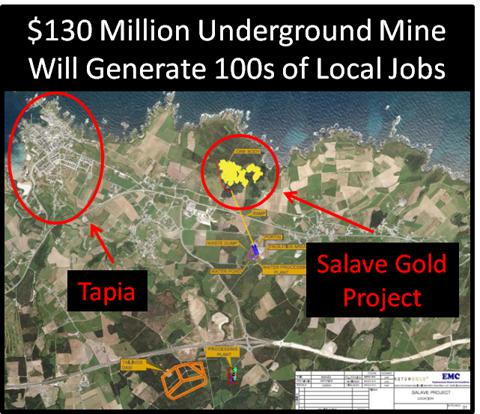 Construction of the mine will create 850 jobs. Once operating, the mine will generate 250 direct jobs and another 250 indirectly. Astur Gold will pay a royalty of 3% of the capex of the mine to the town of Tapia, which will wipe out about half the town's debt.
Astur Gold CEO, Cary Pinkowski has created a lucrative niche applying Canadian Social Licencing techniques to stalled European projects.
"Four years ago, we anticipated that Europe was going to begin a program of money printing, inflating the price of gold, and create a political environment conducive to permitting and mining," states Pinkowski, "Our strategy was to acquire the highest grade project we could. Most of the good assets are close to towns. It's urban mining. We don't mind community relations challenges, because this is one of our strengths".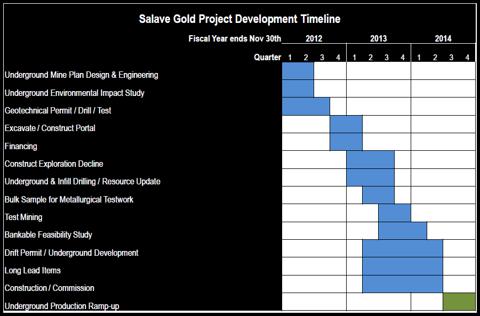 Salave project drill highlights include: 37 meters of 16g/t, 22 meters of 38g/t, 18 meters of 29g/t and 62m of 5g/t.
A recently completed Preliminary Economic Assessment (PEA), using an ultra-conservative baseline $1,100/oz gold price demonstrated pre-tax NPV5% of US$391 Million and IRR of 46%. Average annual cash costs of about $529/oz.
Using a more realistic $1,500/oz gold price, the pre-tax NVP balloons to $759 million with an I.R.R. of 75%.
PROJECT HIGHLIGHTS
Six concessions totaling 686ha and an investigation permit for additional 2765ha
Advanced stage gold asset with a NI 43-101 compliant mineral resource estimate containing 1.7 Million oz Au Measured & Indicated and 338 thousand oz Au Inferred
Drilling to date totals 64,377m in 430 holes (235 diamond drill holes)
Previous metallurgical tests indicate recoveries in the order of 90%
Excellent mining infrastructure in the region due to a long history of coal mining
Access to power, water, and roads
Great exploration potential with 4 principal high grade zones of gold mineralization
Open at depth and additional areas to the West that have never been tested.
Pinkowski is a roll-up-your sleeves type of CEO. He spends about half his time in Spain and estimates that he has spoken to 3,000 people who live in and around the town of Tapia.
"A project like this requires a driver," asserts Pinkowski, "You don't need a committee, you need one guy who is willing to engage with the community, listen to their concerns and provide solutions."
After 2 years of consultations, town hall gatherings and independent surveys, Astur is now waiting for a decision by the Government of Asturias to go ahead with the construction of the mine. They have received 4 bids from local Asturian companies to construct the decline. Astur Gold is shovel-ready, pending the EIA.
"Grade solves all problems" - except permitting. Pinkowski acknowledges that the support of the town is the key to unlocking shareholder value.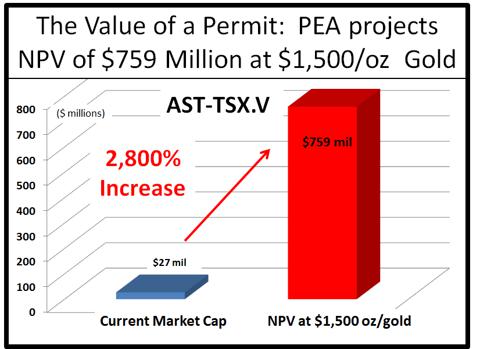 "We have 2,500 signatures on a petition," states Pinkowski, "These are people who are willing to have their signatures published in local newspapers. That's an important threshold of support. It doesn't do a lot of good to have people saying, 'Yes - I'm for the mine - but I don't want to stick my neck out.' I've made it clear from the start, that I require the support and the advocacy of the people in the town."
Astur Gold recently hosted a ceremony in Tapia for 300 graduates of its health and safety program. Community support has risen steadily to over 80%. Astur Gold has received over 7,000 resumes.
The Spanish government is planning a 7% spending cut in 2013 to health, education and welfare services. Two weeks ago, 6,000 anti-austerity protestors clashed with riot police in Madrid, injuring 32 people.
"Most of the anxiety I encounter in Tapia these days," says Pinkowski, "is people asking, 'how long do we have to wait for this mine?'"