In 2011, state-run Mexican oil giant Petróleos Mexicanos "Pemex" pumped an average of 2.5 million barrels of oil per day, down 25% from its 2004 total of 3.4 million barrels of oil. Mexico has vast reserves of oil but Pemex is losing the technology battle to multi-national companies like Royal Dutch Shell (RDS-A-NYSE), Exxon Mobile (XOM-NYSE) and BP (BP-NYSE).
An independent energy commission predicted that Mexico could become a net oil importer in the next decade if it cannot replace a drop in output from major oil fields with new discoveries. The commission observed that only 22% of Pemex's exploration projects were funded in 2011.
Mexican President-elect Enrique Pena Nieto has announced plans to open up Pemex to the private sector. Upgrades to the shipping fleet are expected to top $1 billion over the next three years. Pemex has asked the Mexican Congress to approve a $25 billion capital expenditure budget for 2013.
The mantra of partnership is already evident as BP recently announced an agreement to share technical information with Pemex pertaining to its deep-water well-capping equipment. Bechtel Hydrocarbon Technology has signed a $12.54 million deal to provide technical assistance in refining technologies and Pemex has adopted BMC Software's (BMC-NASDAQ) Business Service Management Program which standardizes infrastructure, applications and processes.
On November 5, 2012, NXT Energy Solutions (SFD-TSX.V) (NSFDF -OTCBB), an Airborne Survey Technology Company, received a $2.9 million progress payment from Pemex pursuant to its first contract with PEMEX signed on September 12, 2012.
Pemex's award of the contract was based on an extensive period of technical review, commercial review and validation and a test flight of NXT's patent pending technology.
The project had an initial value of $4.73 million, which was expanded to $5.8 million shortly after completion of preliminary SFD® data acquisition operations.
NXT Energy Solutions (SFD-TSX.V) has developed a patent pending Airborne Survey Technology, which significantly reduces the cost, time, risk and environmental footprint inherent with oil exploration.
SFD (Stress Field Detection) technology remotely identifies trapped reservoirs at the first stage of the exploration cycle. Airborne sensors detect orientation changes in the horizontal gravity field.
Competition for energy discoveries has driven companies to explore in hostile and environmentally sensitive locations where basic on-the-ground exploration is difficult, dangerous, and extremely costly.
With deep-water drilling rig rates around $400,000 per day, and the cost of a single well up to $100 million - it is vital for oil and gas companies to make good early decisions which is where SFD technology brings value for its clients.
Headline#1: Cost Of a Single Oil Well.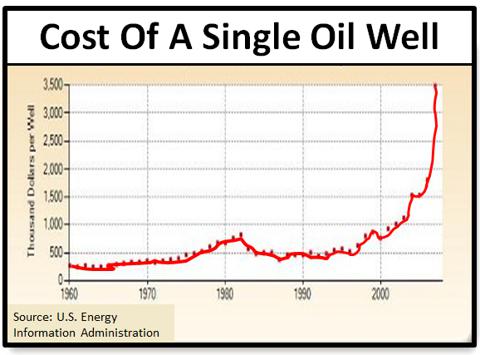 Pemex spent $2.3 billion on exploration in 2011 so the contract with NXT Energy represents only 1/400th of their total annual spend. The SFD® project covers large offshore and onshore areas. An expanding role with Pemex could itself be a company-maker for NXT which has market capitalisation of $34 million.
Current annual global geophysical exploration spending is around $12 billion. NXT's partnership with Pemex is an important milestone for the company. If the relationship goes well, expect NXT to be signing new contracts with international oil and gas companies looking to gain a technological advantage.
Disclosure: I have no positions in any stocks mentioned, and no plans to initiate any positions within the next 72 hours.