Emini S&P Outlook Week of 11/23/14
Key Economic Releases this Week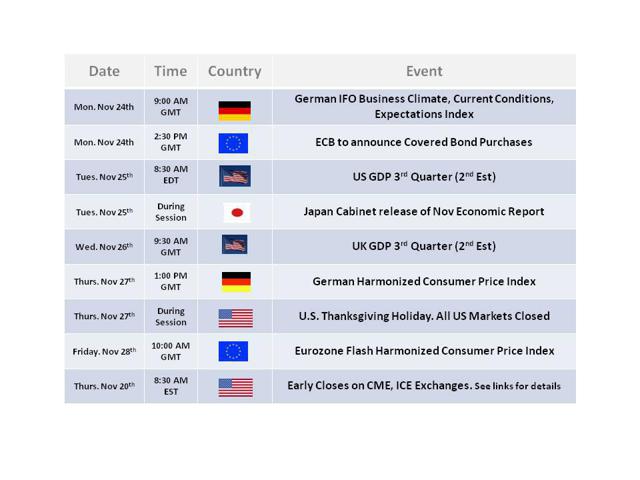 Click here for information on US Thanksgiving Schedule (CME Website)
Click here for information on US Thanksgiving Schedule (ICE Website)
The Dec E Mini S&P turbo boosted spike to the 2070 record high this week seemed predicated on the notion that bad news may bring out the best in equity markets, at least for the time being. The interest rate cut by the Chinese Central Bank & the latest ECB comments suggesting renewed dovish monetary strategies appear to be setting anticipation for the results of this latest action (global stimulus) & reaction parry (Is this going to be enough to keep global economies supporting social programs and expectations for improving living standards in the global regions most able to contribute to the upside of the world's economic picture?)
This question should be a foundation for many of the economic & political theorists going into the end of the year. Should expectations of a Pan Asian & European led round of monetary & trade stimulus come about, the tailwind supporting equity prices at these levels may become lessened if global investors do not see these resources trickle down into an economic environment of innovation support and easing of government controls. The next level of uncertainty, and this may be one that Central Banks & Governments have a harder time confronting, will be the notion that all of this stimulus will result into policies & a economic landscape that can achieve a balanced stance of policy makers & economic/business contributors & innovators.
Taking a technical look at the Dec E Mini S&P, the daily chart suggests that the market could be vulnerable to a "Buy the Rumor, Sell the Fact" pullback after the ECB announces its new round of asset purchase strategies. This could result in a somewhat tempered pullback, allowing for support levels to set up at the 2051.50 & 2048.00 levels. A close at or just below the 2048.00 level, may result in continued downside testing to a strong support level of 2042.25. Option volume in the 2040 calls appears likely to keep downside pressure limited to this range, with unexpected pickups in downward momentum limited to the 2038.00 level.
Continued momentum to test the 2082.00 initial upside target in the Dec E Mini contract may be tied to the development of strong price action, at the 2053.50. If this price range becomes significant & holds as a support level, the result could be a retest of the record highs, then moving to test the 2077.00 level before potentially reaching 2082.00. This notion appears supported by a Fibonacci measurement & Middle Keltner Channel intersection from October 21st (See Chart Below).
Happy Thanksgiving to you all. Be aware of any early closes & volatility from decreased holiday trading volumes.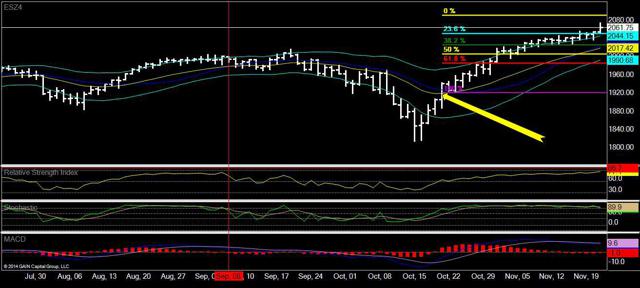 Chart courtesy of Open E Cry (A division of Gain Financial LLC)
It is our belief that a better educated trader has a better chance of being a successful trader. Sign up for free futures trading education at Commodity Trading School
There is a substantial risk of loss in trading futures and options. Placing contingent orders such as stop loss or stop limit orders will not necessarily limit your losses to the amounts intended. Market conditions may make it impossible to execute such orders.

Commodity Trading School
Richard Roscelli
Las Vegas NV 89117
702-605-4112 direct Skype richard.roscelli
877 270 8403 Toll Free

richard@attaincapital.com
Commodity Trading School is a 'dba' of Attain Capital Management
HYPOTHETICAL PERFORMANCE RESULTS HAVE MANY INHERENT LIMITATIONS, SOME OF WHICH ARE DESCRIBED BELOW. NO REPRESENTATION IS BEING MADE THAT ANY ACCOUNT WILL OR IS LIKELY TO ACHIEVE PROFITS OR LOSSES SIMILAR TO THOSE SHOWN. IN FACT, THERE ARE FREQUENTLY SHARP DIFFERENCES BETWEEN HYPOTHETICAL PERFORMANCE RESULTS AND THE ACTUAL RESULTS SUBSEQUENTLY ACHIEVED BY ANY PARTICULAR TRADING PROGRAM. ONE OF THE LIMITATIONS OF HYPOTHETICAL PERFORMANCE RESULTS IS THAT THEY ARE GENERALLY PREPARED WITH THE BENEFIT OF HINDSIGHT. IN ADDITION, HYPOTHETICAL TRADING DOES NOT INVOLVE FINANCIAL RISK, AND NO HYPOTHETICAL TRADING RECORD CAN COMPLETELY ACCOUNT FOR THE IMPACT OF FINANCIAL RISK IN ACTUAL TRADING. FOR EXAMPLE, THE ABILITY TO WITHSTAND LOSSES OR TO ADHERE TO A PARTICULAR TRADING PROGRAM IN SPITE OF TRADING LOSSES ARE MATERIAL POINTS WHICH CAN ALSO ADVERSELY AFFECT ACTUAL TRADING RESULTS. THERE ARE NUMEROUS OTHER FACTORS RELATED TO THE MARKETS IN GENERAL OR TO THE IMPLEMENTATION OF ANY SPECIFIC TRADING PROGRAM WHICH CANNOT BE FULLY ACCOUNTED FOR IN THE PREPARATION OF HYPOTHETICAL PERFORMANCE RESULTS AND ALL OF WHICH CAN ADVERSELY AFFECT ACTUAL TRADING RESULTS.
PLACING CONTINGENT ORDERS SUCH AS "STOP LOSS" OR "STOP LIMIT" ORDERS WILL NOT NECESSARILY LIMIT YOUR LOSSES TO THE INTENDEDA AMOUNTS. SINCE MARKET CONDITIONS MAY MAKE IT IMPOSSIBLE TO EXECUTE SUCH ORDERS.
Past performance is not indicative of future results. The information and data in this report were obtained from sources considered reliable. Their accuracy or completeness is not guaranteed and the giving of the same is not to be deemed as an offer or solicitation on our part with respect to the sale or purchase of any securities or commodities. Any decision to purchase or sell as a result of the opinions expressed in this report will be the full responsibility of the person authorizing such transaction.