Futures Market Commentary for Week of Nov 30th, 2014

So now the Dec E Mini S&P begins the post "OPECalypse" week with end of year data, central bank decisions and quadruple witching expirations. Under ordinary circumstances, this would likely result in an uptick in market volatility (check out the 10% plus uptick on Friday's CBOE S&P VIX index). However the persistent overbought conditions present on the daily ES chart as well as a brewing market debate on how the global response to lower commodity prices may play out…economic slowdowns driven by energy sector investment woes or reinvigorated profit margins from infrastructure, manufacturing & transportation sectors that will benefit from reduced energy input costs. Whatever the result, it would appear that the journey of price & policy discovery could at the very least result in the rediscovery of market volatility.
The picture forming suggests continued range trading for the Dec Emini with the potential for increased price downside discovery. Observation of the Dec contract inability to hold above the 2072.00 and Fridays close near support at 2066.75 suggests that the market may be poised to attempt exploration of a down range pattern. This opens up possibilities for the market to initially retest the 2062.50 level. If a high volume breach of this level occurs, momentum could increase through to 2056.00 & attempt a downside test of the 2053.50 level. A close at this level may result in continued downside follow through to support levels at 2047.50 and 2042.50. Look for a strong support level to set up initially just under the 2039.00 level. A signal of further downside tests may have a signal if ES put options in the Feb to March 1980 to 1950 strike range undergo significant activity. Continued downside momentum would likely be challenged by the 4th quarter earnings releases, so continue to be aware of trading ranges being set up as the question regarding the energy effect upon equity market momentum continues to be debated with trading capital. Monetary & fiscal policy developments from global central banks & newly Republican controlled US House & Senate will also begin to take form as well.
The upside picture for the Dec contract has not changed much, with the 2068.00 & 2072.25 levels continuing to remain as near term resistance points. A break & close of 2074.00 appears to be a likely record high for the Dec contract. Traders would likely begin to look at the March contract (normally trading at a discount to the front month) for clues on whether market upside to the 2080 range would be possible before a significant pullback were to take place.
Please feel free to offer comments at richard@attaincapital.com
ESZ4 Daily Chart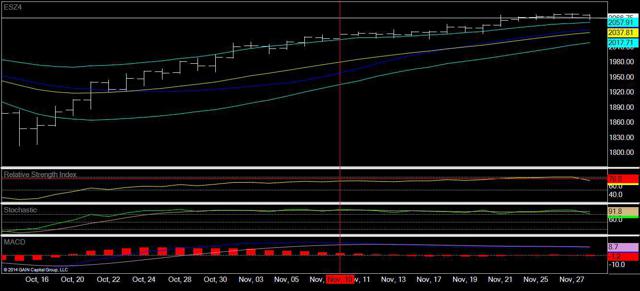 ESZ4 4 Hour Chart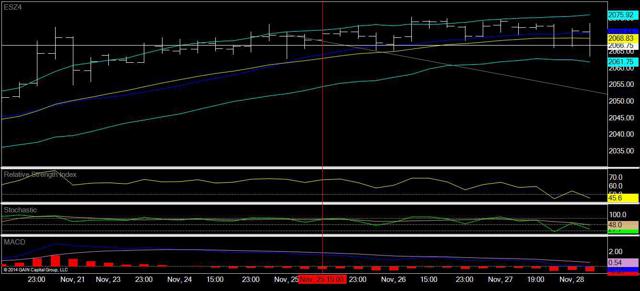 Chart courtesy of Open E Cry (A division of Gain Financial LLC)
Please feel free to contact me with any questions or feedback. E-mail me at richard@attaincapital.com for information about futures trading & managed futures. For Wealth Management services, email rich@cathayconsultants.com
About the author-Richard Roscelli has been a member of the futures industry since 1994. His unique background in the Global Futures markets stems from his experience managing trading desks and providing market analysis for major financial institutions and commodity trading advisors.
After earning an MBA in Global Business, Richard is a co branch manager and licensed commodities broker with the Las Vegas branch of Attain Capital Management, a multi service futures brokerage firm. He is also a registered investment advisor with Cathay Consultants Ltd and contributes regularly to financial websites regarding alternative investments, financial planning, & trader education.
References
**The information and opinions contained herein comes from sources believed to be reliable, but are not guaranteed as to accuracy or completeness. The risk of loss in trading futures and/or options is substantial. Each investor must consider whether this is a suitable investment. When trading futures and/or options, it is possible to lose more than the full value of your account. All funds committed should be risk capital. Past performance is not necessarily indicative of future results.
*Investment advisory services offered through Cathay Consultants Ltd, a Registered Investment Advisor. Cathay Consultants Ltd is a fee-only registered investment advisor in accordance with the Investment Advisor's Act of 1940 and is registered with the Nevada Secretary of State. The fees we receive are for the advice and management that we provide. Please refer to our Form ADV Disclosure Brochure for complete details concerning our advisors, compensation and the services which we provide.
Attain Capital Management Company Disclaimer:
This material has been prepared by a sales or trading employee or agent of Attain Capital Management and is, or is in the nature of, a solicitation. This material is not a research report prepared by Attain Capital Management Research Department. By accepting this communication, you agree that you are an experienced user of the futures markets, capable of making independent trading decisions, and agree that you are not, and will not, rely solely on this communication in making trading decisions.
Commodity Trading School is a dba of Attain Capital Management, LLC.
Trading futures and options involves substantial risk of loss and is not suitable for all investors. Past performance is not necessarily indicative of future results.
The risk of loss in trading futures and/or options is substantial and each investor and/or trader must consider whether this is a suitable investment. Past performance, whether actual or indicated by simulated historical tests of strategies, is not indicative of future results. Trading advice is based on information taken from trades and statistical services and other sources that Attain Capital Management believes are reliable. We do not guarantee that such information is accurate or complete and it should not be relied upon as such. Trading advice reflects our good faith judgment at a specific time and is subject to change without notice. There is no guarantee that the advice we give will result in profitable trades.