Despite Record ES Highs, Withdrawals from US Equity Funds Continue.
Contact Richard Roscelli with questions, comments, requests for information
KEY ECONOMIC RELEASES THIS WEEK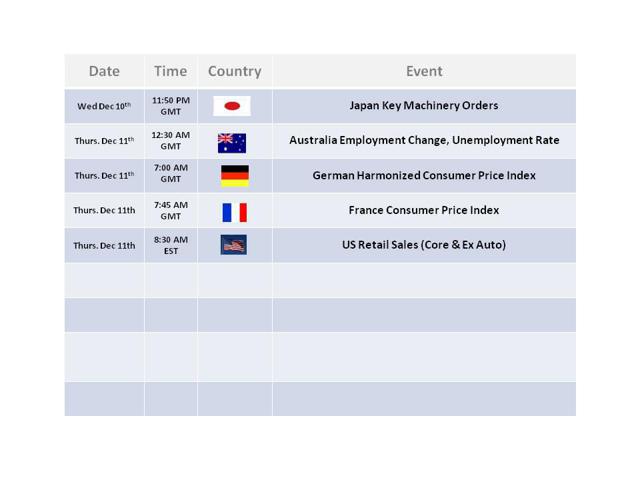 Friday's strong rebound & close on the Dec Mini S&P was supported by a strong support pattern building on the 4 hour chart which suggests the market still has enough upward momentum to hit the 2080 level. It would appear though that tighter resistance bands may begin to form at this level. A lack of significant data for the week may provide a pullback in buying sentiment. Additional barriers to upside momentum this week may also be triggered by a cycle of yearend profit booking as well as developing allocation strategies which may begin to seek out new opportunities in emerging markets and alternatives.
Reports for the second month continue to highlight increased withdrawals from US domestic equity funds. (Click here for recent article highlighting this reallocation trend). Decisions regarding global capital allocations seemed poised to evolve based upon new parameters of risk/reward measures and seeking out renewed levels of volatility. Whether this is a positive or negative element of a renewed confidence based upon the notion of working with the "houses money" remains a question. The downgrade of Japans debt by Moody's could be signaling a "Beast from the East" as entitlements & financial obligations may begin to highlight once again the concerns of increasing national balance sheets. The tug of war between seeking opportunities vs. honoring domestic entitlement commitments could result in a "global warming" which may spark a new round of market volatility (Just when we thought it might be safe?)
As for potential market direction this week, look for upside spikes in the EMIni S&P to make a possible try for 2080.50 level. Expecting an initial spike through that level as stops may likely be triggered, perhaps pushing for an initial top at 2083.00. If selling pressure begins to form, a pullback to 2072.25 may develop. Expect the next level of support from this range at 2065.25, with 2064.75 in particular developing as a price point to observe. A significant change in the upward direction of the Emini would likely be triggered by a drop & consolidation at the 2041.00 price level.
Please feel free to offer comments at richard@attaincapital.com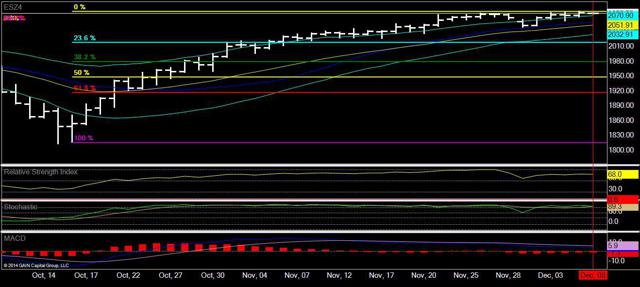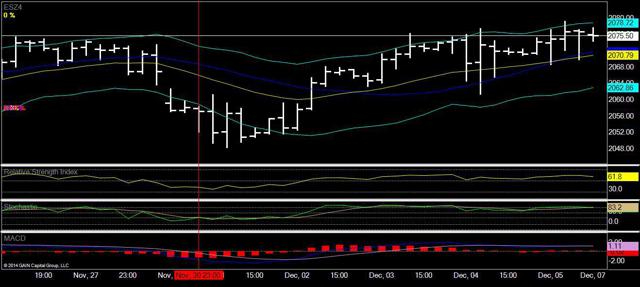 Chart courtesy of Open E Cry (A division of Gain Financial LLC)
It is our belief that a better educated trader has a better chance of being a successful trader. Sign up for free futures trading education at Commodity Trading School
Please feel free to contact me with any questions or feedback. E-mail me at richard@attaincapital.com for information about futures trading & managed futures. For Wealth Management services, email rich@cathayconsultants.com
About the author-Richard Roscelli has been a member of the futures industry since 1994. His unique background in the Global Futures markets stems from his experience managing trading desks and providing market analysis for major financial institutions and commodity trading advisors.
After earning an MBA in Global Business, Richard is a co branch manager and licensed commodities broker with the Las Vegas branch of Attain Capital Management, a multi service futures brokerage firm. He is also a registered investment advisor with Cathay Consultants Ltd and contributes regularly to financial websites regarding alternative investments, financial planning, & trader education.
References
**The information and opinions contained herein comes from sources believed to be reliable, but are not guaranteed as to accuracy or completeness. The risk of loss in trading futures and/or options is substantial. Each investor must consider whether this is a suitable investment. When trading futures and/or options, it is possible to lose more than the full value of your account. All funds committed should be risk capital. Past performance is not necessarily indicative of future results.
*Investment advisory services offered through Cathay Consultants Ltd, a Registered Investment Advisor. Cathay Consultants Ltd is a fee-only registered investment advisor in accordance with the Investment Advisor's Act of 1940 and is registered with the Nevada Secretary of State. The fees we receive are for the advice and management that we provide. Please refer to our Form ADV Disclosure Brochure for complete details concerning our advisors, compensation and the services which we provide.
Attain Capital Management Company Disclaimer:
This material has been prepared by a sales or trading employee or agent of Attain Capital Management and is, or is in the nature of, a solicitation. This material is not a research report prepared by Attain Capital Management Research Department. By accepting this communication, you agree that you are an experienced user of the futures markets, capable of making independent trading decisions, and agree that you are not, and will not, rely solely on this communication in making trading decisions.
Commodity Trading School is a dba of Attain Capital Management, LLC.
Trading futures and options involves substantial risk of loss and is not suitable for all investors. Past performance is not necessarily indicative of future results.
The risk of loss in trading futures and/or options is substantial and each investor and/or trader must consider whether this is a suitable investment. Past performance, whether actual or indicated by simulated historical tests of strategies, is not indicative of future results. Trading advice is based on information taken from trades and statistical services and other sources that Attain Capital Management believes are reliable. We do not guarantee that such information is accurate or complete and it should not be relied upon as such. Trading advice reflects our good faith judgment at a specific time and is subject to change without notice. There is no guarantee that the advice we give will result in profitable trades.