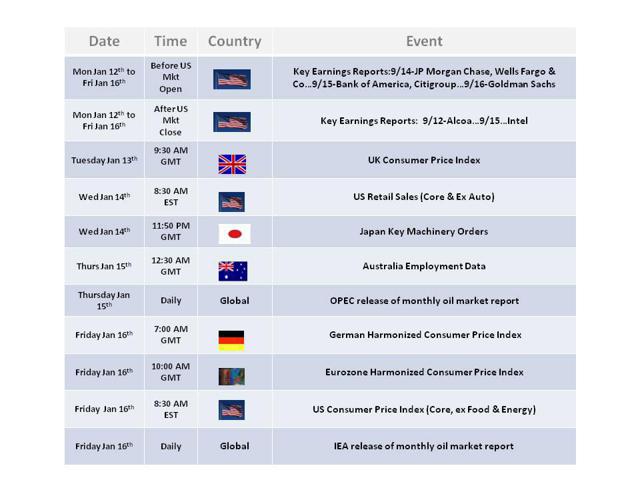 Tuesday's kickoff of 2014 4th quarter earnings reports (Alcoa reports after Tuesday's market close) will be the first earnings season that reflects the significant drop in global oil prices. Numerous economic roundtable debates have focused on the "Wall Street vs. Main Street" debate…whether the drop in energy prices will land upon the side of increased discretionary income and ROI or will the pressure on dividend & interest rate energy investments result in a continued uncertainty that contributes to growing equity volatility and in a more frightening turn, global credit markets. Vulnerable regions such as Venezuela and Russia to the political & budgetary pressures caused by the fight for the longer term control of oil prices (See this week's OPEC meeting for clues within the surface/underlying rhetoric) may trigger speculation of overlapping regional credit default concerns before defensive attempts at oil price stabilization.
Look for earnings expectations & guidance to have a more cautious tone as the shift in earnings payout & income producing strategies continues. While the end result may still result in a 1st quarter boost in stock prices as capital from lower input costs create a confidence rally, too much of confidence has often been the catalyst for significant market corrections. If this is the type of market picture that garners concern for you, consider seeking out portfolio allocation opportunities within non correlated asset classes that contain high levels of transparency & liquidity. A portfolio allocation to Managed Futures programs could offer opportunities within this type of developing market environment.
Taking a technical look at E Mini Futures for this week, the late week volatility culminating in Friday's pullback could have some additional downside, as the market appears ready to test the daily 50% Fibonacci retracement level at 2027.50. If this level is broken, consider a near term support level to set up around the 2022.75 level. A close below this level near 2018.00 may result in the development of a renewed trading range with 2005.75 as a support level & 2038.75 setting up as possible initial resistance. Upside strategies for the market could form with 2048.50 a upside breakout level to watch. Daily closes above this level could result in a renewed near term upward trend which could push the market back toward to an upside target of 2067.50. Next week's full ramp up for earnings and ECB decision on Jan 22nd will likely contribute to additional opportunities for market volatility, so remain fluid in your trading strategies. Remember that when ideas are coming to the table, market commitment can be lacking, so the potential price chop may be where opportunities and risk may lie in wait for the time being.
Contact me at richard@attaincapital.com for questions and to offer comments.
E MIni S&P Daily Chart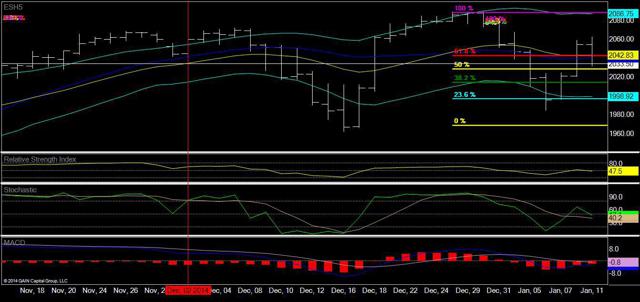 E Mini S&P 4 Hour Chart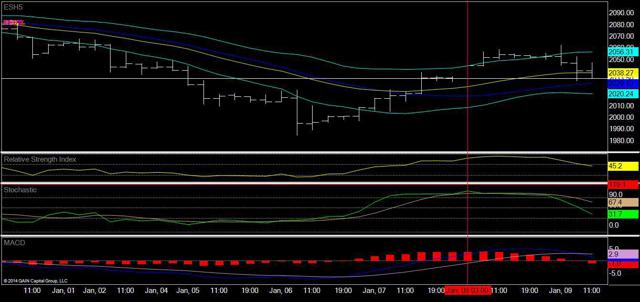 Chart courtesy of Open E Cry (A division of Gain Financial LLC)
It is our belief that a better educated trader has a better chance of being a successful trader. Sign up for free futures trading education at Commodity Trading School
Please feel free to contact me with any questions or feedback. E-mail me at richard@attaincapital.com for information about futures trading & managed futures.
About the author-Richard Roscelli has been a member of the futures industry since 1994. His unique background in the Global Futures markets stems from his experience managing trading desks and providing market analysis for major financial institutions and commodity trading advisors.
After earning an MBA in Global Business, Richard is a co branch manager and licensed commodities broker with the Las Vegas branch of Attain Capital Management, a multi service futures brokerage firm. He is also a registered investment advisor with Cathay Consultants Ltd and contributes regularly to financial websites regarding alternative investments, financial planning, & trader education.
**The information and opinions contained herein comes from sources believed to be reliable, but are not guaranteed as to accuracy or completeness. The risk of loss in trading futures and/or options is substantial. Each investor must consider whether this is a suitable investment. When trading futures and/or options, it is possible to lose more than the full value of your account. All funds committed should be risk capital. Past performance is not necessarily indicative of future results.
*Investment advisory services offered through Cathay Consultants Ltd, a Registered Investment Advisor. Cathay Consultants Ltd is a fee-only registered investment advisor in accordance with the Investment Advisor's Act of 1940 and is registered with the Nevada Secretary of State. The fees we receive are for the advice and management that we provide. Please refer to our Form ADV Disclosure Brochure for complete details concerning our advisors, compensation and the services which we provide.
Attain Capital Management Company Disclaimer:
This material has been prepared by a sales or trading employee or agent of Attain Capital Management and is, or is in the nature of, a solicitation. This material is not a research report prepared by Attain Capital Management Research Department. By accepting this communication, you agree that you are an experienced user of the futures markets, capable of making independent trading decisions, and agree that you are not, and will not, rely solely on this communication in making trading decisions.
Commodity Trading School is a dba of Attain Capital Management, LLC.
Trading futures and options involves substantial risk of loss and is not suitable for all investors. Past performance is not necessarily indicative of future results.
The risk of loss in trading futures and/or options is substantial and each investor and/or trader must consider whether this is a suitable investment. Past performance, whether actual or indicated by simulated historical tests of strategies, is not indicative of future results. Trading advice is based on information taken from trades and statistical services and other sources that Attain Capital Management believes are reliable. We do not guarantee that such information is accurate or complete and it should not be relied upon as such. Trading advice reflects our good faith judgment at a specific time and is subject to change without notice. There is no guarantee that the advice we give will result in profitable trades.