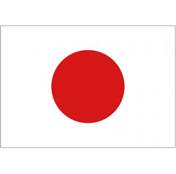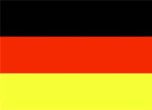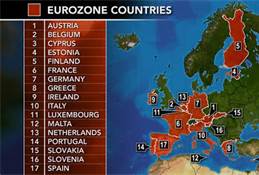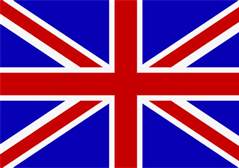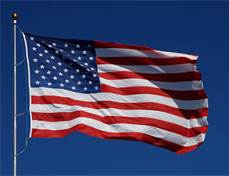 E mini S&P Outlook for week of January 18, 2015
Swiss "Neutrality" from ECB policies could set market focus back to earnings guidance
Contact Richard Roscelli with questions, comments, requests for information
KEY ECONOMIC RELEASES THIS WEEK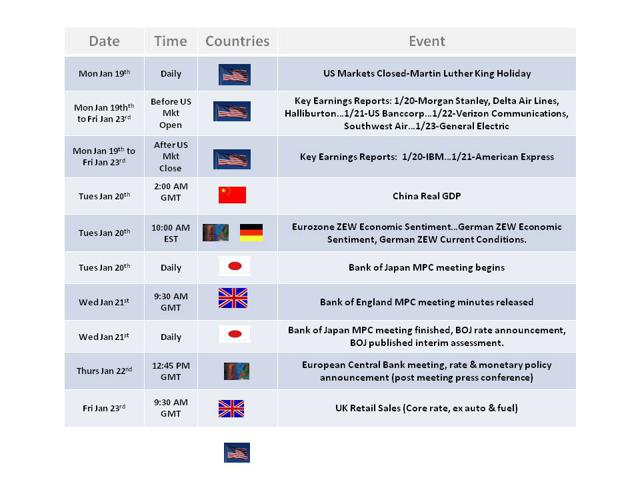 Swiss Central Bank decision to stop pegging Euro can be viewed as a possible "No Confidence" vote for ECB policies.
Crowded trades such as long the US dollar are often ugly on exit & learning experience for smaller traders.
Diverging Central Bank Policies may lead to renewed focus on regional alliances.
E Mini S&P Futures still looking vulnerable to downside pressure on uncertainty. Ranges could be forming soon though.
As so many market participants begin to recover from the shellshock of last week's Swiss Central Bank Decision to end a policy begun 3 years ago to place a ceiling on the CHF Francs ability to rise against the Euro, the classic stages of grief should begin to manifest. After the initial shock, this week could be the beginning of the anger & denial as so many ponder the question "how could something so good (the long US Dollar trade strategy) go so bad so quickly?" The surprise decision to the global markets resulted in a near 40 % percent spike of the Swiss Franc against the Euro & US Dollar. Retail FX trading firms are trying to pick up the pieces as many of the smaller client accounts are firmly in the red as stop losses, if applied at all, were likely blown thrown and filled at presumably painful prices. Exiting a crowded trade, as the long US Dollar strategy has been, can often be an ugly occurrence. Examples of these types of wild moves triggered by seemingly surprise announcements or actions permeate the historical financial landscape, whether in energies, financials, equities, etc. The move in the Swiss Franc will be digested by the markets soon enough. Going forward, it would appear that the markets are now likely to try & put into perspective the shifting of the role of central banks and their return to a less global "all for one & one for all" status as balance sheets of developed countries seem to be taking to heart the message that printing currency is truly subject to a law of diminishing returns.
The European Central Bank (ECB) is set to announce on Thursday its rate policy but more importantly its outline for a new program of bond buying among its regional members. This policy was seemingly finalized after an agreement was reached with Germany, the most influential member of the member bank, that its taxpayers would not be held responsible for losses incurred on other member countries debt. With the apparent "no confidence" vote of the SNB, the snail like action of the ECB in the wake of months of deflationary signs, and Greece seeking emergency funds for potential bank runs after its elections, it would appear that a decoupling from the global growth engine may become the flavor of the month. Regional trade agreement policies and economic diversification through renewed application of resources, innovation, & talent could be on the forefront of taking the lead of providing the expected improvements in standards of living throughout the world. Let us see if global earnings and forecasts take on the role of barometer for these developments.
Let's hope that ending on a relatively positive note will not be viewed with too much skepticism and a screaming run to precious metals and precious metals alone.
Swinging back to the March E Mini S&P, Fridays late day rebound helped the contract close firmly over the 2000 level again. The market does appear to be showing signs of forming a lower high pattern, which leaves room for a drop back down to the 1999.25 support level for short positions choosing to initiate at these current levels. If the market proceeds to stage several closes below the 1995 level, there are signs that it could set up a lower trading range, culminating with a test of the 1951.00 level. Upside potential does exist, though resistance levels appear to be gaining density. Look for a strong resistance range possibly forming at the 2035.25 level. Above this level, an upside breakout might be triggered with a strong close above 2057.00.
Contact me at richard@attaincapital.com for questions and to offer comments.
ESH5 Daily Chart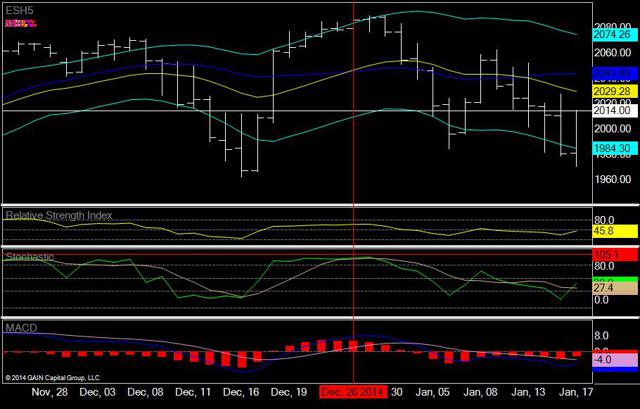 ESH5 4 Hour Chart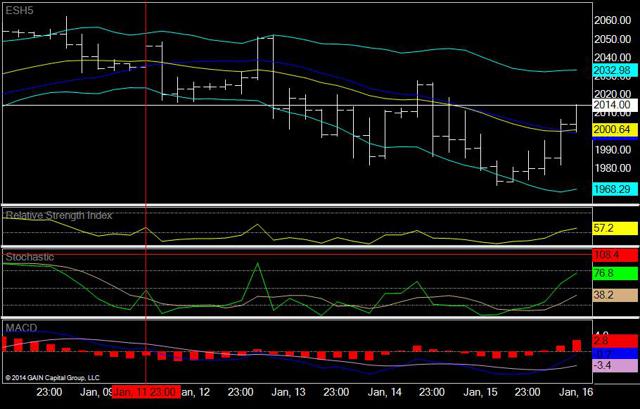 Chart courtesy of Open E Cry (A division of Gain Financial LLC)
It is our belief that a better educated trader has a better chance of being a successful trader. Sign up for free futures trading education at Commodity Trading School
Please feel free to contact me with any questions or feedback. E-mail me at richard@attaincapital.com for information about futures trading & managed futures.
About the author-Richard Roscelli has been a member of the futures industry since 1994. His unique background in the Global Futures markets stems from his experience managing trading desks and providing market analysis for major financial institutions and commodity trading advisors.
After earning an MBA in Global Business, Richard is a co branch manager and licensed commodities broker with the Las Vegas branch of Attain Capital Management, a multi service futures brokerage firm. He is also a registered investment advisor with Cathay Consultants Ltd and contributes regularly to financial websites regarding alternative investments, financial planning, & trader education.
**The information and opinions contained herein comes from sources believed to be reliable, but are not guaranteed as to accuracy or completeness. The risk of loss in trading futures and/or options is substantial. Each investor must consider whether this is a suitable investment. When trading futures and/or options, it is possible to lose more than the full value of your account. All funds committed should be risk capital. Past performance is not necessarily indicative of future results.
*Investment advisory services offered through Cathay Consultants Ltd, a Registered Investment Advisor. Cathay Consultants Ltd is a fee-only registered investment advisor in accordance with the Investment Advisor's Act of 1940 and is registered with the Nevada Secretary of State. The fees we receive are for the advice and management that we provide. Please refer to our Form ADV Disclosure Brochure for complete details concerning our advisors, compensation and the services which we provide.
Attain Capital Management Company Disclaimer:This material has been prepared by a sales or trading employee or agent of Attain Capital Management and is, or is in the nature of, a solicitation. This material is not a research report prepared by Attain Capital Management Research Department. By accepting this communication, you agree that you are an experienced user of the futures markets, capable of making independent trading decisions, and agree that you are not, and will not, rely solely on this communication in making trading decisions.
Commodity Trading School is a dba of Attain Capital Management, LLC.
Trading futures and options involves substantial risk of loss and is not suitable for all investors. Past performance is not necessarily indicative of future results.
The risk of loss in trading futures and/or options is substantial and each investor and/or trader must consider whether this is a suitable investment. Past performance, whether actual or indicated by simulated historical tests of strategies, is not indicative of future results. Trading advice is based on information taken from trades and statistical services and other sources that Attain Capital Management believes are reliable. We do not guarantee that such information is accurate or complete and it should not be relied upon as such. Trading advice reflects our good faith judgment at a specific time and is subject to change without notice. There is no guarantee that the advice we give will result in profitable trades.