Simple, quicly and academic exemple
Graphics are more valuable to demonstrate how the buyback programs are efficient in a long term approach.
If you look at this document, you see that the company reduced its share from 1.3 Billion (1971) to 357 Million today. That's meaning, a reduction of 72,5%! Amazing, no?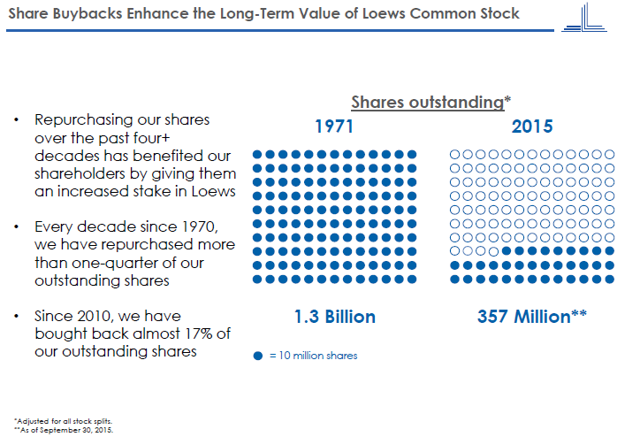 Source: Presentation Q3 2015 earnings
What about the impacts on the stock?
A very quick view on the return to shareholder graphic is interesting...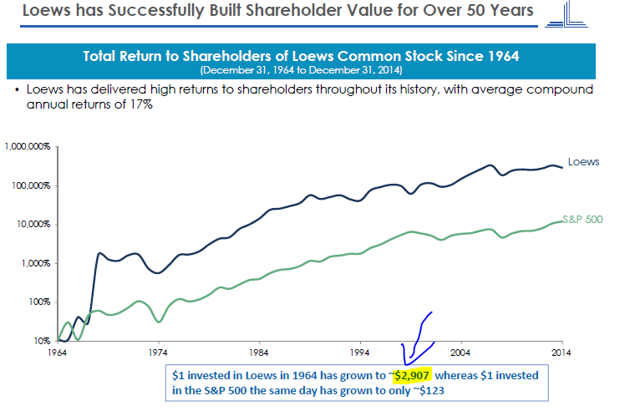 Source: Presentation Q3 2015 earnings
If you are always not convinced, all you need to know is a couple of numbers:
an average compoinf annual returns of 17% for 50 years
or a $2,907 gain for each $1 invested
The aim is not to persuade you to invest in Loews ($L) stock, but to keep in mind, that good buybacks create a lot of value for shareholders. Only if companies buyback their own shares:
(1) at a discounted price and,
(2) with an aim to cancel them
If these two conditions are validated, you can be sure the company will create a lot of value for the investors.
For example, WestJet Airlines ($WJAFF) or Validus Holdings ($VR) are on the raod to outperforming the market.
More experiences and exemples here: buyback-program.com/
Disclosure: I/we have no positions in any stocks mentioned, but may initiate a long position in WJAFF, VR over the next 72 hours.