Reports are popping up all over social media that Moviepass (HMNY) is now requiring subscribers to submit Ticket Verificaton when using their Moviepass subscription.  (See screen shot below)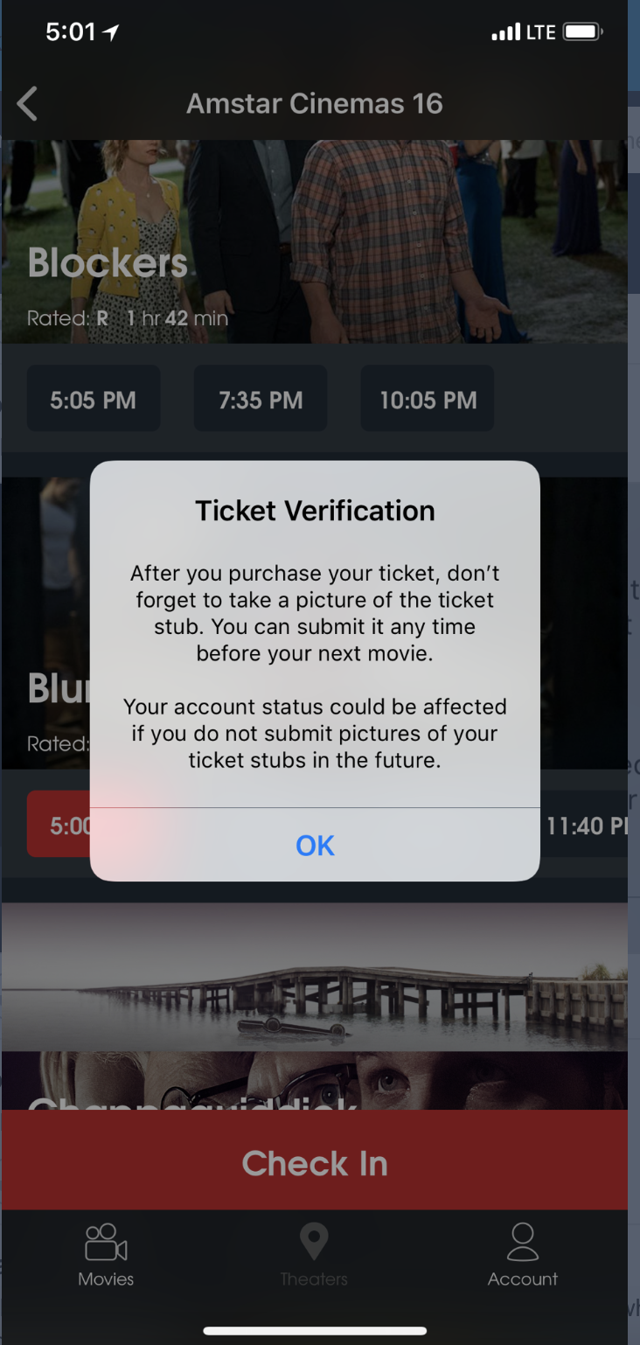 Moviepass also announced their first promotion this week that limits usage of the subscription to 4 movies a month vs. their normal offering of a monthly "unlimited" plan which offers subscribers 1 movie everyday per month.  The new promotion which is a bundled offer with iHeartRadio according to Moviepass PR is "Available for just a limited time for only $29.95 (a $150 value), it offers new subscribers to both platforms a limited MoviePass membership to see (4) four 2-D movies a month for 3 months and includes an extended 3-month free trial of the iHeartRadio's All Access on demand feature."
These moves from Moviepass demonstrate that they are taking overuse and abuse of the subscription seriously - and making smart- but aggressive moves to control potentially crippling escalation of COGs , and to this point the changes seem to be avoiding the earlier dust up the company faced when enforcing its terms of services and then facing backlash from the subscribers and the media. 
There have been multiple reports of abuse and misuse of the Moviepass subscription on sites like REDDIT ranging from people who use Moviepass to find a clean bathroom, to those who sell tickets bought on Moviepass to others, to those who buy tickets only to load points onto their Regal or AMC loyalty programs.  Don't believe how horribly dishonest and devious people can be with these types of things just look at this post.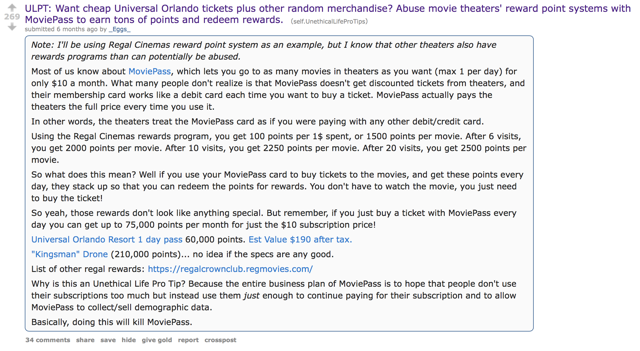 Heres a link to view the post and the pile on of others who want to scam the Moviepass offer for their own gains.
Clearly this is not the average Moviepass customer, but too many of these bad apples can ruin the entire bunch.  More than 80% of Moviepass customers are honest patrons who value and respect the Moviepass deal.  Moviepass can run profitably with those who appreciate the great value Moviepass has to offer, and for those who have no intention to abuse the system for their own personal gain. But Moviepass cannot and should not allow people to buy multiple subscriptions and abuse them buy selling tickets to others, loading up rewards points from theaters, and doing all kinds of other things odd things that have the potential to kill the Moviepass business.
When I worked at Microsoft there were always a small number of people who would do crazy things to "work" the system to their personal advantage.  It would range from counterfeiting software programs, to manipulating rewards programs, or trying to claim multiple rebates on particular products.  It is a minority of customers who do this, but they are dangerous and aggressive.  They are like shoplifters at retail stores, or people who commit insurance fraud.  We all know they are out there, and they only make prices more expensive for the honest customers.  
We are at a crossroads now with the fast growing service of Moviepass where the company needs to get serious about controlling COGs while also maintaining its ability to provide the service without falling under its own weight.   
The recent moves of offering a new limited offering, along with new fraud protection of Ticket Verification looks like two great steps to control this problem and to do it in a way where backlash will be limited.
I believe it is an advantage for Moviepass that they have the technical ability to use data analytics to deal with these abusers.  Fine tuning their ability to deal with fraud and abuse will serve to create a defensible moat for Moviepass that will help it to deter competition from entering the market. 
I can imagine other ways where Moviepass can continue to deliver its core value proposition while reducing and eliminating fraud.  A simple example would be to require Moviepass customers to "check out" of a movie approximately 20 minutes after the start time of a movie.  This would still allow Moviepass customers to walk out on a film they didn't like, while also eliminating fraudsters who sell tickets to others, or use the ticket only for rewards programs or to use the bathroom at the theater.
I am sure there are many ways that Moviepass is thinking through how to eliminate the bad apples an make sure that the "fake" heavy users to bankrupt the comapany at the expense of the good honest customers, and the investors in (HMNY) who believe in the model, but fear the potential of bad actors who could kill the Moviepass business model. 
These moves by the company should allay concerns many have expressed that this company is headed toward financial wreckage in the near future.  The recent rally this week in (HMNY) demonstrates that many believe that strong progress is being made to fortify the future of Moviepass, while also continuing to aggressive look to grow subscribers in a profitable manner.
Next week brings the first official SEC filing for (HMNY) where Moviepass revenue and subscriber numbers represent a very significant part of the HMNY business.  I expect management to furhter comment on the progress made to control COG's while keeping the sub momentum going.  If delivered convincingly, expect HMNY stock to continue its recent moment.
Disclosure: I am/we are long HMNY.