In this article I will try to make case for upcoming Habit's earnings. More precisely, why I think that Habit Burger will report good second quarter results, which could significantly lift the stock price. Before I start, let me remind you that "betting" on earnings results is highly risky, so please do your own research before investing.
Since writing my last article about Habit (Habit Restaurants: Let's Put It Into Perspective) I have been in and out several times. Now I think it is good time to buy shares before the earnings again. Frankly speaking, I have been trading 4Q18 and 1Q19 results too. Chart 1 shows the stock price development before and after the earnings. Obviously both speculations performed well.
Chart 1 – Habit Burger stock price with highlighted results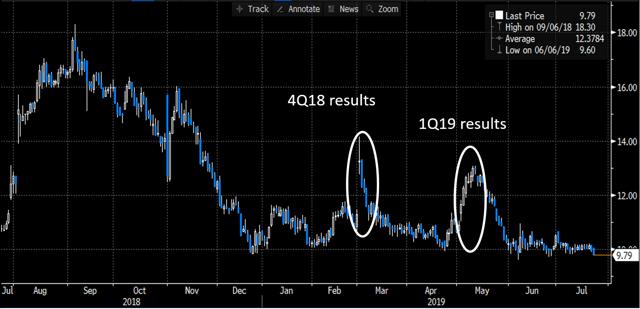 Source: Bloomberg, Own estimates.
There are several reasons why I believe the good results could repeat. In 1Q19 company reported EPS of -$0.01, which was $0.03 above market expectations. Also, revenues of $108.17M were $2.6M higher than average analysts estimate. More importantly, results were reported on 1 st of May, meaning the company management has already seen business development in April.  Ira Fils, Habit's CFO, commented April development during the first quarter earnings call "I mean I just I think if you see where our trends have been if you think about the back - the back part of Q1 and where we've been so far, in Q2, it's clear that our traffic trend has improved. And like Russ talked about we're getting momentum for delivery remember we rolled out delivery with Postmates in the very end of Q1 of this year". In other words, the company has entered 2Q19 with good momentum.
"Peers"
Many companies from restaurant, QSR and fast casual industry are still about to report their results. However we can get an early indication about the quarter from the companies, that have already reported their earnings.
Chipotle (NYSE:CMG)
Chipotle is firing from all cylinders. During the 2Q19, the company had exceeded already very high market's expectation. Main driver during the quarter was digital, where Chipotle (CMG) reported exceptional growth of 99 % YoY. According to Brian Niccol, CEO of the company, delivery was the " key driver of our digital growth given enhanced capabilities on our app and website, as well as our expanded reach". Habit has been working on its digital for some time and delivery was the main reason why Russ Bendel, CEO of Habit, was so bullish during 1Q19 earnings call "we feel good about the momentum and we really are very bullish on the initiatives that we've put in place last year that are really starting to gain traction in regards to technology, convenience all access".
What also caught my eye was sales development during the second quarter. Chipotle reported that April and June were a bit weaker, while May was very strong. As mentioned above, Habit saw a strong momentum in April. If May was as strong for Habit as for Chipotle, then the overall results for 2Q could be good. However, June is a big unknown. Habit was planning to take an average 5.3 % price increase at the end of May to help offset the minimum wage increase coming in the city of Los Angeles on July 1. Higher prices could cause a decrease in traffic and thus weight on overall results. I perceive price increase as the biggest risk related to my recommendation. On the other hand, Habit increased its price in second quarter of 2018 by 3.9 % and traffic decreased by 3.2 %, which was in line with the rest of the year.
Starbucks (NASDAQ:SBUX)
Starbucks is admittedly a global company compared to Habit, which is mostly located in California. Also, their offering is not exactly the same. But still, Starbucks could give us at least indication of US consumer spending. Starbuck's overall results were better than market expected. The main driver behind the beat was development in Americas. More precisely Americas segment delivered 11 % revenue growth, driven by 7 % comp sales growth (vs. market expectation of 4.3 %) including 3 % comp transaction growth and net new store growth of 4 % over the past 12 months. Here is how Kevin Johnson, CEO of Starbucks, commented on development in U.S. "in the U.S. comp sales were up 7 % including comp transaction growth of 3 %. Importantly we saw comp growth across all day parts, including the afternoon for the first time in three years. This strong performance was driven by three key factors; an enhanced customer experience, relevant new beverage innovation, and accelerated expansion of digital customer relationships".
BJ's Restaurants (NASDAQ:BJRI)
A day into earnings BJ's share price decreased by 7 % and then after second quarter results it fell even further. Although the company exceeded market expectation for revenues, it missed EPS by $0.06. The decline in EPS was caused by higher avocado prices and costs related to delivery. Furthermore, the company commented during the earnings call that July is a bit weaker due to development in California. The good news for Habit is that weaker sales are because of very strong results in 2Q18 "in parsing July's comp sales to-date, the softer sales are primarily in certain areas of California specifically the Bay area of Northern California where many restaurants are going over double-digit comp sales from a year ago as well as some other pockets in California that also had very large comps a year ago stemming from some early July California fires", Gregory Levin, CFO of BJ's Restaurants. To put it into perspective, BJ's comparable store sales grew in 3Q18 by 6.9 %, compared to 3.6 % for Habit. Additionally, according to BJ's management commentary from 1Q19, the company has not entered the second quarter well. As mentioned above, Habit saw good momentum into 2Q19.
McDonald's (NYSE:MCD)
Like Starbucks, McDonald's may be not the best peer for Habit. But as with Starbucks, its results could indicate U.S. customer spending. McDonald's overall results for 2Q19 were in-line with market expectations. Importantly U.S. comparable sales rose 5.7 % vs. +4.4 % consensus estimate on broad-based strength.
Industry indicators
To better access condition in the industry I am tracking KPI's for several companies. More precisely I am looking at development of AWS (Average Weekly Sales) growth, SSS (Same Store Sales) and NUP (New Unit Productivity) for Habit Burger (NASDAQ:HABT), Fiesta Restaurants (NASDAQ:FRGI), Noodles (NASDAQ:NDLS), Chipotle (CMG), Potbelly (NASDAQ:PBPB) and Shake Shack (NYSE:SHAK). Historically I have included also Panera Bread and Zoes before they were taken private. Chart 2 shows aggregate data for these companies.
Chart 2 – Aggregate values for AWS growth, SSS and NUP for predefined companies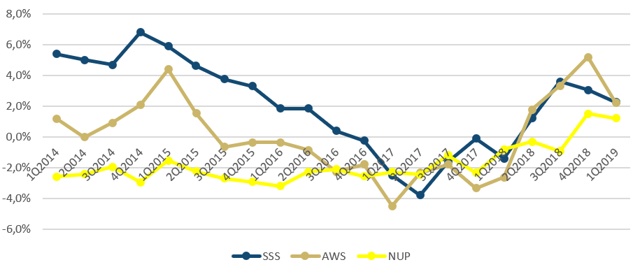 Source: Companies reports, own estimates.
There is obvious slowdown between 4Q18 and 1Q19. But market is currently pricing most of above-mentioned companies (except SHAK and CMG) as if this slowdown should continue.
Chart 3 – YTD stock price development for predefined companies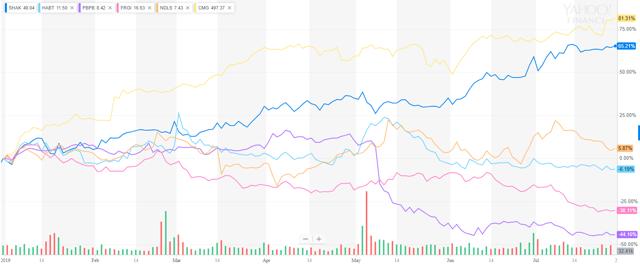 Source: Yahoo Finance, own estimates.
Again, not great proxy, but Miller Pulse QSR Comp Sales is telling different story. In first quarter 2019 the overall SSS for QSR has increased by 2.4 % YoY, whereas in second quarter 2019 the comps increased by 2.5 % YoY. This would actually indicate, that sales momentum is improving.
To summarize why I expect that Habit will report good numbers for 2Q19. First, the momentum from 1Q19 will continue. Second, peers reported good numbers. Third, Miller Pulse QSR Comp Sales have improved and the stock price has signifficatly decreased since 1Q19.
The main risks are increase in food price in the end of May, increased costs related to delivery and price war amongst QSR.
Disclosure: I am/we are long HABT.
I wrote this article myself, and it expresses my own opinions. I am not receiving compensation for it (other than from Seeking Alpha). I have no business relationship with any company whose stock is mentioned in this article.