"While this plan demonstrated the highest present value per share for our shareholders, the Board and management determined that the financing of this plan would introduce risks and potential dilution that were not in the best interest of our shareholders". This an excerpt from Harold Karp's statement on Tecumseh's first quarter performance and is endemic of the state of affairs at the Company as the statement contradicts itself. Suggesting new products are launches in less than 6 months and seeing minimal capital investment is a contradiction. Continuing to award performance based options and shares when the Company is clearly underperforming is a contradiction. Reduction of inventory, as the Company has finally learned, in an aftermarket business and expecting the same level of profitability is a contradiction.
Since I wrote my last article, several issues have come to light that make me the ability of Tecumseh's Board and management team to make rational decisions. Very specifically, the Company appears hell bent on gambling shareholder equity by taking on excessive risks and eschewing an opportunity to sell the Company.
One Irrational Plan Eliminated; Another Irrational Plan Being Considered
As I suggested in my previous article, the Company had been considering a low cost country strategy buttressed by debt. Specifically, the Company had been in discussion with LittleJohn to provide anywhere between $20 and $50 million of financing; this after several well-known funds (e.g., Monomoy) passed on financing. Apparently, the Company was seeking $50 million but apparently does not have the asset base to meet such a borrowing objective, putting the actual amount in the aforementioned range. LittleJohn is known for distressed debt lending and likely, given their historical lending pattern, would have required PIK interest and a conversion feature. Obviously there were several huge issues with this lending:
1. On the lower end, $20 million merely would have funded North America (recall that North America, because of the corporate office, burns $15 - $20 million per year and sales have been declining) for the next year and did little to improve the business prospects of Tecumseh; it simply would have extended the pain.
2. On the higher end, $50 million is less than 75% of what the Company needs to effectively compete. Further, at least initially, the Company contemplated using these borrowings to build capacity in Mexico. The logic behind this, as previously discussed is absurd. To boot, very little money would have been funneled to new product development. The same mistake the Company has made repeatedly in the past.
3. The most glaring issue would have been dilution to shareholders. Between Brazil borrowing $30 million over three years (which appears to be funding working capital needs versus adding value) and the incremental $20 million from LittleJohn, shareholders would be diluted by approximately 40%.
This speaks to the ability of the Board and management team to make rational decisions. A blind man could see that the debt route would have been silly. So why would the Company spent in upwards of $1 million (that's just a guess) on Jefferies advisors to investigate financing? The Company should have known a priori that such a plan would be dilutive and harmful to shareholders. So advisors brought in to raise debt in a Company with little asset value and no viable plan; it was a waste a time, a waste of money, and a waste of shareholder value. Simply stated, another contradiction.
Now the Company appears to be considering selling portions or all of the Company to Mueller, a copper tubing Company who would be forward integrating. Given Mueller's geographic footprint, the former is more likely. In fact, I would speculate that Mueller is looking at European and North American operations. Again, the synergies loss for the remaining businesses as well as the complexity in untangling individual business units would be fairly significant and expose shareholders to significant risk. Of course, maybe the Board is considering selling the whole Company to Mueller; however, if that's the case then why not open a larger sales process. This leads me to my next point.
Board Not Actively Considering an Offer for the Company
Apparently, the Board has been sitting on an offer for the entire Company since mid-November of last year - prior to me writing my first article on Tecumseh. Reportedly, the offer is / was more than 50% of the current market price and 120 day moving average. To borrow from pop culture: WTF. The Company had cash in hand at a significant premium to the market, but chose to waste time and effort devising dozens of scenarios that, as previously discussed, led to predictable dead ends; I guess Don Quixote and Sancho Panza aren't the only persons chasing windmills in Mexico. Worse yet, there is still not a plan in place (for which, to their credit, the Board blasted the management team). While markets can be inefficient in the short term, Tecumseh hasn't traded above $5 consistently since May of last year. It should also be noted that the Board was willing to sell the Company in 2012 for $6.50 a share and matters, in terms of sales, cash, refundable taxes and profitability, have gotten ostensibly worse. Given the state of the Company, not using this offer as a platform for starting a sales process is baffling to say the least. Now, after taking 16 months to produce nothing, the Company wants us to trust them to deliver an alternative plan that generates more than the November proposal. This is unconscionable and makes me wonder which way the moral compass of this Board points. My doubt is underscored by suspicious trading activity.
Trading Coincidence?
From my understanding, Tecumseh's Board received a bona fide proposal for the purchase of all of Tecumseh's shares sometime prior to November 11th with several meetings held with Tecumseh executive management team meetings before then. Coincidentally, on November 11th, Harold Karp purchased 5,000 shares of Tecumseh stock and on November 14th Mitch Quain, a Tecumseh board member, purchased 25,000 shares of stock. Doesn't anyone else see this as a problem? If it's not clear, please examine the following insider trading graphic from Morningstar: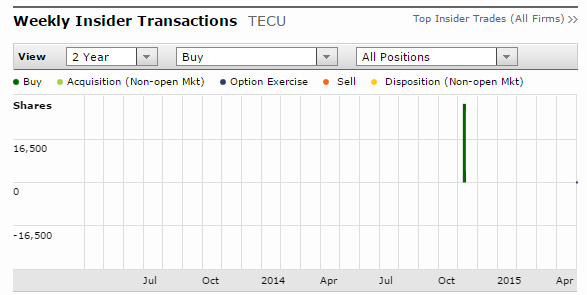 The graphic depicts all weekly insider trading activity over the past two years. It doesn't strike anyone else as odd? Clearly, a legitimate proposal would be considered material insider information and clearly investors would likely make different decisions if that information were disclosed. At best, trading after receipt of the proposal would be extremely poor judgment and at worst a violation of fiduciary duty. I'll let individual shareholders and the SEC decide. You can probably guess which way my vote is going.
Now add to the fact that the Board continues to issues options and restricted shares, which are arguably exercisable during a purchase of the Company, and refused to discipline or dismiss either Mr. Karp or Mr. Quain for a complete lapse in judgment, and one has to wonder if the motivation of the Board is to maximize common shareholder value or Tecumseh leadership value.
Additional Risk Rising
Further complicating matters is additional risk the Company is facing that Tecumseh's Board or management has yet to discuss publicly. The Atlantic lawsuit in Europe provides significant financial exposure and reportedly the Federal Government is investigating the Company about potential sales to Iran through its distributors. Documents I have obtained, including pictures of products reported to be in Iranian warehouses, suggest this is a serious issue. Further, the Middle East warranty issue appears not to be resolved as the failure rate has predictably come in higher than initially reported.
Disclosure: The author is long TECU.