Here is a quick technical review of the daily chart S&P 500 e-mini futures chart. And its related symbols(NYSEARCA:SPY), (VIX), (NYSEARCA:SDS), (NYSEARCA:SSO) and other related markets (NYSEARCA:DIA) and (NASDAQ:QQQ).
Bar Chart - lower high compared to last week (Point 2), forming Point 4 of a Wolfe Wave.
Down trending channels. Hit resistance yesterday at a "measured move" repetitive channel.
Formed another Bear Flag/Pennant - breakdown @ 1305.25. Remember last Friday was a breakdown of one of these!
Anticipate returning back to trendlines it recently broke above.
RSI - hit 50 resistance yesterday intra-day and is now trending back down. Anything below 50 is bearish momentum.
DMI - bearish trend persists. Last three days was only a relief rally, within a bearish trend.
200 day moving average at 1273 - most times price bounces the first or second time it tests this. I think we've had that bounce. Now this time, the relief rally has relieved the RSI so its momentum coming back to 30 can crush down below the average.
MONTHLY CHART RSI (not shown) has support at value 50, which is priced at 1233. Our target for Point 5 of the Wolfe Wave, a lower low. Area to cover short and go long, all the way back up to the Wolfe EPA target line.
6 more trading days, including today, before Greece has its vote on Sunday June 17th.
Here is my previous commentary on the 240 minute Pitchfork & Wolfe Wave.
Chart printed @ 6:05 AM Eastern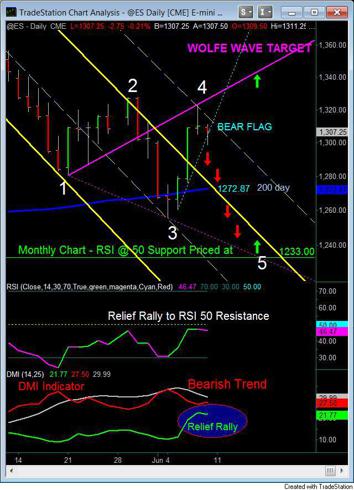 Disclosure: I am long SDS.
Additional disclosure: I am also short the S&P 500 E-mini futures.