Traders hate slow markets, but I embrace them, and I have tried to encourage us all to embrace them.  Go figure, I am going against the grain again.  As odd as this one sounds, trading against the masses is almost always the right thing to do.  In this case, the masses want action, but they do not have the tools we have at our disposal, so they do not see the opportunities we do.
With Trend Tracker, the slow times are often the best times to trade.  I have taught everyone in Boot Camp the strategy of "Trading Pong."  This Strategy is best used in slow times.  During slow times we have:
Tight channels

Reliable channels

Recurring channels

No surprises most of the time
With that, the Market could move in a 5 point range for hours on end.  To the normal guy, this is like water torture.  However, to those using Trading Pong, who embrace the slow times instead, we can make 20 - 30 basis points over and over and over again.  During a time when other investors are struggling, we can walk away with a handsome profit.
The qualities listed above are exactly what we are looking for when we use Trading Pong.  We want a clear support or resistance level, and a trend that will repeat without surprising us.  To incorporate Trading Pong, set our Trend Tracker parameter 1 point beyond the clear support or resistance level we identify during the slow market.  Activate the strategy when the Market satisfies the 3-point rule, then when 20-30 basis points have been realized, deactivate it and secure gains.  Repeat the process as many times as possible.
Using Trading Pong during the slow times works almost every day.  Given the environment we have seen in recent days, Trading Pong has worked almost all day too. Slow but steady wins the race.  Embrace Trend Tracker, and use it to make money in any market environment.  Although it works wonderfully in active markets too, the Trading Pong strategy is arguably the most productive, with the lowest probability of surprise.
Action Plan:
1.     Anticipate the slow market environment that usually comes mid day.
2.    Define support or resistance for the NASDAQ and populate Trend Tracker.  (See Resistance example below).
3.    Set our Trend Tracker parameter 1 point higher or lower than resistance or support respectively to create a boundary for the channel.
4.    Trend Tracker will trade QID and QLD according to NASDAQ parameters.
5.    Activate Trend Tracker when the 3-point rule is satisfied.
6.    Deactivate when the position fulfills our 20-30 basis point goal
7.    Repeat the trade as many times as possible.
8.    If the position is stopped according to our built in risk controls, deactivate the strategy.  Then, re-evaluate support or resistance, and consider a revision before reactivating the strategy again.
Example: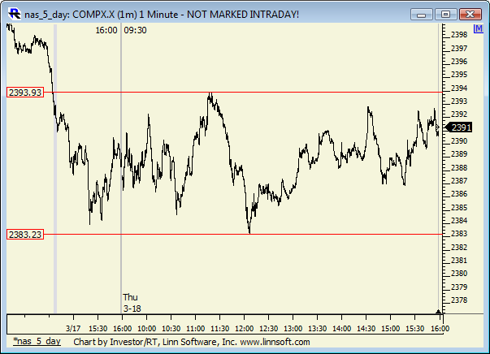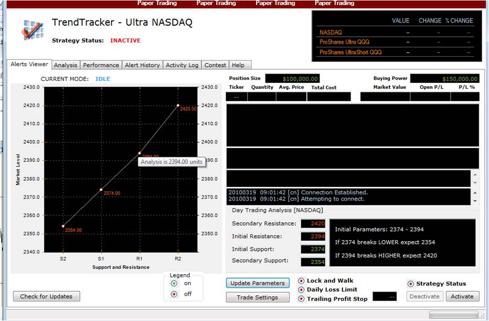 In this example, a resistance level of 2294 would have produced 20-30 basis points in gains from QID on 4 different occasions.  This was possible even though the Market traded in a 10 point sideways channel all day.
Find more information about Trend Tracker at Stock Traders Daily.
Disclosure:
No Positions