About five years ago, Google (NASDAQ:GOOG) introduced Android O.S, a freeware smartphone platform to the market. Then, Nokia's (NYSE:NOK) Symbian was the top-dog with a gigantic market share of about 50%, while Blackberry's (formerly Research in Motion) (BBRY) followed a distance second, with some 20% plus, market share. Microsoft's (NASDAQ:MSFT) Windows Mobile was third and was closely followed by Apple's (NASDAQ:AAPL) iOS, in fourth.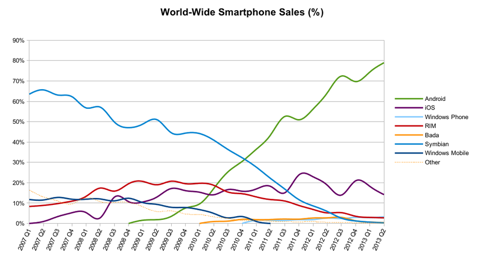 Even after one year of launching, and despite being a freeware, Android still trailed the market. However, it took Android just one more year to leapfrog three of its rivals. At the end of 2010, Android was joint top with Nokia's Symbian O.S, each having about 32% market share. Since then Android has not looked back, and is now the top-dog in the smartphone platforms industry.
Catalysts To Android's Rapid Growth
The obvious catalyst is the fact Android came in as a freeware, in a market where other competing operating systems were available at a price. This was the first and most critical catalyst to Android's rapid growth, as it allowed smartphone manufacturers to use it at will. The tactic used by Google in this venture is typical of internet-based companies, as majorities of them tend to focus on acquiring market share ahead of income.
Taking matters on the face value, Google was targeting to get its Android O.S to as many smartphone manufacturers as possible, which would in turn increase its market share, in the smartphone platforms industry. The strategy did pay-off, as the search engine giant's Android platform now commands nearly 80% of global market share.
On the flipside though, Google gave up the chance to earn royalty income from Android. However, the platform has helped spearhead other incomes such as ad revenues, as the more devices are purchased, the higher the number of people likely to use Google products.
Therefore, Google did not develop Android O.S to receive direct revenues from the platform, but rather improve some of its revenue channels.
It is hard to determine which one between Samsung Electronics and Google, has benefited from the other most, following the launch of the Android platform. Samsung accounts for the majority of Android-based smartphone sales, while Google provides the O.S. Some critics argue that the reason why Samsung has enjoyed so much success, is because of the Android platform, while others believe the vice versa.
I am tempted to side with the former group. This is because one of Samsung's own O.S, Bada, has failed to keep up with the market despite the obvious success of the electronics giant. Nonetheless, one could still argue that Samsung's huge retail network across the globe has helped Android become what it is today. But what about the case where the provider of the O.S is also the manufacturer of the smartphone?
Whilst Android has been gaining market share rapidly since 2010, Apple's iOS has barely moved, either direction; it has maintained a trend characterized by seasonal dips and bumps. Nokia's Symbian on the other hand has exhibited a gradual decline, almost an inverse to Android's trend.
On the other hand, Windows Mobile fell by the wayside in 2011 following the launch of Windows Phone in late 2010. BlackBerry, has too been losing market share, and even now trails Windows Phone as of June 2013. Therefore, it has taken Windows Phone more than two years to leapfrog one of its direct competitors, albeit just.
Can Windows Phone Really Emulate Android?
Microsoft might have itself to blame for failing to come up with a cutting edge smartphone O.S at the right time. When Google launched its Android O.S, few people had developed an attachment to a certain brand.
Customers could easily switch from one O.S to another. However, this has now changed. Several iOS users believe the platform is the best, and the same applies to Android diehards. Therefore, getting people to buy Windows Phone smartphones by ditching either an iPhone, or an Android-based smartphone is difficult.
Additionally, several people tend to buy smartphones based on recommendations from their friends and relatives, or just out of peer pressure. That is the weird thing about technology, and it is also probably one of the reasons advertisers prioritize on customized ads. Technology is playing a big role in selling, as advertisers now target buyers based on the activity in their social circles and browsing history. This means that even the remaining addressable market is likely to fall in the hands of the dominant two. The bigger the market share, the more the company is likely to influence the masses with its products.
However, Microsoft can still rely on the success of Nokia. The Finnish company is the world's leading mobile phone manufacturer. Its strong brand and global presence could play a huge part in the success of Windows Phone. The challenge for Nokia though is, it dominates the low-end market, which basically consumes general handsets and feature phones. This could prove a long shot in helping Microsoft's Windows Phone to emulate the trend exhibited by Android.
Microsoft is a giant in software and services industry, and contrary to Android, no one is accusing it of having stolen/copied its smartphone O.S. The same applies to a close rival, BlackBerry.
Just a few months ago, there was a debate as to who might become the third largest smartphone O.S provider. Microsoft's Windows Phone and Blackberry were the two main rivals. However, having overtaken BlackBerry, now Windows Phone seems to have secured that spot. Additionally, with talks of a new strategy at BlackBerry, there is little to suggest a way back for the Canadian tech giant at the moment. There are even stories that the company could offer itself up for sale.
Microsoft too is reorganizing. The company tweaked its organizational structure a month ago, and recently saw-off CEO Steve Ballmer. But there is little to suggest that the U.S tech giant would be changing its plans for the smartphone industry any time soon.
The company recently cut prices for its flagship tablets, the Surface RT, and Surface Pro, by as much as $150 a piece. this is an indication that it is willing to keep the fight in the mobile arena. Nonetheless, this still does not guarantee success, as much of its strategy is pegged on Nokia's success with its Lumia Phones, along with other Windows Phone device manufacturers.
Conclusion
Google's Android strategy played out well; seeking market share first, then income. Microsoft has tried the same thing with aggressive marketing and promotion of the Nokia Lumia phones, but the returns have not been as good, despite good signs in growth trends. Windows Phone market share has more than doubled over the last two quarters.
Microsoft Windows Mobile was not a bad O.S, but it was nothing compared to iOS, Android, or the Windows Phone. The software giant introduced its cutting-edge O.S late, after its rivals had developed some good levels of customer loyalty.
Apple and Google are now the dominant forces in the smartphone O.S market, and would be very difficult to wrestle some share of the market from them. Additionally, the trickle-down effect passed on by their customers to the rest of the market will also determine who gets what in the remaining addressable market.
As for Microsoft, it may gain some market share, but will always trail these two in the smartphone O.S industry for the foreseeable future.
Disclosure: I have no positions in any stocks mentioned, and no plans to initiate any positions within the next 72 hours. I wrote this article myself, and it expresses my own opinions. I am not receiving compensation for it (other than from Seeking Alpha). I have no business relationship with any company whose stock is mentioned in this article.