As the year ends, many are already beginning to assess next year's investment opportunities. It is good to do things early, but still, we have some three or so weeks to go before we wave 2014 goodbye.
In this respect, there are a few interesting trade ideas that investors may want to look at before closing their books.
At the top of that list, would be trading in gold. The yellow metal could easily strike back next year, but even as the year ends, the downward movement seems to be ending. Much of the gold's decline this year has been down to a continuously strengthening USD, but that impact seems to be waning.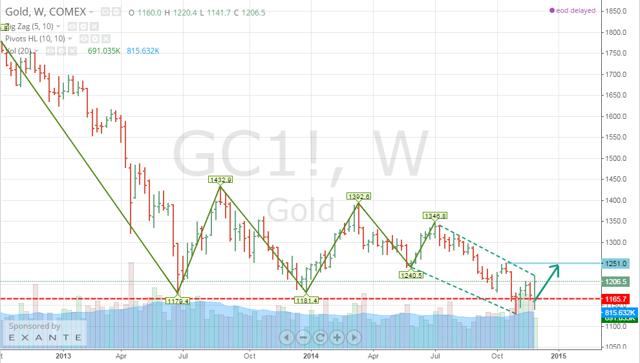 Gold has been one of the bears of the year, but it is also fair to say the performance has been fair for traders. There has been a great deal of volatility as compared to the performances recorded last year.
Things have been more or less sideways looking at things from a large-scale point of view. However, since July, the volatility appears to have somewhat diminished with the price recording a downward trending wedge, which took the price of gold to the $1,165-$1,200 levels.
Nonetheless, the $1,250 reached in mid October, the last time the price of gold showed a significant rebound appears to be a realistic target following the recent plunge. In fact, the price of Gold just rallied back to $1,205 after hitting $1,165 recently. Therefore, $1,250 seems like the next stop with $1,200 being the current support.
Conclusion
Now, as demonstrated on the chart, Gold seems well primed for recovery next year. The global economic recovery, as well as, the Chinese demand is among the several factors that will drive this recovery.
Therefore, despite the strengthening of the USD, which analysts predict will continue to the near future, Gold appears to be finding support at $1,165-$1,200 levels, and next year could be the start of a major rally.
Disclosure: The author has no positions in any stocks mentioned, and no plans to initiate any positions within the next 72 hours.