Although 3D printing stocks underperformed for the second year in a row in 2015 they saw a brief rally in March of this year after market leader Stratasys (SSYS) beat analyst estimates.
While the upswing has tapered off it still shows that the 3D printing space holds tremendous promise as one of the most important emerging fields in technology and will eventually revolutionize traditional prototyping and manufacturing.
The best opportunities for investors may be to find segments within the industry which haven't already been saturated by multiple competitors.
Right now one of the most exciting emerging leaders in the space is Israel based Nano Dimension (NNDM) whose multilayer, 3D inkjet PCB printing is an entirely new category of 3D printing designed specifically for the production of professional multilayer PCBs.
The following chart shows that over the past year they have outperformed every major 3D printing stock including industry leaders like 3D Systems (DDD) and Stratasys .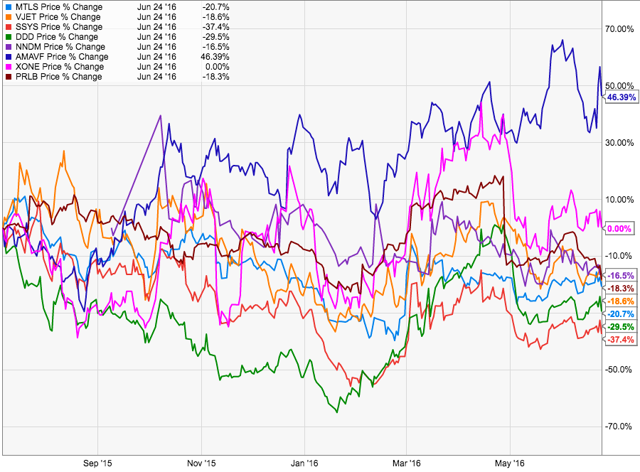 Although thinly traded and therefore potentially volatile the stock has shown remarkable stability and could see a major upswing when they announce commercial availability of their DragonFly 2020 3D printer, currently in beta testing phase with potential cusomters, later this year.
Using Nano Dimension's DragonFly 2020 3D Printer - the first ever capable of printing multilayer circuit boards - electronics manufacturers can build functional prototypes in-house in hours.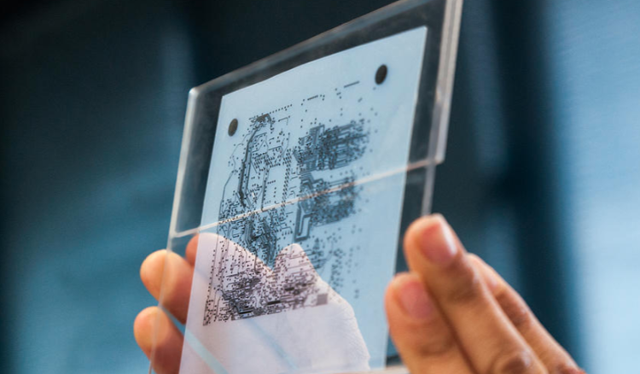 Printing complex PCB prototypes in-house has several advantages which increase the appeal to potential customers. Aside from saving time and reducing costs it also prevents the proprietary designs from possible theft that can occur when sending them to third party manufacturers.
According to a video on CNET (https://youtu.be/oA-mlXHYu8k)
"3D printing a circuit board gives you a couple of different advantages over the traditional method of sending it out to a manufacturing plant. The first one is that your intellectual property can stay safe and be produced in-house. The second is the time it takes. Rather than a couple of weeks to get a prototype of a circuit board back for testing, this takes a couple of hours or even overnight."
There is a strong need for Nano Dimension's Dragonfly 2020 3D printer as a recent industry survey concluded. The survey respondents consisted of over 300 potential customers and industry experts and revealed an overwhelming market need for the company's PCB prototyping technology. 93% percent of the respondents indicated they currently use an outside PCB prototyping service and 63% of those surveyed are worried about IP security when using outside vendors. Additionally, 62% have prototypes with high layer counts which is precisely where Nano Dimension's unique technology comes in.
The results of the survey confirm the need for Nano Dimension's 3D printer. Tech companies want to have a 3D printer that can manufacture their complex, multilayer PCB prototypes in-house, within hours, while keeping their IP secure and costs down.
This opportunity represents an untapped niche in the 3D printing sector. While there has been a lot of saturation in this space for both commercial and consumer 3D printing applications Nano Dimensions is going after an established market need which has not been pursued until now.
I will be keeping Nano Dimension on my radar for the foreseeable future as their Dragonfly 2020 3D Printer is currently being beta tested by potential customers and should be ready for release by the end of this year.
Summary / Investment Highlights
Israel's best performing tech stock in 2015

Overwhelming positive response at CES 2016 and from major industry players

Funding to date: over $17m

The DragonFly is the 1st 3D printer capable of printing multilayer printed circuit boards (PCBs).

Approaching a massive market nobody else has addressed

Reduces PCB prototyping turnaround time from days or weeks to hours

Multiple Patents and Patents Pending in Nano Tech, Ink Tech and software engineering

Printer and Printer Ink market estimated at $7-$10B
Current Status
Mechanical Engineers: Refining a 3D printer for electronic circuit boards

Software Team: Developing software applications, firmware, algorithms and GUI

Nano-Chemists: Developing conductive and dielectric nano inks

Testing with Beta Customers: Preliminary sales