Kriptorinkų ApžValga 2021-01-27. DėMesys į Ether
Please Note: Blog posts are not selected, edited or screened by Seeking Alpha editors.
Summary
bitcoin.
crypto.
ethereum.
ether.
trading.
Kriptorinkoms vis labiau grimztant į korekciją, investuotojai atidžiau stebi ether poziciją, kaip vieną perspektyviausių artimiausiu laikotarpiu. Ir ne be reikalo. Ether dolerio atžvilgiu dar yra kylančioje rinkoje, nežiūrint į didelius svyravimus. O neseniai kotiruotės pasiekė ir visų laikų aukštumas. Todėl situacija rinkoje yra labai ir labai įdomi.
Artimiausiu metu mes pamatysime ar čia vyksta konsolidacija visoje kriptorinkoje, ar prasidėjo rimtesnė korekcija, kurios metu mes galėsim papildomai uždirbti iš short pozicijų, paskui užsipirkti instrumentų mažesnėmis kainomis? Mes nekantraujam taip pat, kaip ir jūs…
Coin Metrics skaičiuoja kriptovaliutų realizuotą kapitalizaciją, o ne paprastąją. Ji nuo paprastos skiriasi tuo, kad skaičiuoja tik aktyvius rinkoje vaikščiojančius žetonus. Neskaičiuoja jų kriptobiržose ir neaktyviose piniginėse. Tai pagal tinklapį, ether RK pasiekė rekordinę 70 mlrd. USD ribą.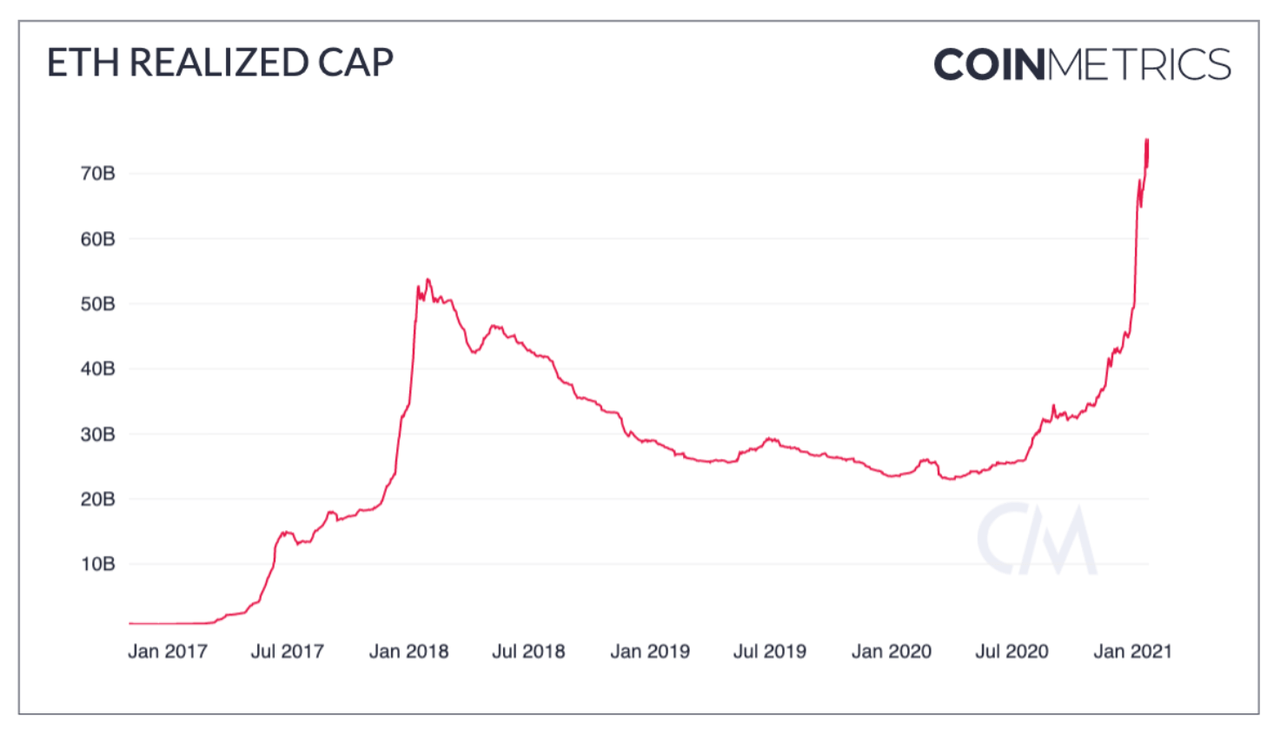 Padidėjus ethereum dėmesiui, padaugėjo ir kainų prognozių. Rinkos konsensusas dabar yra apie 2 500 USD iki šių metų galo. Kas sudaro 100% nuo dabartinės kainos. Fundstrat strategai prognozuoja ir 10 500 USD be konkretaus termino. Mums intuicija irgi kužda aukštą ether kainą. Ir 10K+ USD gali būti ne ribą ilguoju laikotarpiu. Ypač jei tinklo tobulinimo planas Ethereum 2.0 pilnai pasiseks.
Dabartinis ether kainos kritimas siejamas su padidėjusiu kriptovaliutos srautu į biržas. Dažniausiai tai būna prieš etherio išpardavimą. Ką šiuo momentu ir stebime. Teigiama, kad didesnę pasiūlos dalį sugeria banginiai. Skaičiuojama, kad banginiai (piniginės su 10 000+ ETH) šiuo metu kontroliuoja etherių už 447 mln. sumą, esant 145 mlrd. USD kapitalizacijai.
Grafikai
BTCUSD pozicijoje kaina kaina patiria meškų spaudimą. Žiūrint į apyvartas, spaudimas kol kas nėra didelis. Shor signalas yra, bet gal dar neskubam dėti orderių? Kaip manot?
ETHUSD pozicijoje kaina laikosi virš Aligatoriaus. Tačiau matome ir pirkėjų intensyvumo mažėjimą. Korekcija gali būti ir gilesnė.
LTCUSD pozicijoje sell short signalas @122.999.
EOSUSD pozicijoje sell short signalas @2.4254.
NEOUSD pozicijoje sell short signalas @20.79.
IOTUSD pozicijoje sell short signalas @0.3925.
TRXUSD pozicijoje toliau stebim.
---
Bitfinex suteikia geras longinimo ir shortinimo sąlygas. Prisijunkite su kodu HE1nob0M. Taip pat galite šioje biržoje skolinti savo kriptovaliutas spekuliantams ir uždirbti be jokios rizikos. Prisijunkite su kodu LEZXeL-d.
Norite išmokti dėlioti stopus, kaip šiose apžvalgose ir gal net geriau?
Norite didinti pelnus ir mažinti nuostolius?
Nedelsk ir įsigyk šiuos nuotolinius mokymus.
20% nuolaida apmokant kriptovaliutomis Bankera, Bitcoin, Ethereum.

Seeking Alpha's Disclosure: Past performance is no guarantee of future results. No recommendation or advice is being given as to whether any investment is suitable for a particular investor. Any views or opinions expressed above may not reflect those of Seeking Alpha as a whole. Seeking Alpha is not a licensed securities dealer, broker or US investment adviser or investment bank. Our analysts are third party authors that include both professional investors and individual investors who may not be licensed or certified by any institute or regulatory body.