Kriptorinkų ApžValga 2021-03-08. Pinigai Yra Stabdymo PriežAstis
Please Note: Blog posts are not selected, edited or screened by Seeking Alpha editors.
Summary
bitcoin.
NFT.
ethereum.
crypto.
money.
Kol rinkose vyksta konsolidacija, pinigai yra pagrindinė priežastis, kodėl kainos nekyla. Pagal apyvartas biržose, rinkose visiškas štilis. Pliusas tame, kad jei kaina ir koreguojasi, tai neaktyviai, nepalaikoma apyvartomis. Minusas yra tas, kad su tokiomis apyvartomis net guzo į pasipriešinimą neuždirbsi. Ką jau kalbėti apie jo įveikimą ir naujų aukštumų siekimą? Tarsi naujienų nebūtų?
Rinkoje tarsi ir stebime kainų atšokimą nuo Fibonacci 0.236 lygio, kuris eilinį kartą mums demonstruoja savo stiprumą. Tai, tarsi, siejama su gerais JAV ekonomikos makrorodikliais, pasirodžiusiais praėjusią savaitę, ypač penktadienį. Tai pat investuotojai stebi ir kompanijos MicroStrategy apsipirkimu. Tačiau akcijų rinkoje kompanijos akcijos nėra vertinamos…
Michael Novogratz iš Galaxy Digital Holdings praėjusią savaitę patvirtino savo prognozę, kad bitcoin kaina pasieks 100 000 USD dar šiais metais. Jo argumentai jau pasikeitę. Jei anksčiau jis sakė, kad bitcoin populiarumas tarp paprastų jūzerių išaugs, tai dabar jis sako, kad bitcoin tampa institucinė turto klasė (an institutional asset class) ir juo domisi net komerciniai bankai.
Instituciniai investuotojai – fondai ir bankai – gal būt ir mato bitcoin'e kažkokias galimybės. Tačiau jiems akivaizdžiai trukdo, kaip jie patys sako, du dalykai: reguliavimo nebuvimas bei bitcoin "vidinės vertės" nustatymo neįmanomumas. Viskas. Išsprendžiam šias dvi problemas ir tiūzemūnas…
Šelmis John McAfee
Panašu, kad šis kontraversiškas veikėjas priėjo liepto galą. Anksčiau buvęs aktyvus bitcoin šalininkas, prognozavęs 1 000 000 USD kainą 2020 metų gale, kandidatas į JAV prezidentus, po visą pasaulį besislapstęs nuo mokesčių inspekcijos, John McAfee sulaukė federalinė prokuratūros kaltinimų dėl bandymo apiplėšti kriptoinvestuotojus.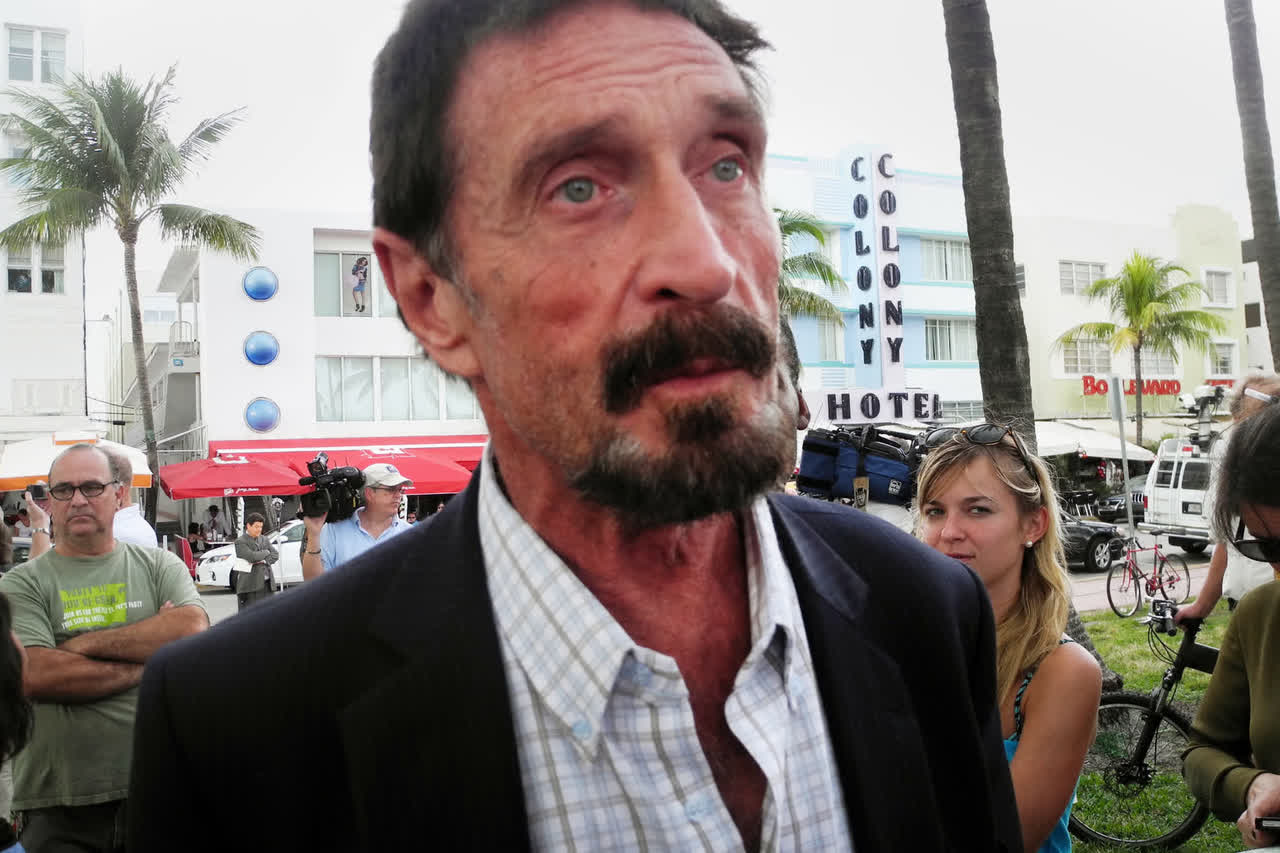 Taip pat drauge su partneriu Jimmy Watson jie kaltinami užsiimant "age-old pump-and-dump" schemomis per Twitter paskyrą, siekiant suklaidinti investuotojus ir pakelti kriptovaliutų kainas. Kaltinimai rimti, nes įtarima organizuota ir gerai suplanuota veika.
FTB netgi suskaičiavo, kad iš šios schemos veikimo Džonas su kompanija užsidirbo per 2 lemus grynojo pelno. Kaltinimų formuluotės labai baisios, gresia rimtos bėdos. Maža to, SEC ir CFTC prieš J.McAfee ir ko iškėlė civilinius ieškinius.
Moralė, nevaikščiokite lieptais. Jie visi turi galą… 
Naujas rinkos žaisliukas – NFT
NFT – non-fungible token (nepakeičiami žetonai) – nėra visiška naujiena rinkoje. Tačiau kitų rimtų naujienų rinkoje, NFT tapo tikrų hyp'o draiveriu. Šioje rinkoje uždirbami milijonai. Vienas iš nesenų pavyzdžių yra Twitter CEO Jack Dorsey pačio pačio pirmojo tvito NFT aukcionas. Rašymo metu paskutinis statymas siekia 2 500 000 USD.
Be kritikos ir čia niekaip. Nouriel Roubini jau suskubo kritikuoti šią populiarią rinką. Taip pat per Twitter. Tik, man atrodo, kad jis čia perlenkia lazdą. NFT veiki kaip sertifikatas, savotiškas registrų centro dokumentas. Tai elementarus blockchain technologijos pritaikymas kasdieninei veiklai.
Grafikai
BTCUSD pozicijoje nieko nekeičiam.
ETHUSD pozicijoje stopą dedam @1296.49.
LTCUSD pozicijoje pirkimo signalas nusileidžia iki @196.65.
EOSUSD pozicijoje pirkimo signalas nusileidžia iki @4.0638.
NEOUSD pozicijoje nieko nekeičiam.
IOTUSD pozicijoje nieko nekeičiam.
TRXUSD pozicijoje nieko nekeičiam.
DOTUSD pozicijoje nieko nekeičiam.
---
Bitfinex suteikia geras longinimo ir shortinimo sąlygas. Prisijunkite su kodu HE1nob0M. Taip pat galite šioje biržoje skolinti savo kriptovaliutas spekuliantams ir uždirbti be jokios rizikos. Prisijunkite su kodu LEZXeL-d.
Norite išmokti dėlioti stopus, kaip šiose apžvalgose ir gal net geriau?
Norite didinti pelnus ir mažinti nuostolius?
Nedelsk ir įsigyk šiuos nuotolinius mokymus.
20% nuolaida apmokant kriptovaliutomis Bankera, Bitcoin, Ethereum.

Analyst's Disclosure: I am/we are long ETH-USD, ADA-USD.
Seeking Alpha's Disclosure: Past performance is no guarantee of future results. No recommendation or advice is being given as to whether any investment is suitable for a particular investor. Any views or opinions expressed above may not reflect those of Seeking Alpha as a whole. Seeking Alpha is not a licensed securities dealer, broker or US investment adviser or investment bank. Our analysts are third party authors that include both professional investors and individual investors who may not be licensed or certified by any institute or regulatory body.