Kriptorinkų ApžValga 2021-05-18. PamiršKite E.Musk
Please Note: Blog posts are not selected, edited or screened by Seeking Alpha editors.
Summary
bitcoin.
crypto.
Musk.
ethereum.
trading signals.
Elon Musk yra tik eilinis žmogelis kriptorinkoje, nors ir skelbiasi dalyvaujantis Dogecoin projekto vystyme. Tiesa, negalime ignoruoti jo charizmos, kuri priverčia bandas judėti viena ar kita kryptimi po kiekvieno twito. Taip, jis gali paįtakoti kainų dinamiką, bet jo charizma yra niekas prieš Kinijos valdžią ar Kinijos mainerius…
Ir prieš Kinijos veiksmus, išjungiant elektrą maineriams, nieko prieš padaryti negali. Šauk, nešaukęs… Ir nereikia čia rašinėti žiniasklaidoje niekinius straipsnius apie tai, kaip E.Musk nuvertė viską rinką. Sakyčiau, laimingi žmonės nesupratime…
O čia ir Kinijos maineriai pastebėjo, kad periodiškas hashrate'o sumažinimas yra labai pelningas reikalas. Todėl periodiškai išjunginėti rigus tapo mainerių verslo planu. Ir Kinijos maineriai sudaro didžiąją nodų dalį, tol rinkoje matysime visko.
Pasirink, į ką investuoji.
Jei Musk twitai būtų vertybinis popierius, tai būtų galima kalbėti apie investavimą į juos. Bet, deja, taip nėra. Tai tik žmogaus, nežinančio kas bus ateityje, pasisakymai. Jis nežino geriau už mus. Niekas nežino geriau už mus. Todėl neverta į tai investuoti nei savo laiko, nei savo pinigų.
Geriau pasirinkite investuoti į Tesla kompanijos verslą, perkant kompanijos akcijas; į bitcoin ar kitą kriptovaliutą, jei suprantate, kaip tai veikia, o ne todėl, kad kiti tą daro. Jūs parduotuvėje neperkate to, ką perka kiti pirkėjai. Jūs perkate tik tai, ko reikia jums ir tai, kas jums turi vertę.
Investavime lygiai tas pats. Jūs patys atsirenkate vertingus instrumentus ir į juos investuojate. Elon Musk? Jis tik vaikinas prie tos pačios kasos eilės gale. Na ir kas kad jis garsiausiai šaukia?..
Disclaimer: Straipsnis parašytas su visa pagarba Elon Musk!
Grafikai
BTCUSD pozicijoje atėjo metas išbandyti Fibonacci 0.382 lygio stiprumą. Ankstesnis neatsilaikė, o čia rinkoje šiandien pradėjo formuotis palaikymas. Stebim.
ETHUSD pozicija sėkmingai užsidarė. Dabar stebim.
LTCUSD pozicijoje stebim ar versis čia trendas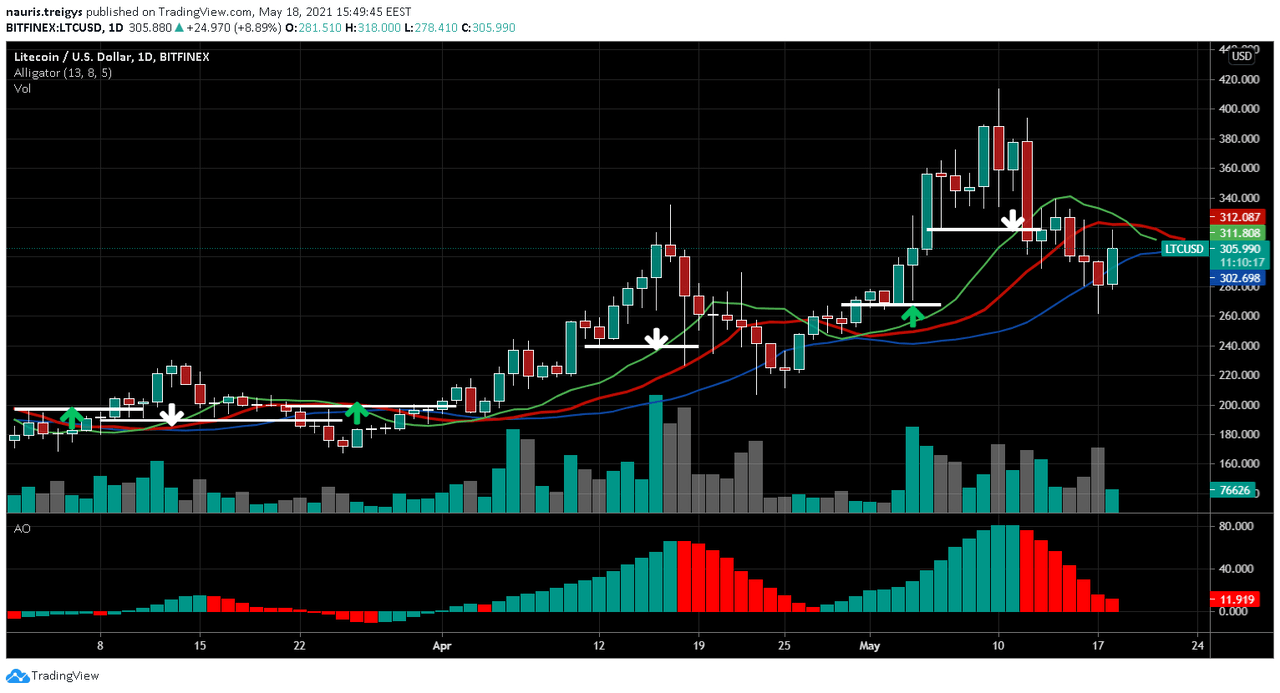 EOSUSD pozicija sėkmingai užsidarė ir dabar stebim.
NEOUSD pozicijoje stebim…
IOTUSD pozicijoje nieko nekeičiam.
TRXUSD pozicijoje nieko nekeičiam.
DOTUSD pozicijoje stebim.
---
Bitfinex suteikia geras longinimo ir shortinimo sąlygas. Prisijunkite su kodu HE1nob0M. Taip pat galite šioje biržoje skolinti savo kriptovaliutas spekuliantams ir uždirbti be jokios rizikos. Prisijunkite su kodu LEZXeL-d.
Norite išmokti dėlioti stopus, kaip šiose apžvalgose ir gal net geriau?
Norite didinti pelnus ir mažinti nuostolius?
Nedelsk ir įsigyk šiuos nuotolinius mokymus.
20% nuolaida apmokant kriptovaliutomis Bankera, Bitcoin, Ethereum.

Seeking Alpha's Disclosure: Past performance is no guarantee of future results. No recommendation or advice is being given as to whether any investment is suitable for a particular investor. Any views or opinions expressed above may not reflect those of Seeking Alpha as a whole. Seeking Alpha is not a licensed securities dealer, broker or US investment adviser or investment bank. Our analysts are third party authors that include both professional investors and individual investors who may not be licensed or certified by any institute or regulatory body.