Kriptorinkų ApžValga 2021-05-20. BTC – Pats Blogiausias Fin. Instrumentas
Please Note: Blog posts are not selected, edited or screened by Seeking Alpha editors.
Summary
bitcoin.
crypto.
ethereum.
Musk.
polkadot.
Šiomis dienomis bitcoin, o ir visos rinkos kapitalizacija taip krito, kad analitikams bitcoin jau blogiausias fin. instrumentas. Nors ir pripažįstama, kad tai vienas reikšmingiausių išradimų šiame šimtmetyje. Bet panašios kalbos būna visada, kai kainos krenta. Ir liaupsės jam pareina, kai kaina kyla. Žodžiu, nieko nauja po Saule…
Kaltininkais šiam kritimui laikomas ne tik Elon Musk, bet ir Kinijos valdžia, uždraudusi šalies finansinėms institucijoms operacijas kriptovaliutomis. Tai daug rimtesnis smūgis kriptorinkai, nei Musk twit'ai. O šiuos laisvai kompensuoja informacija, kad bitcoin toliau perka MicroStrategy bei kiti kriptorinkų aktyvistai. Optimistams ir ilgalaikiams investuotojams pasitaikė reta ideali proga pasipildyti portfelius.
Ir bitcoin šalininkams optimizmo ir šiandien nė kiek netrūksta. Ark Invest vis dar mano, kad $500 000 už bituką nėra jokia riba. O didelius svyravimus rinkoje laiko labai teigiamais decentralizacijos požymiais. Juk didelis volatiličius ir reiškia, kad kainą (vertę) nustato ne koks nors centrinis bankas, o rinkos ir tinklo dalyviai.
Ir sau savo problemomis bitcoin tinklas gali laisvai susitvarkyti. Visų pirma, kasimui naudoti "žalią energetiką"; antra, bitcoin siūloma pereiti prie PoS protokolo, kaip dabar daro Ethereum; trečia, rinka turi pasiekti tokią kritinę masę, kad visokie muskai, kitaicai ir reddit plakatai savo liežuviais kainos nevarinėtų. Tam reikia, kad daugiau institucinių būtų rinkoje. Ir jau matome, kaip Wall Street bankai šia linkme uoliai dirba.
Kalbant apie energijos suvartojimą, tai Galaxy Digital atliko tyrimą ir nustatė, kad bitcoin tinklas ne toks jau ir taršus, kaip Nerijus Mačiulis to norėtų. Pasaulinė bankinė sistema ir aukso gavybos pramonė energijos suvartoja daugiau.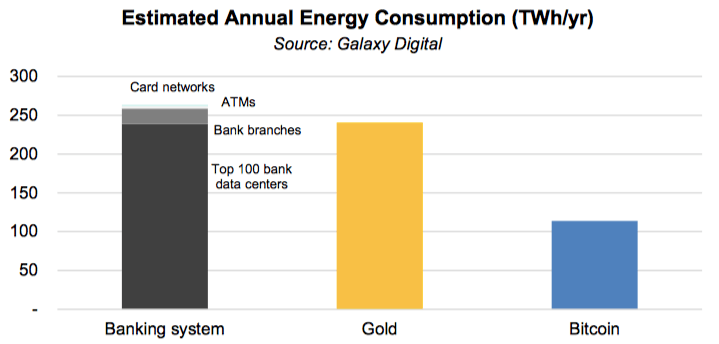 Labas rytas, Roubini
Bitcoin Gold Ratio – kuris fin. instrumentas geresnis?
Bitcoin Gold Ratio rodo, kad klasika nenori nusileisti. Bankas JP Morgan savo apžvalgoje irgi pastebi, kad nemažai bitcoininių pinigų nutekėjo į aukso pozicijas. Kažkas nelaiko nervai…
Tai realiai, nėra čia taip blogai su bitcoin ir kriptorinka, kaip mums bando papasakoti…
Grafikai
BTCUSD pozicijoje dar vienas Fibonaccis numirojo. Dadar palaikymas formuojasi ties Fibonacc 0.50 lygiu. Ir jis visiškai sutampa su stipriu palaikymu susiformavusiu šių metų pradžioje. Ir jei šis neatlaikys, pampersai čia ne nebepadės… Kol kas ramiai stebim. Buvimas ne pozicijoje – irgi pozicija.
ETHUSD pozicijoje formuojasi palaikymas.
LTCUSD pozicijoje stebim ar versis čia trendas.
EOSUSD pozicijoje stebim ar versis čia trendas.
NEOUSD pozicijoje stebim…
IOTUSD pozicija užsidarė. Stebim.
TRXUSD Užsidarė. Stebim.
DOTUSD pozicijoje stebim.
---
Bitfinex suteikia geras longinimo ir shortinimo sąlygas. Prisijunkite su kodu HE1nob0M. Taip pat galite šioje biržoje skolinti savo kriptovaliutas spekuliantams ir uždirbti be jokios rizikos. Prisijunkite su kodu LEZXeL-d.
Norite išmokti dėlioti stopus, kaip šiose apžvalgose ir gal net geriau?
Norite didinti pelnus ir mažinti nuostolius?
Nedelsk ir įsigyk šiuos nuotolinius mokymus.
20% nuolaida apmokant kriptovaliutomis Bankera, Bitcoin, Ethereum.

Seeking Alpha's Disclosure: Past performance is no guarantee of future results. No recommendation or advice is being given as to whether any investment is suitable for a particular investor. Any views or opinions expressed above may not reflect those of Seeking Alpha as a whole. Seeking Alpha is not a licensed securities dealer, broker or US investment adviser or investment bank. Our analysts are third party authors that include both professional investors and individual investors who may not be licensed or certified by any institute or regulatory body.