Rocket Internet (ROKT) is perhaps the one internet giant, that nobody knows about. It is the biggest global internet platform outside the US and China, employing about 31,000 people. Yet, coverage on SeekingAlpha is still pending and according to Reuters there are just 5 analysts covering the stock. Nonetheless, I believe Rocket is an attractive investment idea. The company is in a very favorable environment right now as European tech companies are getting more attention and with the stock trading well below its IPO price.
Start-Ups: The German Way
Rocket is special in the way they have industrialized the process of start-ups. Such as Henry Ford developed the assembly line technique for the mass production of cars, Rocket has mastered the mass production of internet businesses. This might sound strange at first because the internet industry is thought to be innovative and creative. Rocket's approach, however, is a less creative one. Instead of developing their own ideas, they try to spot ideas that are working and to replicate them, bringing them to other countries very fast. In its first annual report, the company describes itself as follows:
Rocket has developed into a unique platform that systematizes and accelerates the process of identifying, building and scaling proven internet models (...)
In this they benefit from a global network and infrastructure with standardized processes that allows Rocket to launch a new company in less than 100 days. Rocket aims to launch 10 new companies every year and they mainly focus on Emerging Markets.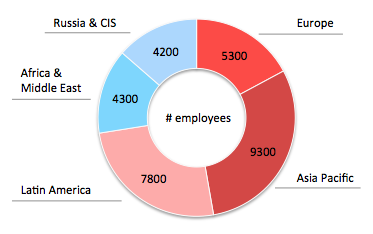 (Source: Annual Report 2014)
Because of its approach Rocket has often been called a "clone factory". And in fact, the three brothers Marc, Oliver, and Alexander Samwer who founded Rocket made their first money by creating a German version of eBay which they sold to eBay itself just three months later. With Rocket they have now professionalised that business and taken it to a far bigger scale.
Creating A Global Company In 248 Days
Rocket groups its companies in three different categories depending on business maturity: (1) Proven Winners, the largest and most mature; (2) Emerging Stars, which are smaller but have completed financing rounds beyond seed financing; and (3) Concepts, which are in the seed financing stage. Typically, companies pass the concepts stage very fast and Rocket has demonstrated great ability to grow ideas at an incredible pace.
One example for this is Helpling, an online marketplace where customers can book professional cleaning services for their apartment or business. The decision to launch the idea was made in January 2014. After 78 days the idea was launched in the 10 biggest German cities. 65 days later, Helpling started operating in Austria, Sweden, France and the Netherlands and another 105 days later its was also operating in Italy, Spain, Brazil and Canada. So it effectively took Rocket 248 days to bring the idea to a global scale. This highlights the effectiveness and value of Rocket's network and standardized processes. The latest financing round valued Helpling at €108m ($121m).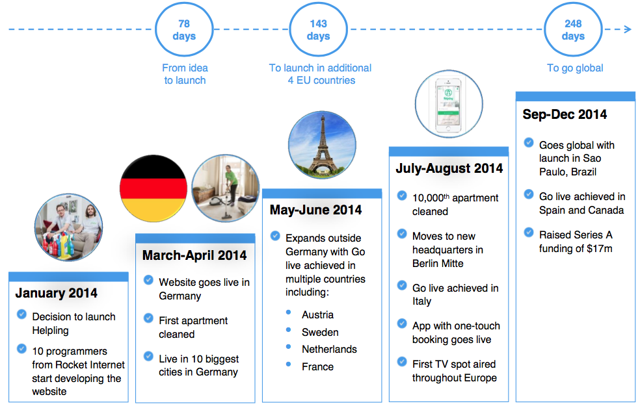 (Source: 2014 Results Presentation)
Creating Market Leaders
Among its "Proven Winners" Rocket has built some market leading companies. They can be grouped into 4 different segments: (1) Food Delivery & Grocery, (2) Fashion, (3) General Merchandise, and (4) Home & Living.
(1) Food Delivery & Grocery
The Food Delivery & Grocery segment is comprised mainly of the Global Online Takeaway Group (GOTG). GOTG represents Rocket's stakes in Delivery Hero (40% owned by Rocket), Foodpanda (52%), Pizzabo.it (100%), and LaNeveraRoja (100%). Together, these companies are the biggest online takeaway group in the world, far larger than Just Eat (JSTLF) or Grubhub (GRUB). It operates in 71 countries and is the no.1 player in 59.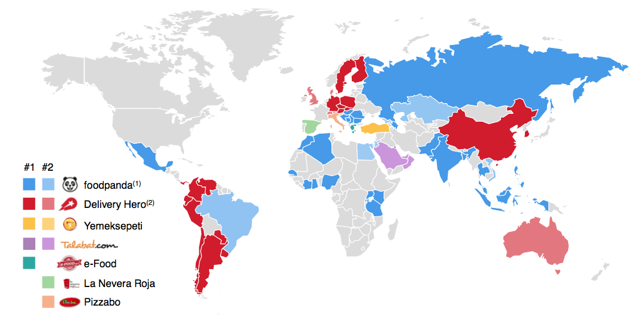 (Source: 2014 Results Presentation)
Note here that Rocket contributed its stakes in e-Food, Talabat.com, and Yemeksepeti to increase its share in Delivery Hero from 30% to 40%. They are all now 100% owned by Delivery Hero.
GOTG easily overtakes Just Eat and Grubhub in terms of orders and the number of takeaway restaurants. It also captures more favorable markets. GOTG is big in fast-growing emerging countries such as China, India, Indonesia, Mexico, Turkey etc. These markets are characterized by a large and young population but low internet penetration which gives GOTG an attractive long-term growth prospect.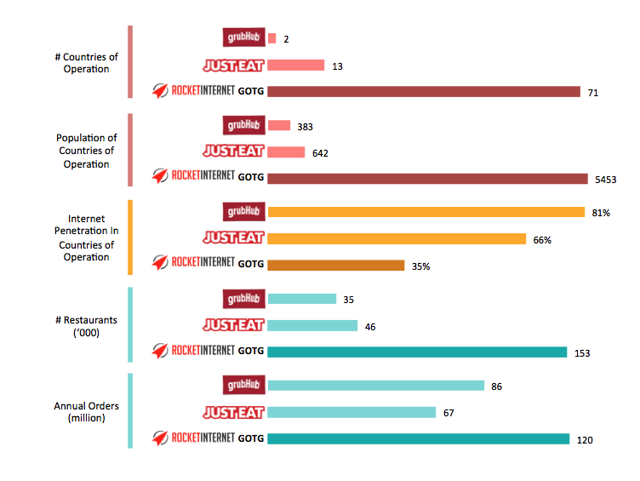 (Source: 2014 Results Presentation)
Grubhub and Just Eat both went public last year and Delivery Hero's CEO has already stated that they are also eyeing an IPO even though he said it will not happen this year. In case of an IPO I believe that Rocket will contribute its stakes in Foodpanda, LaNeveraRoja and Pizzabo.it in exchange for a higher share in Delivery Hero as they did before with Yemeksepeti and Talabat.com. This would create the biggest player in the online food delivery market. Given that Grubhub and Just Eat are currently trading at double-digit sales multiples (10x for Grubhub and 15x for Just Eat) this represents an attractive exit opportunity for Rocket.
(2) Fashion
As for food delivery, Rocket has also bundled its online fashion retailers in the Global Fashion Group (GFG). The several companies comprised in that group operate in Latin America, India, Russia and Central Asia, the Asia Pacific region and the Middle East. These businesses can been seen as regional equivalents to the European Zalando (OTCPK:ZLDSF), which was launched with the help of Rocket in 2008. Zalando is now the biggest European online fashion retailer and has outgrown British Asos (OTCPK:ASOMF) by far and at an incredible pace.
The companies of the GFG were all launched between 2010 and 2012 and generated revenue of €630m ($720m) in 2014. Even though information is limited, GFG showed strong growth last year and given Rocket's track record I believe it can turn into a market leading online fashion retailer just as Zalando. It is also geographically well positioned which offers a strong growth outlook.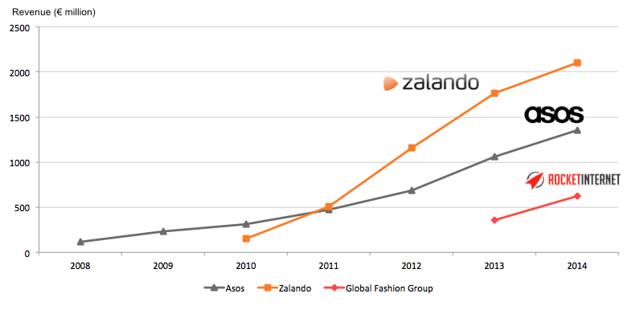 (Source: annual reports)
In terms of valuation, Zalando is valued at 3.6x sales and Asos at 2.9x. Applying similar multiples to Rocket's GFG would already value GFG north of $2bn.
(3) General Merchandise
The general merchandise segment highlights well the strategy of Rocket. It comprises three e-commerce companies which can be seen as Amazon(AMZN) copies with the big difference that they operate in markets Amazon is not present. Even though they were just founded in 2011 and 2012, they have already grown into market leaders in South-East Asia, Latin America and Africa.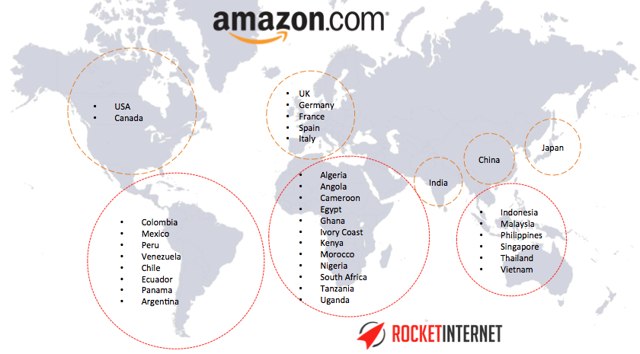 (Source: annual reports)
These examples highlight how good Rocket is in creating market leading companies by spotting opportunities especially in fast-growing Emerging Markets that are less well penetrated. For most of Rocket's investments there are attractive exit opportunities and high long-term growth prospects but valuation remains a big issue.
How To Value Rocket Internet?
It is very difficult to value Rocket because the company is basically a holding company of several start-ups. Many of those start-ups have just little revenue and negative earnings. Also, Rocket does not fully consolidate all of its holdings. DCF valuation is very difficult to apply because revenues and earnings are highly volatile and difficult to forecast. Earnings to a large part depend on the cash inflows of company exits which are not very predictable. Therefore, multiples are also not suitable to evaluate Rocket's business.
One possibility would be to use a Sum-of-the-parts (SOTP) analysis. This, however, would make it necessary to estimate the value of each of Rocket's holdings which is not just a tiresome exercise but also very difficult. Valuing one start-up is already connected with a high degree of risk and uncertainty. Valuing a group of start-ups just increases this uncertainty and makes the valuation a lot more complex.
Especially companies in the Concepts or Emerging Stars stage are almost impossible to value as they are typically very young and have no track record or notable revenues. For Proven Winners this is a bit easier because often you have comparable companies that just operate in a different market. The Global Fashion Group for example can be compared to Zalando and Asos. Here, using the sales multiples of 3.6x and 2.9x respectively, we would arrive at a valuation between $2.1bn and $2.6bn. The problem is that even for many Proven Winners the amount of information is very limited.
Taking the other big Proven Winner, the Global Online Takeaway Group, we know the sales multiples of its competitors Grubhub (10x) and Just Eat (15x), but we have no information on the revenue of Rocket's GOTG and have to take information from different sources together to arrive at a rough estimate. From the annual report we can take that Foodpanda's revenue was about €7m ($8m) and from the 2014 results presentation we know that Yemeksepeti generated €18m ($20.5m) in sales. Delivery Hero said it expects 1Q15 revenue of €30m ($34m) which would mean a 120% increase over the Q1 of last year. So annualising the implied 1Q14 revenue would give us €55m ($63m) of annual revenue in 2014. For LaNeveraRoja and Pizzabo.it there are no numbers available. What we know, however, is that Rocket paid €80m ($91m) for LNR, which was rumored to be a 40x sales multiple. Thus, 2014 revenue would have been around €2m ($2.3m) for LNR. For Pizzabo.it we can assume a similar number as both services operate in countries of similar size and are both the number 2 player in their respective market. All in all, we arrive at a revenue number around $96m for 2014 which would result in a valuation between $960m and $1.44bn. A rough estimate is of course better than nothing but it comes with a high degree of uncertainty and highlights the difficulties when valuing Rocket.
Another issue apart from valuation is to estimate what happens when Rocket exits one of its investments? Obviously that would mean a big cash inflow and maybe a big special dividend. But Rocket also has to reinvest to find new profitable ideas. So in addition to the valuation risk there is also the reinvestment risk. Due to this Rocket will probably always trade at a big discount to the NAV of its investments and it should, considering the high degree of uncertainty.
Despite all these risks, I believe Rocket's stock has some room to grow as it finds itself in a very favorable environment.
Two Catalysts For Rocket Internet
In my opinion there are two catalysts that will help Rocket move higher once they are fully appreciated by the market:
Accommodative monetary policy
US companies' large offshore cash balance
Recently there was one big catalyst for Rocket that everybody missed. It received such low interest, the Financial Times did not even write about it. It was the acquisition of Berlin-based start-up 6Wunderkinder by Microsoft for an amount of $100m-$200m. What made this so important is the signaling effect this had for the European tech world. Microsoft and other large US companies have accumulated more than $2tr in offshore cash which they cannot repatriate without paying hefty taxes. But they have to somehow put this money to work so they will increasingly look for European start-ups to buy. This will give companies such as Rocket more attractive exit opportunities and Rocket actually has some companies in its portfolio that could be of interest for US companies. On the other hand, high-value exits mean a higher reinvestment risk for Rocket so you have to be careful.
Rocket's business is also supported by a very accommodative monetary policy in Europe that will last for at least another 1.5 years. This will lead to an increasing investor risk appetite and I would not be surprised to see valuations of start-ups rising just as it was the case in the US. Rocket right now is trading at €36.8 ($41.9) which is 15% below its issue price of €42.5 ($48.4) which I believe is an attractive entry opportunity.
Rocket has demonstrated a unique ability to build market leading companies at an incredible pace. Its global network and standardized processes allow them to launch new ideas fast in several countries which gives them an edge over other tech companies. Rocket's approach contrasts quite a lot with the romantic image of start-ups where some people sit in a garage and work on a new idea but it might be the way tech companies are launched in the future. Rocket has effectively professionalised the internet start-up process and has made it more efficient. Very German.