Apple is scheduled to report its earnings after the market close on July 24th, and this presents an excellent opportunity for an earnings play trading options.
A brief review of the of Apple earnings history over the last eight years (an excellent summary is available at aaplinvestors.net), reveals that the company typically offers very conservative guidance which it consistently beats, and that the stock rises after earnings more than 70% of the time. The support of these two facts, combined with the anecdotal evidence of the decline of Nokia and RIMM, offer great support for a bullish earnings trade on Apple. It will also be noted that Apple is one of the best values among technology stocks, with a recently announced $10 billion share buyback program, a dividend payment of 1.76%, and a forward P/E ratio of about 12. An excellent summary of recent earnings beats is shown below in this chart from bullishcross.com: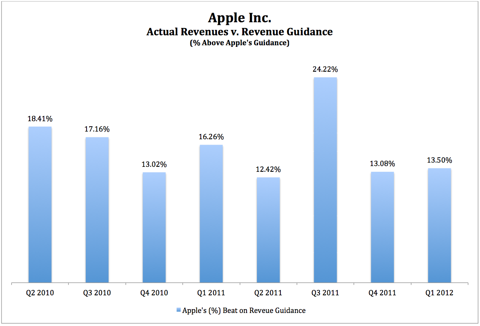 The difficulty in trading Apple is found in the fact that with the stock at $604.30 per share, how does the investor get enough leverage to make a reasonable trade? The solution is found in options, and more specifically in terms of a trade structure, the bull call spread. A bull call spread is the options strategy of buying a lower cost call, and selling a higher strike call of equal number, with the same expiration date. A spread of this nature is profitable whenever the difference between the closing price and the lower strike is greater the cost of the trade. By selling the higher strike, the trader caps the potential gain, but also reduces the entry cost. This earnings week, playing it conservatively, I like buying the August 575 call at about $40, ($4k) selling the August 605 call at $21 ($2100), for net $19 ($1900). This trade starts out almost 100% in the money, and results in a 100% gain if AAPL holds 605 for 30 days! That's an excellent return that this options investor can live with.
Note: The author is long Apple options.
Disclosure: I am long AAPL.