Summary
Innova's LT-3 revenue and EBITDA continue to grow.
The company's balance sheet is strong.
Current valuation with adjusted EBITDA is very cheap.
Innova Gaming (OTC:IVGMF), the provider and designer of casino and lottery ticket systems in North America, presents itself as a compelling investment opportunity. Recently spun off from Amaya Gaming in 2015, the company's revenue and profit margins have been growing due to the maturity of its installed lottery systems. In addition, the company has a strong balance sheet with excess cash on hand to support future growth. The current valuation is cheap, hence we see the shares of the company as a good investment.
*Innova Gaming is also listed in Canada under symbol, IGG*
Growing LT-3 Presence
Over 90% of Innova's revenue is generated from its "Lucky Tab" vending machines (LT-3) - digital scratch and win ticket dispensers. They look very much like slot machines. Under the watchful eye of local state and provincial lottery authorities, the machines are deployed with customers among bingo halls, provincial lotteries, racetracks, and other gaming venues. Revenue is recurring in nature, and Innova has been able to form long-term relationships with its customers.
Since 2012, the business has grown steadily year over year. Currently approved in 2 provinces and a few states including Ontario, Quebec, Maryland, Missouri, Michigan and New Hampshire, the number of LT-3 installed have grown steadily. In a recent company investor presentation, management have identified over 8000 locations in their approved jurisdictions suitable for LT-3 deployment. At the of 2015, only 219 of the 8000 locations have LT-3 deployed. Additionally, the management team is actively pursuing new market - 40 states and 5 provinces with lotteries. We certainly share the optimism of the management team. Lottery commissions are always looking for ways to increase revenue and Innova has proven that the LT-3 can do just that. The chart below shows the expansion of the installed LT-3 base since the end of 2012.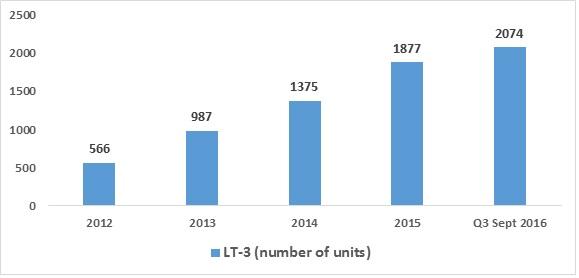 Source: company financial reports
Growing EBITDA
As more LT-3 are deployed in one area, fixed costs will be leveraged and cost per unit decreases. And when cost per unit is decreasing and overall revenue is rising, inevitably your ability to generate cash flow will improve. At the Q3 conference call, Steve Koo, Innova's CFO, confirmed this trend.
"I think the EBITDA trends that you're seeing, as I mentioned before, I think really just reflect the fact that we've got our infrastructure in place now, and sort of the incremental revenue is dropping through to that EBITDA line. So I would anticipate-and at least our focus here- is to continue to run the business as efficiently as possible so that we can maximize that EBITDA margin."
We expect the company to continue to grow at a moderate pace. Our reasons are several: 1) the overall demand of gaming and lottery betting in North America is trending upward. 2) The current management team has a wealth of experience in the gaming industry - over 65 years. 3) We expect social and charitable programs like bingo halls, veterans clubs and fraternal gatherings to continue to be popular in the foreseeable future. 4) The company has not forget to innovate. At the recent North American State and Provincial Lottery Conference, Innova unveiled its new suite of lottery products "Nexplay".
Flexible Capital Structure
Looking at the balance sheet, the key takeaway is the lack of debt and relative large stockpile of cash on hand. As of Q3 2016, the company has little debt on its balance sheet but over 9 million of cash. Furthermore, the company generates positive cash flow from its operations. The current capital structure and operations offer the company a solid base to grow.
Risk
There is risk that the LT-3 deployed into liquor by the drink locations in Missouri would have to be removed. Most recently, a third party commenced a lawsuit against the State of Missouri on this matter. In aggregate, there is uncertainty whether the company can generate long-term revenue from deploying their flagship products into these specific locations in Missouri. Nevertheless, it is important to point out that the LT-3 in question only make up a small portion of the entire installed base.
Valuation and Conclusion
We calculated the company's adjusted EBITDA (NYSE:TTM), which is earnings + taxes + depreciation + stock-based expense - unrealized foreign exchange gains, to be 4.986 million. With an enterprise value of 23.15 million, the company is trading at an EV/EBITDA of 4.64 - it is overly cheap.
While the company is small and there are some minor regulatory risks with deploying their lottery systems in North America, it is trading at a heavy discount. Our view on both the industry and management are positive, therefore we see the shares of the company as a great investment.
Disclosure: I am/we are long IVGMF.