SPX Flat, Dollar Flat, Crude Down
Global equity futures are printing mixed in the pre-holiday tape. Asian markets are battered, while Europe and US are relatively flat. The biggest financial story are European banks, where Italy has pledged to provide support for Monte Paschi's bailout. In commodities, softs continue a downward pressure, along with energy. Gold and Silver are mixed as the Dollar is flat on the 103-handle. The reflation DXY and UST10Y have stalled once more while the market waits for the next market generated information to imbalance. Bitcoin is having a wild ride >900 at multi year highs as the likely buyer comes from China.
News out of Europe is dominating the headlines of Italy's Government to bailout the insolvent Monte Paschi bank. In response IT10Y gains in the session, but European 10Y regional yields decline across the board. Deutsche Bank has also rose after the lender agreed to settle US mortgage probes. Cheerleaders in Europe are now celebrating the removal of the legal cloud over DB and temporary rescue of Monte Paschi. These are temporary and short term fix of a decaying Euro dollar system. In response, regional equity markets including CAC, DAX, and UK100 are mixed to flat with not much enthusiasm. EUR/USD is slightly up +17bps in the mid 1.04 handle after probing a multi decade low in the 1.036 level as the dollar shortage rages on. GBP/USD probes the mid 1.22 handle in a declining trajectory to end the week.
WTI Declining as Crude builds on the week. 1pm Baker Hughes Rig Count Report.
API (Miss)
Crude -4.15mm (-2.5mm exp)
Cushing +690k (+1.9mm exp)
Gasoline -1.96mm
Distillates -1.55mm
DOE
Crude +2.256mm (-2.5mm exp)
Cushing -245k (+700k exp)
Gasoline -1.309mm (+1.375mm exp)
Distillates -2.42mm (-1.625mm exp)
Soft commodities decline on dollar shortage pressures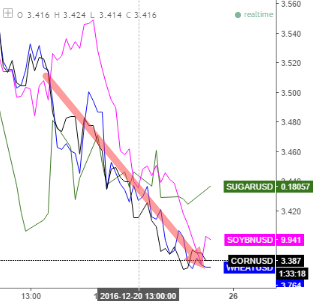 BTC/USD Bitcoin 923 target. Buying pressure high probability from the Chinese on more devaluation fears.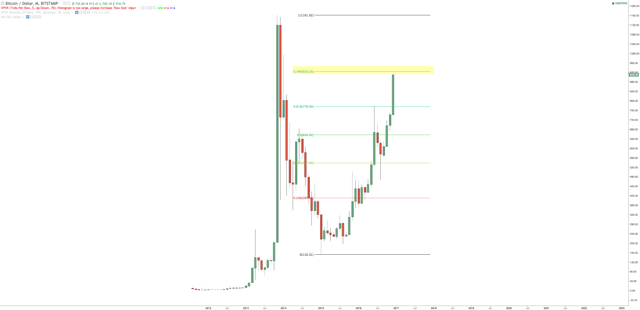 US Event Calendar
10am: New Home Sales, Nov., est. 575k (prior 563k)
10am: U. of Mich. Sentiment, Dec. F, est. 98.0 (prior 98.0)
1pm: Baker Hughes rig count
Durable Goods Tumbles Most Since Aug 2014 As Non-Defense Orders Crash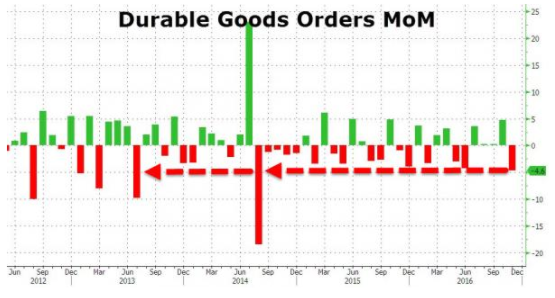 The Auto Industry slowdown is here, signals trouble ahead for US Economy. +61 day delinquencies among GM subprime borrowers on the rise.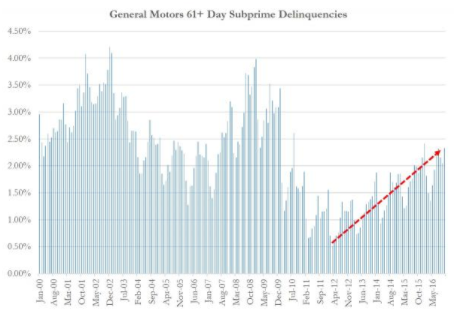 Initial jobless claims spike to 6-month highs. Alludes to NFP slowdown ahead.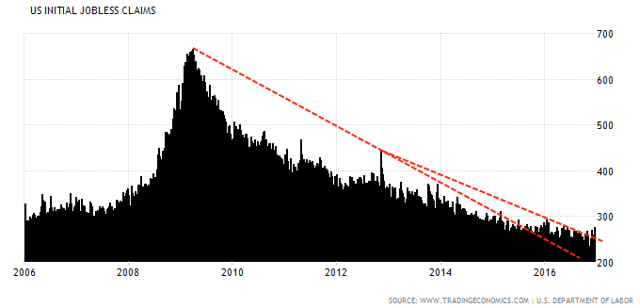 Claims <300k is the longest streak since 1969, which alludes to a recession is nearing.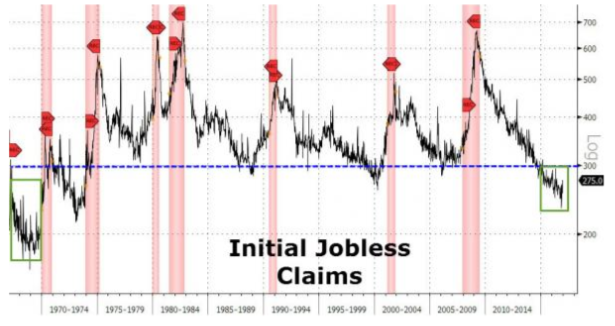 Fed's National Activity Index Tumbles To 3-Month Lows Post-Trump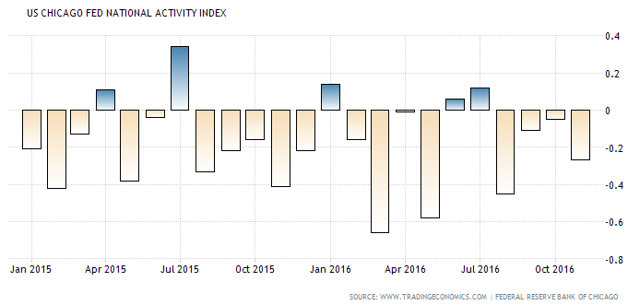 Personal Savings rate in decline

Read disposable income per capital is flat and rolling top.

Debt fueled buybacks decline for the second month as interest rates increase.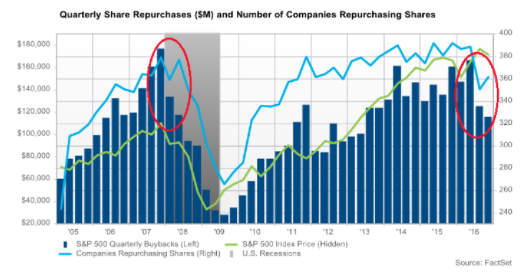 LATEST FORECAST: 2.5 PERCENT - DECEMBER 22, 2016 (DECLINING)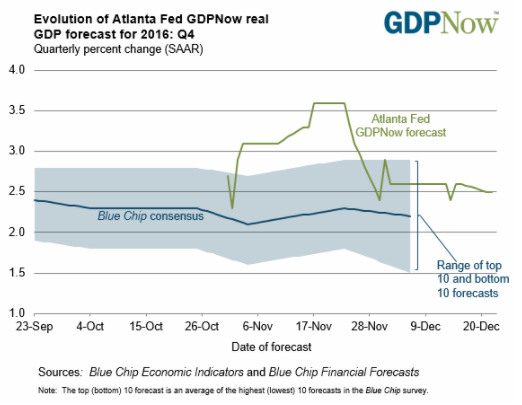 ICAHN: DANGEROUS TO HAVE ALL THIS MONEY DAMMED UP IN ETFS
Focus on GGP second largest US mall REIT <200sma on a weekly. GGP is selling on subpar consumer data.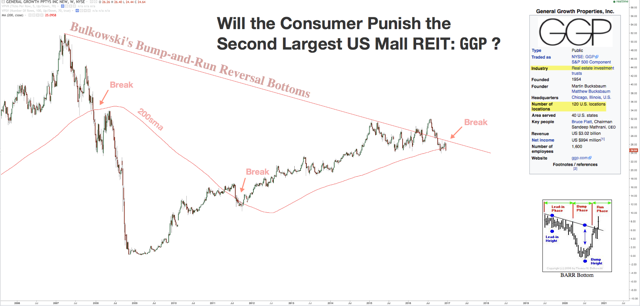 As well as, XRT is selling on weak consumer data. 640 days stalled as consumer is tapped out.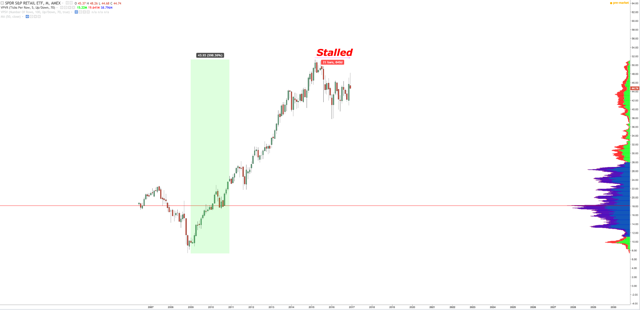 Home Affordability Drops To 8-Year Lows As Mortgage Rates Surge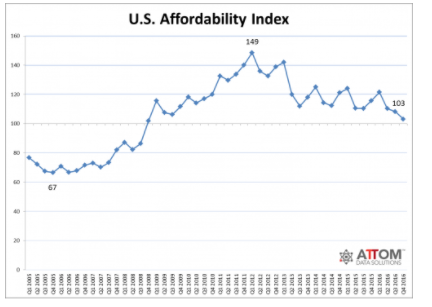 Mortgage rates surge as applications are depressed.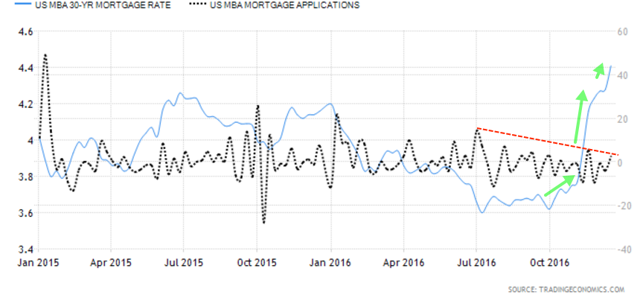 Weekly death cross is imminent for IBB Biotech. Rising rates worst nightmare for biotech.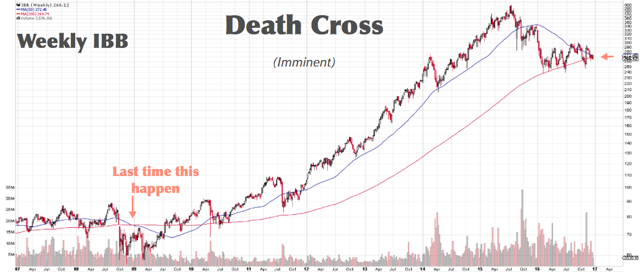 Chinese Large Cap Stocks completely negatively diverge US stocks. How long can US ignore this?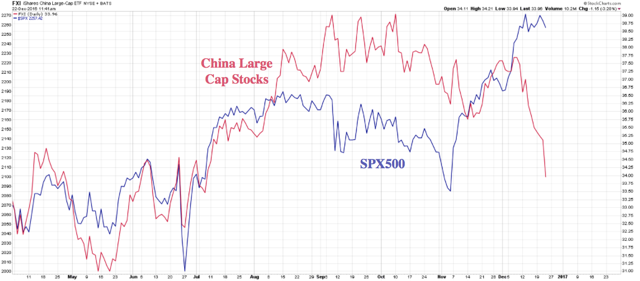 Dollar Shortage is a headwind for the Corporate Profits. Trump's US boarder tax proposal is extremely bullish for the USD according to DB. This could further weigh on CP, as Trump's ability to fix the trade deficit will involve pain.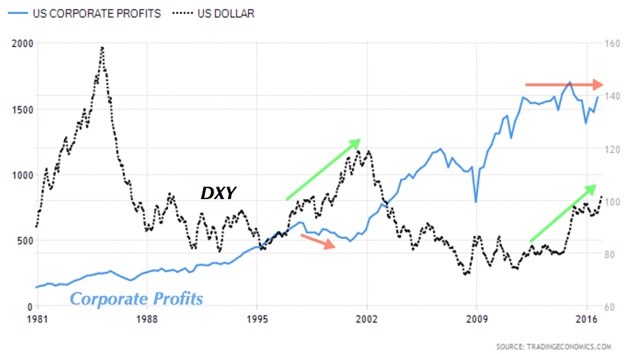 JPM Trading Desk Reiterates The "Enormous Risk For The Tape"
Market update - it was another relatively slow night and this trend will likely stay in place until 2017 as markets globally slowly dial down for the holidays (attendance, liquidity, and volumes will stay on a downward trajectory for the balance of the year). Asia saw mixed Asia, Eurozone equities are down small, and US futures are flattish. There are a few headlines in focus (including FDX/NKE earnings, the Spanish bank court ruling, etc.) but none have "macro" implications. At the risk of sounding like a broken record (again), the backdrop for domestic equities remains the same. The single biggest issue for stocks (both in the US but also globally too) is the Trump/Ryan regulatory agenda and its path from paper to reality. Investors are beginning to focus more on the corporate reform particulars (specifically, border taxes, interest deductibility, and immediate capital spending expensing) and this is blunting some of the initial Trump/Ryan enthusiasm but it prob. won't be until formal legislative drafts come out of various Congressional committees that stocks pay real attention (although this remains an enormous risk for the tape as the perception around taxes/infrastructure spending and the likely reality are quite different).
UST10Y Yield is now higher than the SPX500 Dividend Yield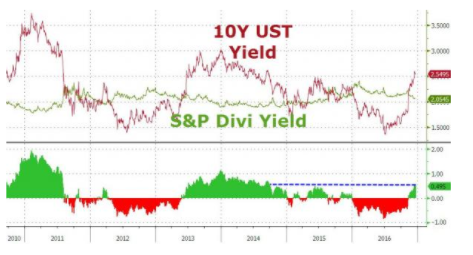 Negative divergence in 2017 GDP Growth Expectations vs. SPX500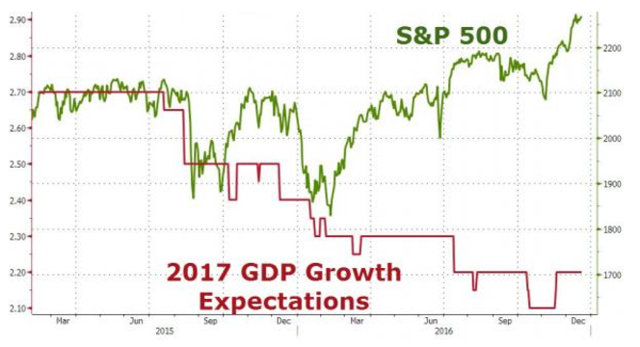 Perhaps, US Equity indexes are experiencing blow off tops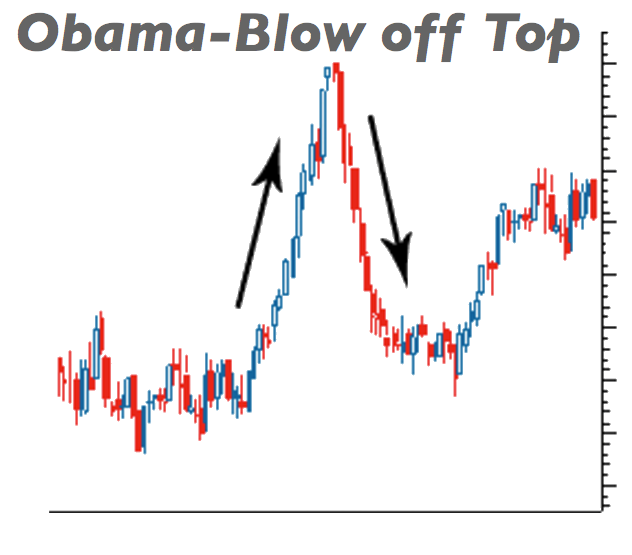 TLT montly 50 simple moving average line in the sand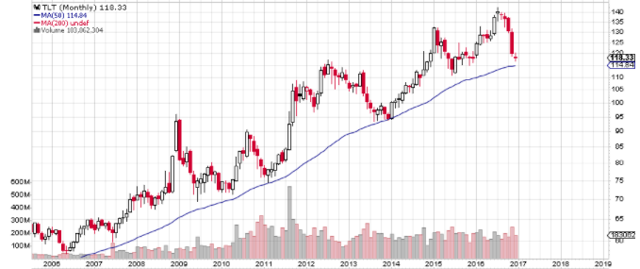 Various US equities trade ex-fundamental basis, which leads us to believe of a blow off top scenario.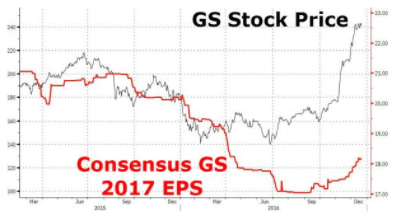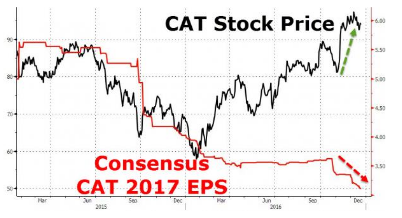 Higher interest rates is not good for the social media bubble. Facebook <FB> monthly top BARR reversal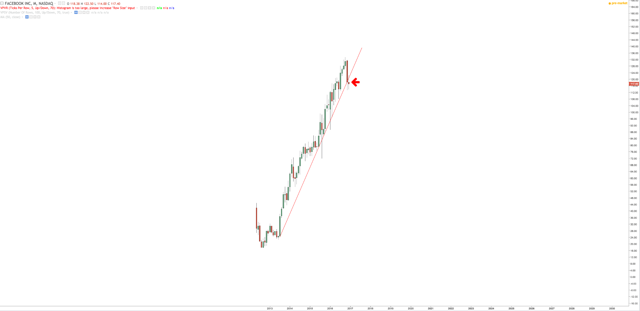 Our question today is how intact is the reflation trade? Downward trajectory in Dollar, equities, WTI, and Yields in recent sessions. Will yesterday's bracket hold the floor to produce a reversal, or is this a continuation pattern?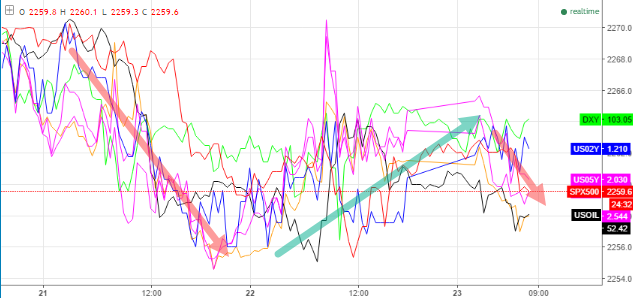 On the forex side, Dollar maintains a shortage in the103 handle as the EUR/USD sits mid 1.04 range. Noticeable stress GBP/USD in the mid 1.22 level, as well as AUD/USD .71732. Outflow concerns in China with USD/CNH 6.95 handle which has induced a bitcoin rally >900.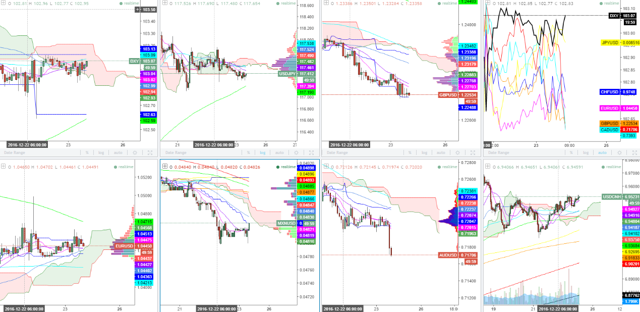 Global markets are mixed with stress in China continuing. DAX in the 8am is now under pressure with UK100 +28bps. Bottom left is the EM vs. VT, and do you notice the negative divergence? Strong dollar woes in EM.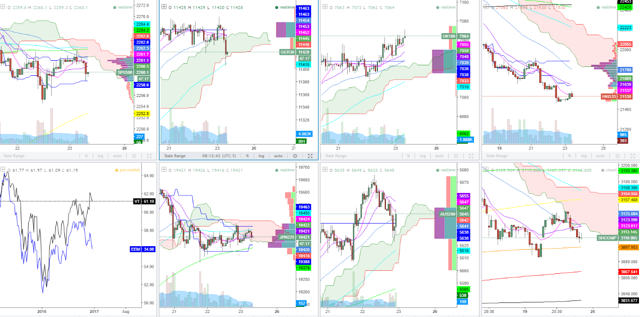 As Europe opened up, US markets: bonds bid, dollar sold, equities sold, and Yields declined.

US Equities, UST yields, Dollar ignore Credit. Hmm, this is supposed to be good?

SPY daily continues to rotate a 2×1 GANN starting from 8-24-15 timestamp. POC209