SPX Up, Dollar Up, Crude Up
Global equity futures have marginally advanced on light volume amid this holiday week. U.K. traders have returned to the global casino with a declining GBP/USD -38bps at the 1.22188 level, as well as UK100 +55bps at 7104 handle. Regional equities in Europe are marginally up, while Asia is mixed. On the currency front, dollar demand surged in the early morning hours during the Asian session +58bps to the 103.50 level pushing down EUR/USD to the 1.03 handle. Precious metals including copper, gold, and silver are under pressure. Prior session, softs counter waved a multi session liquidation. WTI is slight positive headed for the longest winning streak in seven years ahead of the OPEC production cut. Holiday hours for API and EIA reports. Bitcoin in the overnight session tags 958 handle, which has surged over our 923 target from Dec 16. The surge in Bitcoin has been rumored of an incoming currency devaluation via the PBOC.
US Event Calendar:
8:55am: Redbook weekly sales
10am: Pending home sales MoM, Nov., est. 0.5% (prior 0.1%)
4:30pm: API weekly oil inventories
The reflation trade is alive and well in the DXY +58bps to the 103.50 level. UST10Y remains bracketed consolidating at the highs.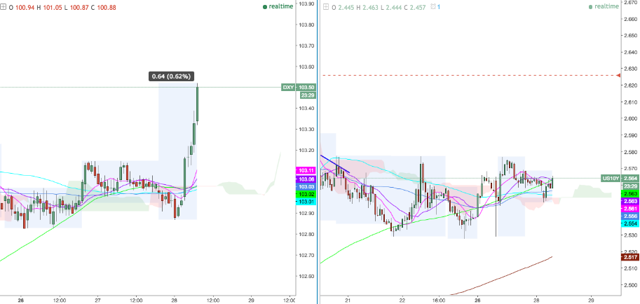 On the currency front, Dollar demand surges pushing down global currencies. Notable weakness in the EUR/USD and GBP/USD. MXN/USD continues to trade at the lows which concerns us due to clients who have operations in Mexico are getting slaughtered on the exchange rate into dollars. Commodity currencies such as CAD and AUD are mixed against the dollar. USD/CNH probes the 6.96977 level with fears of Chinese's outflows. In response Bitcoin tags the 958 handle as many think the PBOC has an incoming devaluation. USD/JPY spiked last night +25bps in a matter seconds now trades in the high 117 handle. Overall, the global dollar shortage continues to ravage EM countries, as well as a headwind for international corporate profits in the US.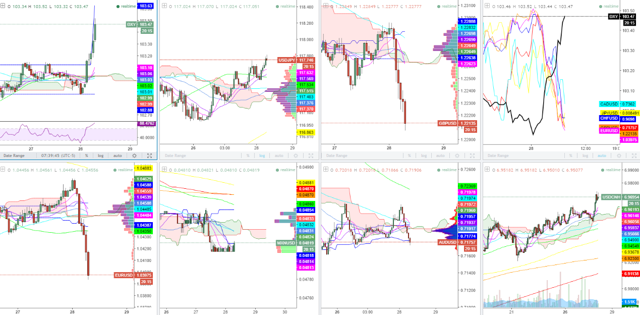 Icahn Warns of a Trade War with China
"If you have a trade war with China, by definition, I remember the days something like that would really knock the hell out of the market, but maybe if you're going to do it, you should get it over with, right? So that's a consideration, you have to just make up your mind, if that's what you're going to do, you go do it," Icahn said. "If you're asking me am I concerned about the market on the short term. Yeah I'm concerned about it," he said. "You can look at so many factors here that you have to worry about. Obviously, if you get into a trade war with China, sooner or later, I think we're going to have to come to grips with that, maybe it's better to do it sooner, but that's not my decision at all. I don't get involved with that."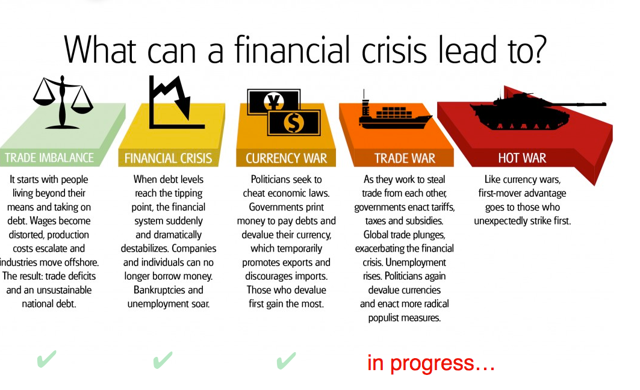 In Australia, the ASX is +110bps, along with the AUD/USD printing at the .7184 level. We are warning of a technical disaster in AUD/USD breaking a mutli-decade ascending diagonal demand line as the strong dollar wreaks havoc. Commodity futures are flat as the China downgrade growth story starts the digestion phase.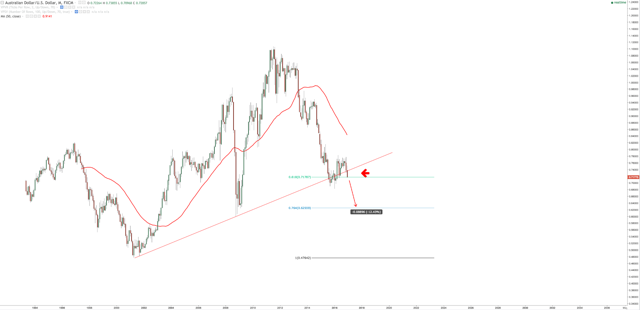 Last week, we started warning about a technical break on monthly timeframe <GGP>, who is the second largest US Mall REIT in the US.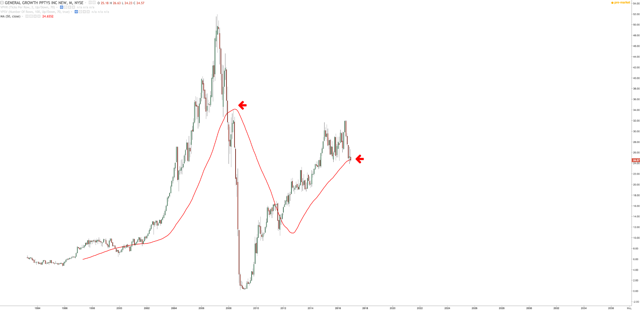 US Home Prices Hit A Record High In October - What Happens Next?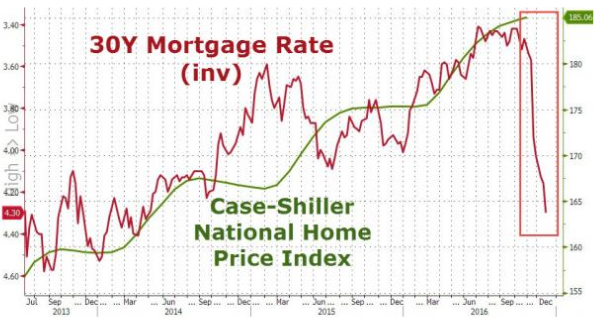 New Home Sales Jump Ahead Of Mortgage Rate Spike Led My Midwest Surge. Notice the negative divergence in MBA applications since June'16. Higher rates coupled with stagnate to declining wage/salaries growth could lead to a slowdown period in housing.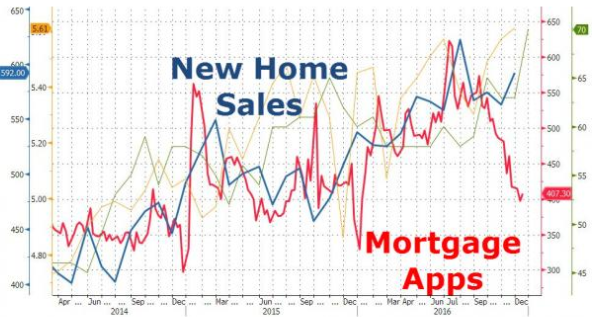 Foreign treasury holders such as China and Saudi Arabia have been liquidating US-debt at record levels in the recent years. The recent surge in Treasury Yields is due to an acceleration of foreign sellers of debt, plus the fiscal stimulus prospects of a Trump administration.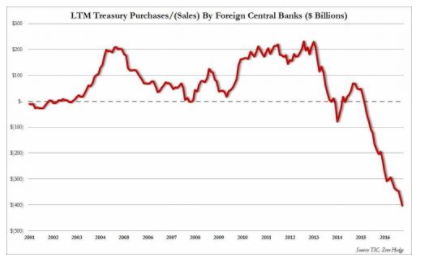 But it seems as of recent, the Fed's custody account has jumped by $60 billion alluding to central bank(s) buying treasuries. Perhaps the surge in rates is max pain or it's an attempt to suppress yields once again.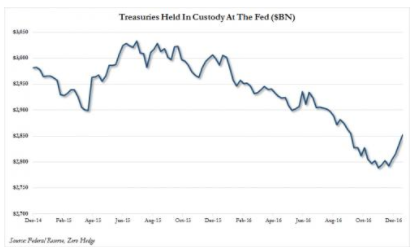 Consumer Confidence Jumps To Highest Since 2001 As "Trump Hope" Soars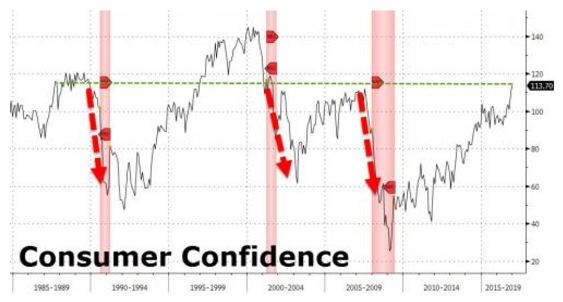 Reported via Zerohedge, "An Odd Disconnect: Consumer Confidence At 12 Year HIgh As Inflation Expectations Tumble To All Time Lows".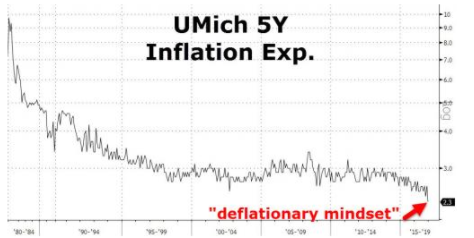 Hope has not yet showed up in Wage and Salaries Growth of US Workers-- where it matters the most.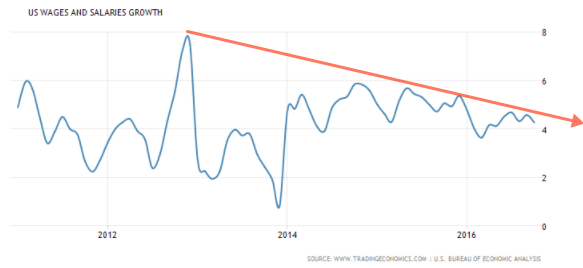 The question arises will corporations eat into profit margins to raise wages? Probably not…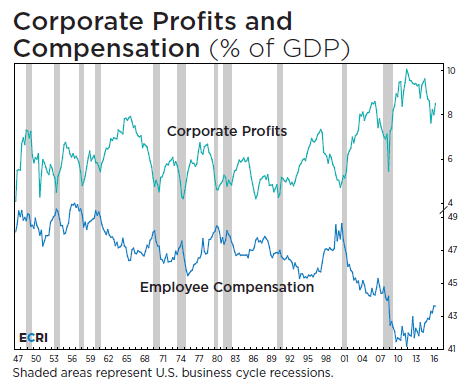 US Initial Jobless Claims signal a bump and run reversal bottom. 94% of all jobs added in the Obama cycle are temporary and low skilled according to a former WH aid. The recent print of 275k is not alarming, but <300k for a considerable amount of time can allude to a maturing cycle in jobs and a reversal is on the horizon.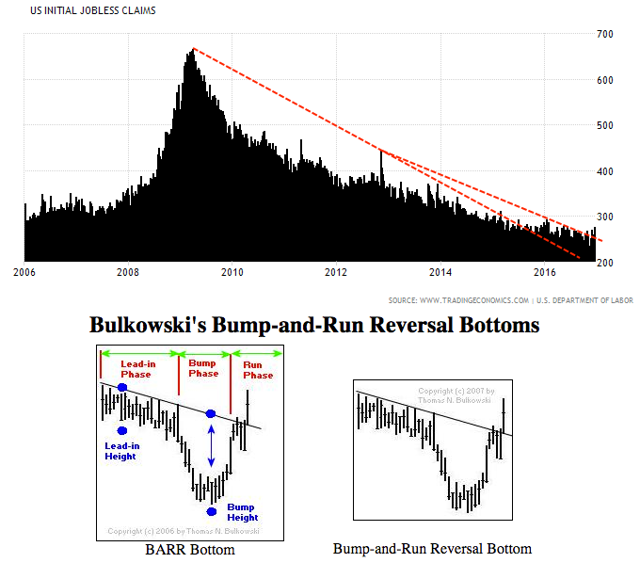 Junk Bonds diverging like 2000 and 2007, does it matter?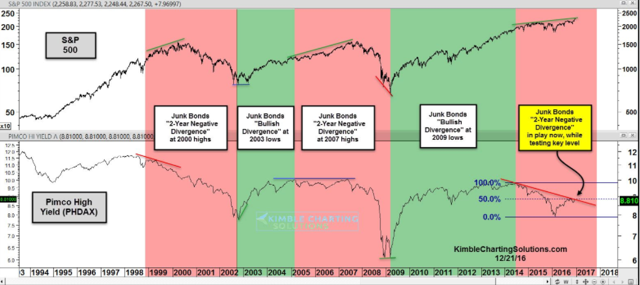 December 23, 2016: Highlights of NY FED NOWCASTING
The FRBNY Staff Nowcast stands at 1.8% for both 2016:Q4 and 2017:Q1.
This week's news had no impact on either the Q4 or the Q1 nowcast.
Small negative contributions from personal income data were offset by small positive contributions from new single family houses sold.
The Chicago Fed National Activity Index: November 2016
The latest release of the Chicago Federal Reserve National Activity Index (CFNAI) indicated that national economic activity worsened in November with the index falling to a contraction level of -0.27 from a weak level of -0.05 a month earlier while the three-month moving average rose to a level of -0.14. A value at or below -0.70 for the three-month moving average of the national activity index (CFNAI-MA3) indicates that the national economy has either just entered or continues in recession. Via Sold At The Top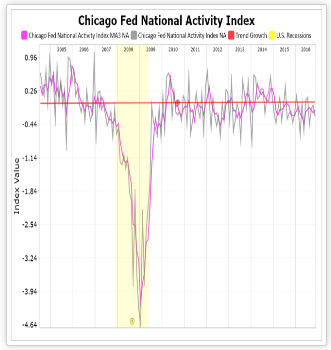 Considerable slowdown in the US-Auto industry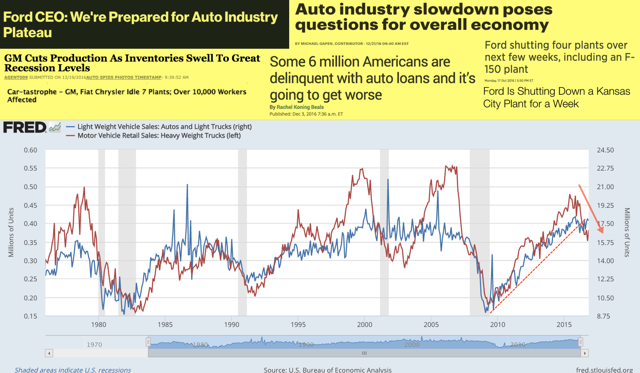 Debt fueled buybacks decline for the second month as interest rates increase.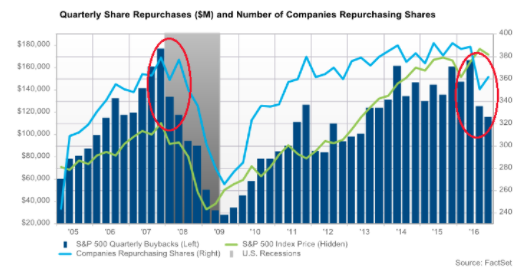 SPX, Dollar, & UST Yields positively diverge Credit.

US Dollar and US equities are in a similar pattern vs. DotCom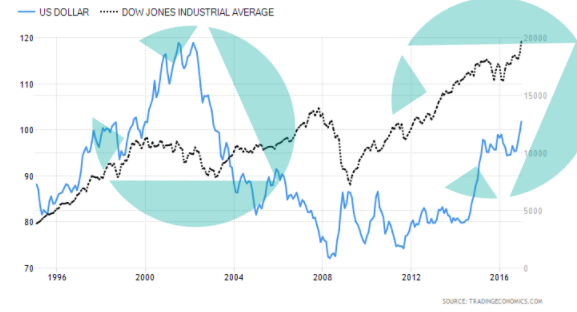 Strong dollar weighs on corporate profits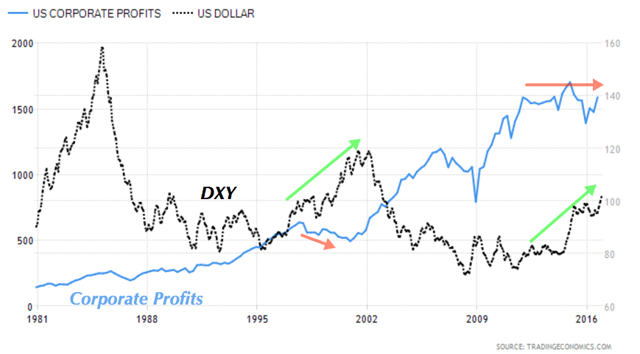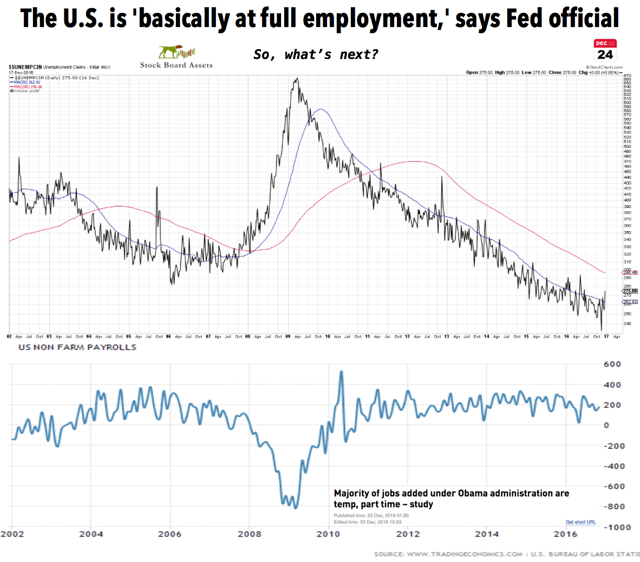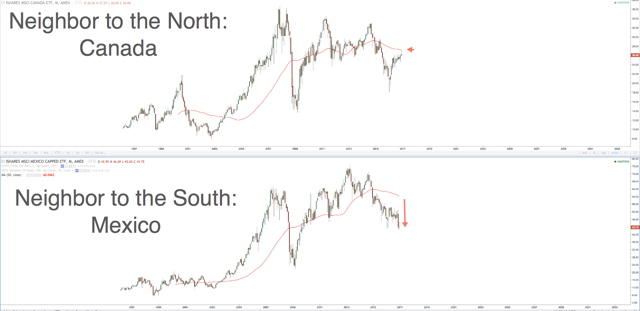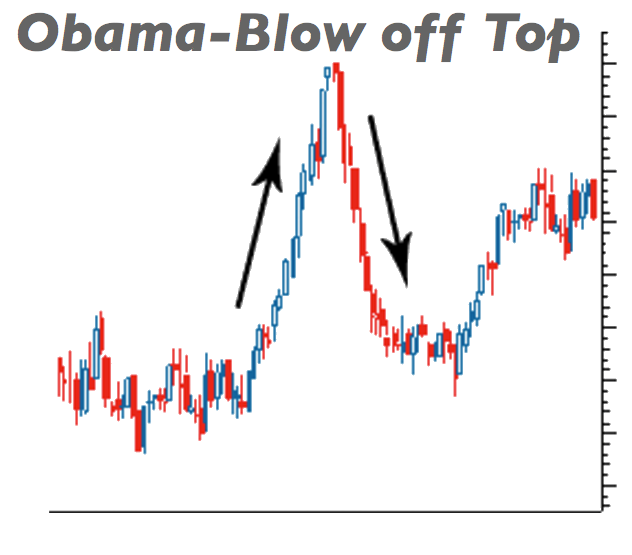 SPY Monthly testing 1.5 of Pitchfork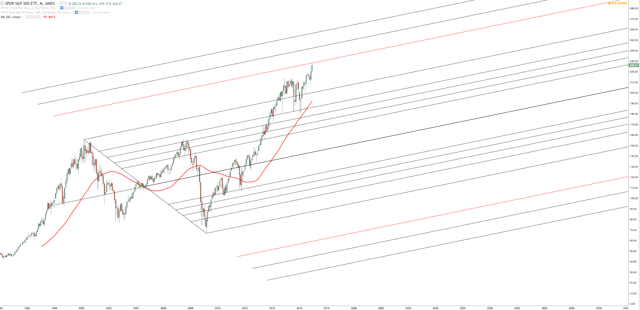 SPY monthly with POC128. At some point there will be a mean regression.