SPX Flat, Dollar Down, Crude Flat
In recent sessions, the reflation trade via the dollar and UST Yields is fading. Overnight in the Asian session, multiple flash crashes in the forex market sent the dollar to the low 102 handle against most pairs. UST Yields including the UST10Y have been fading from the highs since 12-15-16, where bids for bonds are starting to catch our attention. With the dollar shortage subsiding for now, this had led to short covers in precious metals including /GC and /SI.
The reflation trade could be fading as JP Research puts it, "Why I'm Not Buying Into The Trump-Led Infrastructure Boom":
Infrastructure-linked stocks are already overheating.
$1tn is feasible and there is room to service a larger deficit.
But the plan will go through significant cutbacks and modifications before it sees the light of day.
And benefits will only filter through to E&C names in 2019-2020 at the earliest.
The rally has been driven by valuation expansion, not fundamentals.
According to Deutsche analysts, it typically takes 6 months for infrastructure bills to become law, so a Trump infrastructure plan could become law by mid-2017 (6 months after inauguration) at the earliest. Historically, public infrastructure spending inflects upward 12-15 months after a law passes, implying late 2018 before any meaningful benefits filter through to the economy.
With the Reflation trade fading and global markets stalling. A return to reality is imminent. We asked our followers on an on-going poll will President Obama receive his Dow 20k?
We will expect the unexpected in the next 20 days and 15 hours as the globalist to remain in control.

US Event Calendar:
9:45am: Chicago Purchasing Manager, Dec., est. 56.8 (prior 57.6)
1pm: Baker Hughes rig count
Global equities have experienced relatively a quiet session. Regional future equity indexes in the US are muted entering 7am est. Regional equity indexes in Europe are relatively flat including DAX, CAC, and UK100. Over in Japan, where Toshiba's 50% devaluation has shammed the Nikkei -300bps lower in two session. Over in Australia, ASX200 is modestly down -40bps . Regional equity markets in China are a mixed bright spot with the SHCOMP flat, but the HKG33 has modestly advanced.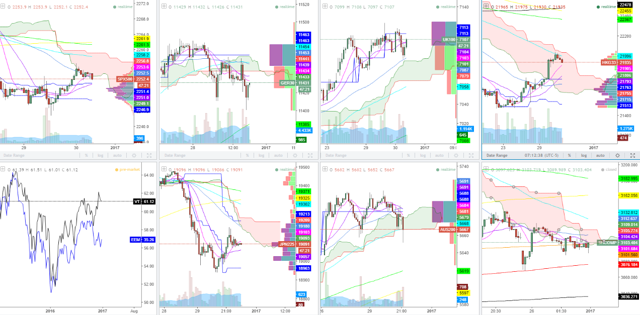 Overnight, Asian traders sold SPX. Then Europe came online in the 3am est. with not much enthusiasm in the trade.

Reflation trade on a 60min timeframe via DXY and UST10Y yield continues to stall. On the inverse that would mean bid TLT and long EUR/USD or precious metals (GC or SI).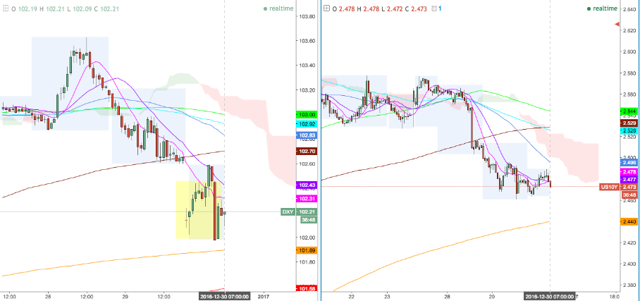 UST10Y yield line in the sand is 100sma (25.08 or 2.508)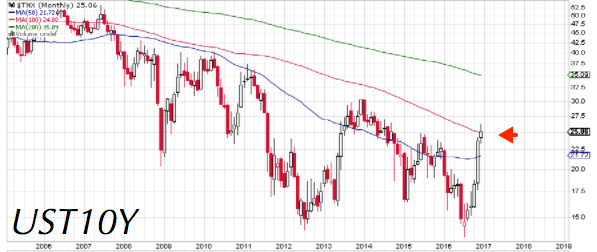 TLT monthly timeframe probes critical support 50sma.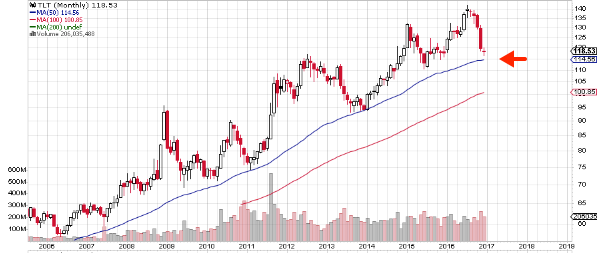 Over in Forex, the dollar received multiple flash crashes overnight sending the currency to the low 102 handle against most pairs. EUR/USD probed into the 1.06 handle fading into the 1.05 handle. GBP/USD is currently probing into the 1.23 early morning. AUD and CAD paired against the dollar are relatively flat on the session. MXN/USD continues to print at a multi decade low .04839. USD/JPY has faded the 12-15-16 high of 118.50 with a drop back into the high 116 level. Over in China, USD/CNH probed 6.984 inching closer to the physiological level of 7. In recent weeks, BTC/USD has appreciated +24% on devaluation via the PBOC. A big concern entering the new year is the 50,000 Yuan outflow per Chinese Citizen is reset.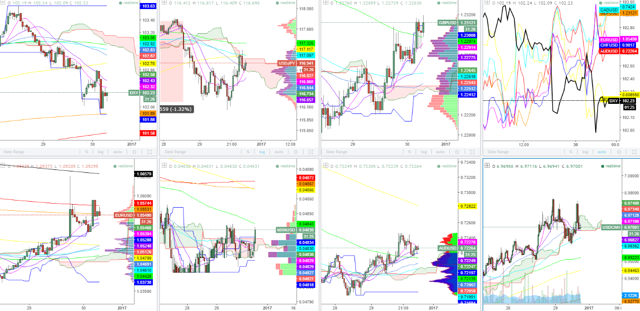 In the US, multi session decline in DXY, SPX, WTI, and USTYs. Since yesterday, the various auctions are bracketed awaiting the next market generated information for an imbalance. Direction is coming.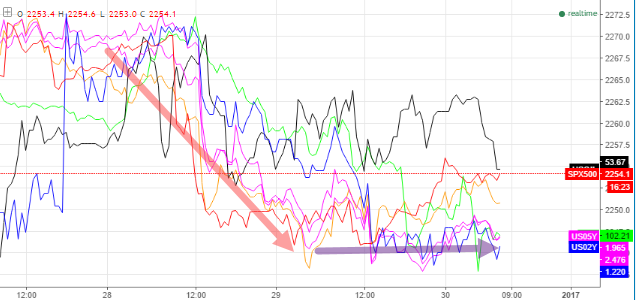 "A market riding on expectations toward a Trump presidency is coming to a close, and we're starting to focus on reality" - IIM Tokyo
More bad news for the US Real Estate Industry: NYC Real Estate As Luxury Co-Op Contracts Collapse 25%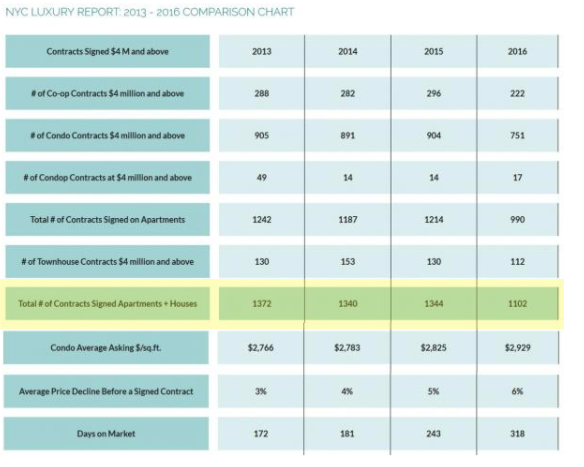 JPM's Adam Crisafulli notes in the "early look at the market"
Market update - it is a very quiet morning so far w/sparse news as markets wind down for the year. Other than the Japan Nov IP data (which was strong), the QCOM South Korea fine, and solid US holiday spending indications, there were no major headlines overnight. The fate of US (and global) markets will rest on the realization of the Trump/Ryan agenda - anticipation and hope of the GOP platform continues to underpin sentiment and stocks but there appears to be stark differences between investor expectations and the likely reality (esp. as it pertains to corporate taxes and infrastructure spending) and this represents a major equity risk during the opening months of 2017.
Initial Claims are up over +13% in the weeks post Trump Election. Is the Obama narrative of best job market ever starting to crack?
Full Employment Lurks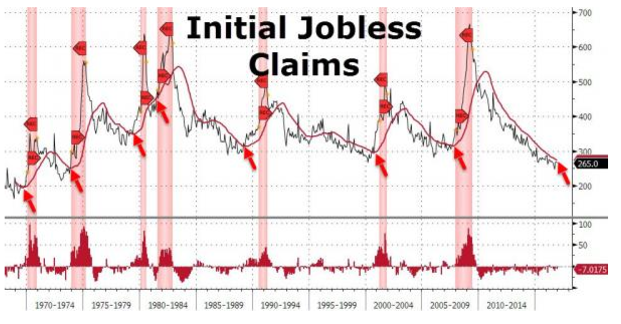 Dow Transports negatively diverge the overall Index.
Las Vegas Strip gambling revenue down 3.5% Y/Y in November. BJK Monthly continuation downside likely.
John Rubino via DollarCollapse.com Speaks of Three Mini-Bubbles Are Bursting:
US Housing While the action in this sector is nothing like the raging mania of the 2000s, prices in many hot US markets are at all-time highs, while affordability is at or near an all-time low. And now rising mortgage rates are beginning to bite.
US Auto Sales Cars and trucks have been one of the economy's bright spots for several years - which seems to have gotten everyone just a little too excited. Auto financing practices have lately begun to resemble those of the subprime mortgage bubble: Today's average loan is for more money, lasts much longer, and is held by a much weaker credit than ever before. Now, with interest rates rising and pretty much every potential buyer already locked into a car mortgage, the bubble optimism is evaporating.
China That the world's second largest economy - with a debt load that has quintupled in the past seven years - can be called a "mini-bubble" illustrates the size of the meta-bubble in which it has emerged. The story in a nutshell is that China responded to the Great Recession by borrowing more money in the following half decade than any other country ever, and wasting a big part of the proceeds. Now its banking system is cracking under the strain of mounting bad debts, and newly-rich Chinese are getting their capital out of Dodge at a rate that if allowed to continue will bring on a full-scale credit crisis. Already-extant capital controls will apparently be tightened up shortly.
Our interest surges in US Retail REIT Index testing monthly 50sma. We expand into an individual company <GGP> <50sma monthly (2nd largest US Mall REIT).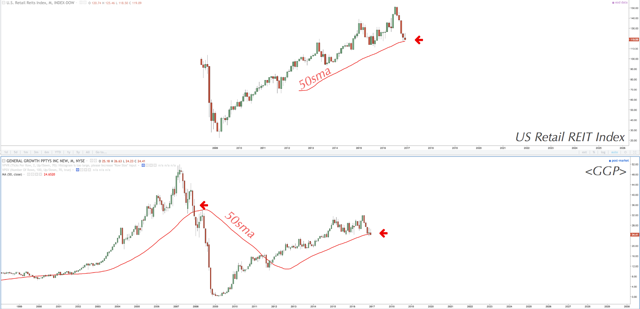 SPX Retail ETF <XRT> on a monthly timeframe constructs a bearish shooting star.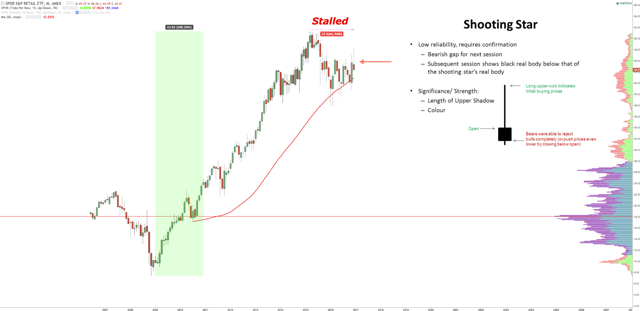 Weekly Death Star looms for Biotech <IBB>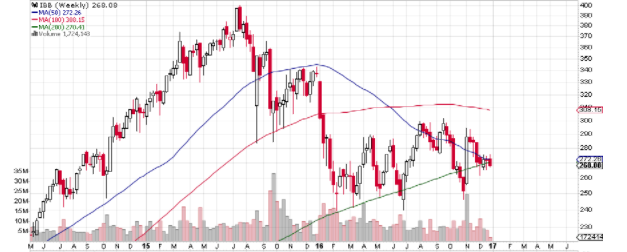 EUFN (EU Banks) and XLF (SPX Banks) are stalling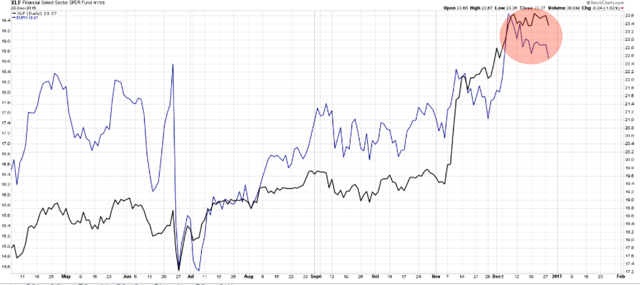 Fairly large negative divergence in Chinese Stocks v. US stocks.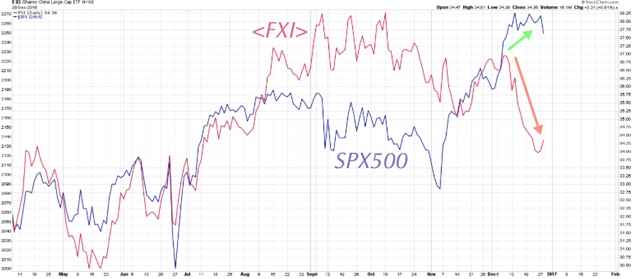 Icahn Warns of a Trade War with China
"If you have a trade war with China, by definition, I remember the days something like that would really knock the hell out of the market, but maybe if you're going to do it, you should get it over with, right? So that's a consideration, you have to just make up your mind, if that's what you're going to do, you go do it," Icahn said. "If you're asking me am I concerned about the market on the short term. Yeah I'm concerned about it," he said. "You can look at so many factors here that you have to worry about. Obviously, if you get into a trade war with China, sooner or later, I think we're going to have to come to grips with that, maybe it's better to do it sooner, but that's not my decision at all. I don't get involved with that."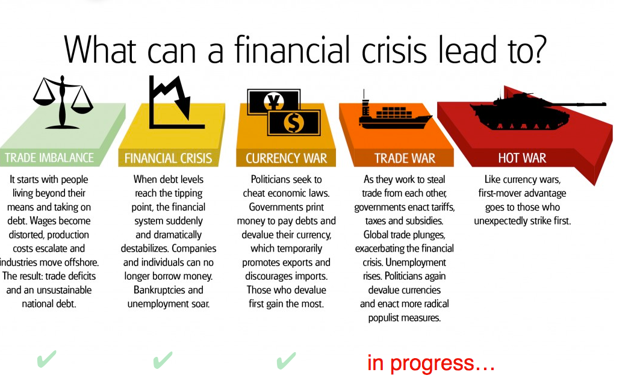 SPX nearing test 25sma. NYAD probing slightly above Sept'16 high with CCI (20) negatively diverging.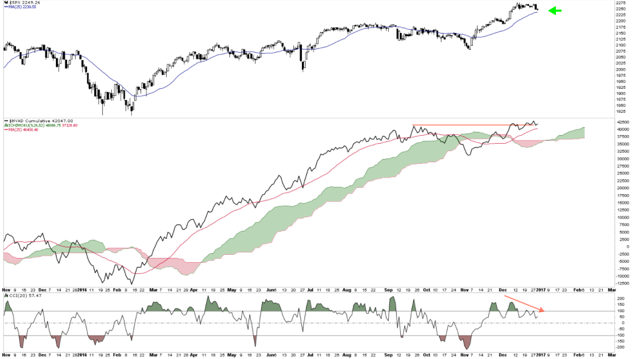 Global stocks via <FAW> still print below the 1H15 high, but probe at a premium verse the 320sma.

SPY verse TLT. Money flows could start pouring out of equities and bid bonds. SPY:TLT RATIO appears to be reverting back to the 50sma.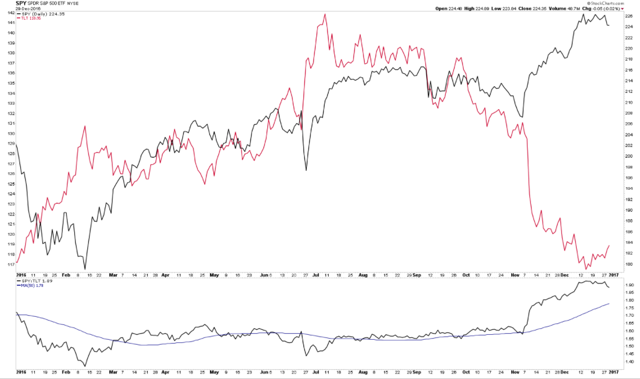 Monitoring <USHL5> it appears new highs were quickly evaporated.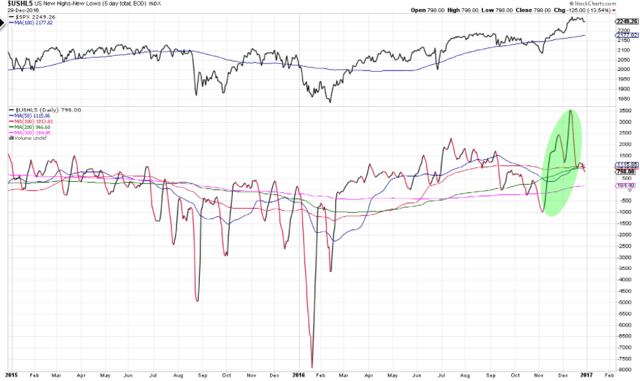 LIBOR Rate continues to ascend on a high angled slope as EU banks descend.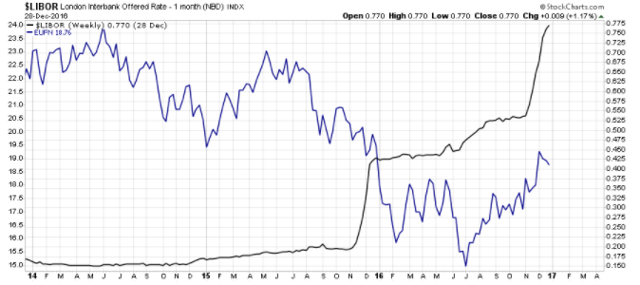 Insider and Buyback indexes have hit resistance.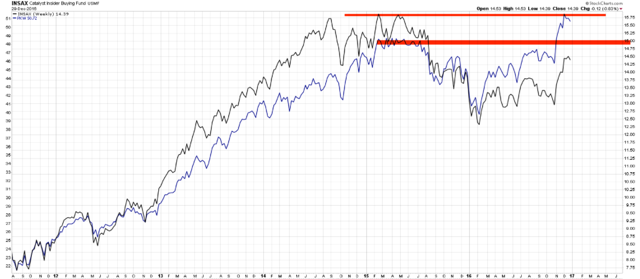 Will the market favor EM over DM? Change of tide?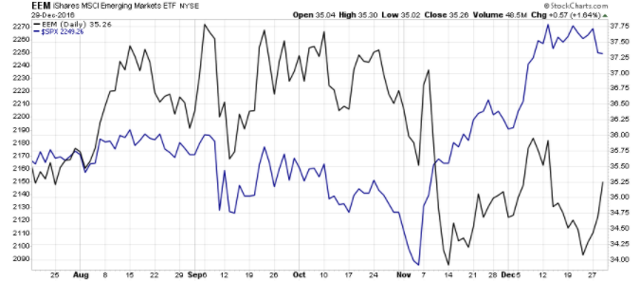 If we're to define tops and bottoms, it appears the SPX is in a blowoff scenario unless more participants are attracted to the auction.