Linkedln (LNKD) is suffering from S.W.A.M. or Site Wide Automated Moderating policy the company has introduced to combat spammers.
Term Definition
S.W.A.M. is intended to flag down spammers if a moderator reports any member for whatever reason. The unreasonable part of this policy is the automatic ban in every other groups within the site. In essence, its subscribers are guilty until proven innocent.
Problem Is...
The flagged down user can get their names off the list by asking the moderators or owners of the groups to remove them from the list. It's a catch 22 situation because the owners of other groups won't listen to them in the first place.
The group where they got banned first are not responsive to requests of reviewing the decision. Most of the moderators simply don't have time to review these things.
In effect, even if the flagged user is innocent enough, they are banned effectively everywhere in the Linkedln site.
A Study of the Fundamentals
We need to take a look at the fundamental strengths of Linkedln to get a feel of the overall situation. It could be helpful in analyzing the overall picture.
The Figures and estimates below are taken from 2013 data
using Google Finance.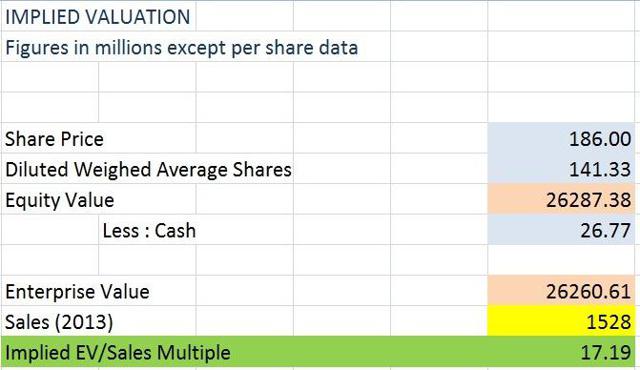 As you know, a high multiple is not a good sign because it means it takes more capital just to produce this level of sales. I feel it could have been better if the multiple was lower than 10.
Let's use another valuation method for added clarity. The figure below uses Discounted Cash Flow Valuation.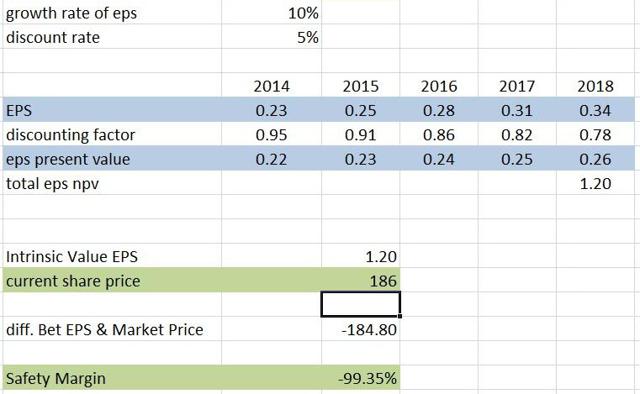 As you can see, the stock is clearly in the overvalued territory and it offers NO protection at all for the stockholder.
Mixed Elements - Positive and Growing Revenues
Before you flee from this stock however, there are also positive elements the company has in its favor. Their revenue streams are increasing dramatically and they are also setting their sights towards the asian market especially China to increase revenues.
The company looks forward to increase their penetration of Asia Pacific and they just recently celebrated their 50 million membermark as the result of their efforts. It is just the start, and subscriber base is sure to increase even more.
Strategic Technology
The company also scored two birds in one stone by buying potential competitor Bright and benefiting from its technology in order to secure its moat better. The short term impact of these strategic acquisitions might dampen the company's financial figures for 2014 but the positive results should be obvious starting in 2015 and beyond.
Aside from the valuation, lets take a look at its revenue by product to see if there are visible changes already. Data was taken fromcompany sources here.

As you can see, there seems to be no visible negative effects of their insensitive policy thus, presenting us with a mixed scenario. The policy we are trying to analyze however, is just recently implemented, so the effects are understandably, not yet felt.
There are also several positive things for the company in terms of reaching new milestones in its subscriber base :
- 1 million subscribers in New Zealand,
- 5 million in Australia
- 1 million in Saudi Arabia
- 15 million in Brazil
You get the impression everything is indeed good for the company. It is growing with even more growth in the horizon.
Conclusion
The company is in a favorable situation right now in regards to its future prospects and revenues but still too expensive for anyone considering to take a position in the sock. As a business it is good but as an investment it isn't a wise choice. The issue of its blunt policy for spammers indicates management's lack of flexibility and shows signs of hubris.
For those who have already taken a position in this stock, then good for them because they can choose to continue riding it at higher levels or sell it now while they still can.
For those contemplating to buy the stock, I humbly think you should not do so unless you believe the stock price would continue to increase long enough for you to take your profits.
The only question hard to answer here I guess, is how long before their mistake on controlling spammers makes it to the balance sheet.
Even if we disregard this blunt policy they put in place, it simply is too expensive to enter at its current price level. The positive things ongoing for the company is already priced in their shares, making it too risky for those with long term views.
Disclosure: I have no positions in any stocks mentioned, and no plans to initiate any positions within the next 72 hours.