The biotechnology sector has been growing by leaps and bounds in recent years. Rapid advancements in science and technology has propelled amazing developments in this burgeoning industry, and continue to push the boundaries of human biology. Top biotechnology funds such as the iShares NASDAQ Biotechnology ETF (NASDAQ:IBB) or SPDR Biotech ETF (NYSEARCA:XBI) have seen their shares triple or even quadruple within the last 5 years alone, indicative of biotechnology's immense potential.
Amgen Inc. (NASDAQ:AMGN) has always been one of the premier companies in the biotechnology sector. In its own words, the company "is committed to unlocking the potential of biology for patients suffering from serious illnesses by discovering, developing, manufacturing, and delivering innovative human therapeutics." As technology becomes exponentially more advanced, it will further integrate itself into the field of biology and push medicinal progress at a similarly exponential rate. Amgen is in prime position to take advantage of the coming biotechnology revolution through its innovative pipeline, global reach, and manufacturing capabilities.
Pipeline
Amgen currently possesses one of the deepest and most innovative pipelines for new therapies/medicines. The company has been making remarkable progress with its potential new product lineup, with 11 therapies addressing severe illnesses, and 6 biosimilars. The hype around the company's upcoming product batch is well-deserved, as the majority of the potential therapies/medications have rather large implications.
The company's evolocumab program looks especially promising in its significance. Evolocumab is a monoclonal antibody used to treat dyslipidemia, or more specifically, hyperlipidemia by inhibiting PCSK9. In layman terms, the drug will be able to reduce LDL-C, which is also known as the "bad" cholesterol. All signs indicated that this drug could be worth billions of dollars in the near future, as the market for statins is huge. It is not surprising that evolocumab holds so much potential, as talk about lowering cholesterol is all the rage these days.
While there are too many programs in the company's pipeline to go in depth with each one, the more exciting ones among them are its ivabradine program, which could potentially help with chronic heart failure, and its talimogene laherparepvec program, which could help combat metastatic melanoma. To give an impression of how impactful these drugs could be to Amgen, cardiovascular diseases account 30% of all global deaths, and metastatic melanoma is the most serious type of skin cancer. It is obvious that Amgen is attempting to tackle some of the most difficult medical ailments, ranging from cancers, to heart conditions, all the way to psoriasis. If the company's pipeline becomes successful, it will prove to be a massive boon to the company.
An overview of some programs in Amgen's pipeline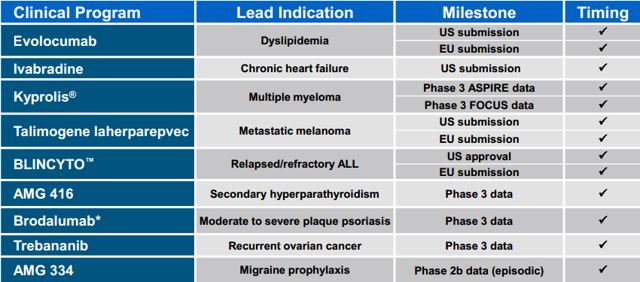 Source: Amgen
Of course, FDA approval can prove to be extremely expensive, especially in the later stages where huge amounts of experimentation and data collection are mandated. Regardless, Amgen is currently one of the most financially robust biotechnology companies, boasting cash/cash equivalents of $3.67B, and should be able to easily handle the expenses related to the approval processes. The company's huge cash reserves should allow it to get the drugs on the market as quickly/safely as possible without worrying too much about expenses.
Global Reach
One of Amgen's greatest advantages is its extraordinary global reach. The company has quote "established a global geographic platform to capitalize on new product opportunities." The company's major focus on international markets such China, Japan, and high-growth emerging markets will pay great dividends in the future, as they expects these markets to have upwards of $1B of sales by 2015 and $2B of sales by 2018 at a CAGR of 24%.
Colored regions indicate Amgen's presence
Source: Amgen
Looking at the map above, it is clear that Amgen has an extremely strong global brand, penetrating most of the international markets, save for some regions in Latin America, Africa, the Middle East, etc. The company has always dedicated an immense amount of effort into expanding its brand, and is continuing down this path. In fact, Amgen is even globalizing its manufacturing by building factories in countries like Singapore, Ireland, and Puerto Rico, which will undoubtedly aid in the company's future global product launches by decreasing logistical costs.
In an increasingly globalized world, markets outside of North America are becoming more and more important to the bottom line. In the booming East Asian countries, for instance, the rapidly aging populations will increasingly look towards biotechnology for medical issues. This fact is not lost on Amgen, which is evident in the company's heavy focus on the Chinese and Japanese markets. Amgen has recognized the globalization trend, and is leveraging its brand name to maximum effect on the international stage.
Biomanufacturing
High-quality, state-of-the-art manufacturing is perhaps as important as scientific innovation for biotechnology companies. Amgen notably possesses manufacturing capabilities virtually unrivaled by its competitors. Much of this has been a result of the company's intense focus on constantly improving its manufacturing processes, which is proving to be a major differentiator among its peers.
Furthermore, Amgen is preparing to launch what it terms as "next-generation biomanufacturing technologies," which will be available by 2017. The company's pipeline biologics will be produced from these technologies, which should allow for Amgen to increase its bulk production capabilities. Additional benefits of the next-generation manufacturing technologies include but are not limited to:
- A cost reduction of around 60% per gram of protein
- Savings in the hundreds of millions when compared to conventional technologies
- More flexibility in building manufacturing facilities
Risks and Financials
While Amgen is one of the most promising biotechnology plays, the business of biopharmaceuticals is notoriously risky. Not only can the approval process for new drugs/treatments be extremely expensive, but product launches could backfire even after the arduous approval process. Even a well-funded company like Amgen could have a few misfires in its pipeline that could potentially devastate the company. A once promising drug, for instance, could turn out to be a dud, or even worse, cause unforeseen side effects that could result in billions worth of losses in the form of lawsuits.
On the flip side, when the drugs/treatments end up being extremely effective in their tasks, the potential profits could massively outweigh the costs of development. Fro this sense, biotechnology stocks represent the classic risk/reward scenario, and in the case of Amgen, the rewards seem to warrant such risks.
Amgen currently has one of the largest market capitalizations in the biotechnology sector at 130B, trailing only that of Gilead Sciences, Inc. (NASDAQ: GILD). The company's 3rd quarter revenues increased 6% to 5.031B with an adjusted EPS increase of 19% to $2.30. Additionally, the company's focus on the international markets are paying off, with international sales growing by 14% in the quarter. The company had $2.6B of free cash flow, up 62% YoY, and its adjusted operating income increased 22% YoY to $1.7B. Clearly, Amgen has one of the healthiest balance sheets among its competitors, making the company well-positioned for the future. Although its P/E ratio (NYSE:TTM) of 26.66 is on the higher end, the company more than justifies it given its historic/potential growth rate, and is a great value proposition for investors.
Conclusion
With exponential technological growth finally entering the realm of biology/genetics, Amgen is certainly in for an exciting future. With its promising pipeline, global reach, and top-of-line manufacturing, the company is set to become the premier biotechnology firm for years to come. Although there are substantial risks involved with investing in Amgen, its strong balance sheet and managerial experience should help in overcoming most any potential obstacles. If Amgen stays the course and continues to execute on its stated goals, the company should see great upside.
Disclosure: The author has no positions in any stocks mentioned, and no plans to initiate any positions within the next 72 hours.
The author wrote this article themselves, and it expresses their own opinions. The author is not receiving compensation for it (other than from Seeking Alpha). The author has no business relationship with any company whose stock is mentioned in this article.