The 3D printing boom has the potential to change the way society operates, as 3D printing could theoretically impact every aspect of industry, all the way from manufacturing to healthcare.3D Systems (NYSE:DDD) was founded in 1986, and has remained as one of the preeminent 3D printing firms. While the stock has experienced severe volatility since its IPO, this was to be expected as the company was/is in a relatively unproven, but rapidly growing industry. Despite the extreme price movements of 3D Systems' stock, the company is still well ahead of its competitors. 3D Systems is planning to continue its dominance in the industry with the company's notable product diversity and aggressive growth strategy. Despite the company's impressive growth, there are still some risks involved with investing in company.
Product Diversity
3D printing has proven to be applicable in nearly every aspect of industry. It has found uses for manufacturers, artists, engineers, doctors, and nearly anything else not mentioned. 3D Systems has been acutely aware of the inherently diverse nature of 3D printing, and has taken many steps to capitalize on the varied nature of 3D printers.
3D Systems has heavily diversified its customer base by covering nearly all aspects of the 3D printing market. The company has many strong consumer, industrial, and industry specific product lines. While the consumer printing segment is still comparatively in its infancy, 3D Systems has nonetheless developed a reputableconsumer product line. From its precision Projet 1200 printer oriented for professional types, to the cheaper Cube3 and Cube lines for the more casual user, the company has the consumer market well targeted.
3D Systems has an even wider array of commercial and industrial printers. With a few dozen commercial and industrial printer product lines, many of these printers are tailored specifically for certain functions. For instance, the company sells stereolithographic printers, laser sintering printers, and even direct metal printers. All of these different types of printers are geared towards specific crowds, and highlight 3D Systems' focus on product diversity.
While 3D printers are the main focus of 3D Systems, the company also sells 100+ printer materials. These materials cover the spectrum from plastics/nylons for more casual users to metals for industrial customers. In addition, the company also offers a demand parts service and software/scanner products. Clearly, the company has its mind set on integrating on all front of the 3D printing industry, and not just the business of building/selling 3D printers.
Aggressive Growth Strategy
3D Systems is positioning itself to take advantage of the huge growth opportunity that is 3D printing. The company has experienced sustained accelerated development. For example, the company roughly doubled its revenues to $230m in 2011, from revenues of $113m in 2009. In 2013, the company roughly doubled revenues again to $513m. The industry is clearly on an exponential growth path, and 3D Systems is doing everything in its power to push this growth and continue to be an industry first mover.
(Past revenue's and future predictions of 3D Systems)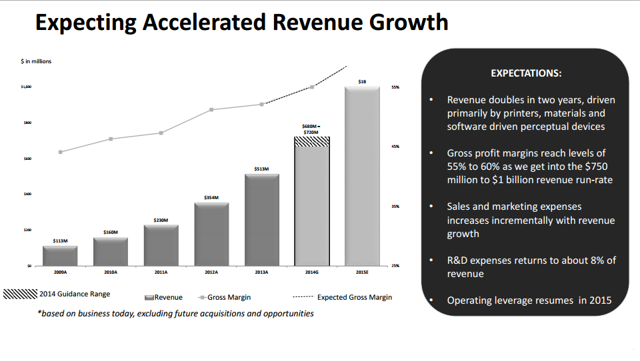 (Source: 3D Systems' company presentation)
The company has largely relied on an acquision heavy strategy to exert its influence in the industry. Although the 3D printing industry has stalled recently, 3D Systems is still relentlessly pushing for growth through aggressive acquisitions. Over the past few years, 3D Systems has acquired dozens of companies in order to keep ahead of the curve and outpace its competitors .
The company, for instance, most recently acquired Israel-based Cimatron LTD for about $97m to build up its 3D manufacturing and design business. Stratays (NASDAQ:SSYS), currently 3D Systems' main competitor, has a lead on the company in the 3d printing manufacturing business. 3D systems is clearly trying to close the gap by snatching up more manufacturing-centric 3D printing companies.
Because of the inherently risky nature of acquisitions, many have criticized 3D Systems' model of acquisitions. Despite the risks involved in this acquisition strategy, the company has a robust balance sheet and experienced/proven management team to effectively integrate smaller companies into its business. While this acquisitions business model seems to be working well thus far, only time will tell how effective these acquisitions will be.
Future Outlook and Financials
Future estimates of the 3D printing market have differed markedly among industry experts and analysts. While some have predicted a $8.31b market by 2020, others have predicted a trillion dollar industry by the 2020's. Despite these heavily polarized outlooks, it is clear that the hype behind the 3D printing industry is real.
Although 3D Systems' growth has slowed down in recent quarters, in part because of a broader industry slowdown, this is likely to be caused by temporary factors, as the industry has historically seen a generally smooth growth path. The recent higher research costs and general expenses of 3D printing companies is indicative of future growth plans.
3D Systems currently boasts a market capitalization of 3.72b, and only lags behind Statasys in market valuation. In quarter 3, 3D Systems had a sales/revenue of $166.94m, up $14m from its last quarter. The company's gross income came in at $79.8m, marking a slight increase from its quarter 2 gross income of $72.4m. While the company has a high P/E ratio(ttm) of 167.35, given its historical CAGR growth rate, large SG&A expenses, and general industry outlook, such P/E ratios(ttm) are warranted.
(3D Systems' recent price crash presents a great buying opportunity)

(Source: Google Finance)
Risks
Final Thoughts
Much of the hype surrounding 3D printing lies in its expected rate of improvement. Of course, it goes without saying that nobody can predict the future. Even the slightest shift in investor sentiment about the future prospects of 3D printing can change the valuations of 3D printing companies drastically, due to the highly levered nature of 3D printing stocks. On top of that, the wildly differing views of 3D printing's future outlook make valuating 3D printing companies even more complex.
Despite this, it is generally agreed upon that 3D printing has the potential to severely disrupt almost all industries. Although many have criticized the industry for being too hyped up, it can be argued that most have not even seen its true potential in terms of possible future impact. Given the potentially transformative nature of 3D printing, the 3D printing industry is still undervalued at its current levels, and investors in 3D Systems could stand to gain. The recent price crash of 3D systems marks an even great opportunity for upside.
With 3D Systems' involvement in diverse industries ranging from aerospace to healthcare, the company is certainly ready to lead the market. 3D Systems is uniquely positioned to ride the 3D printing revolution.