Fresh off its mixed quarter 4 earnings report, iRobot (NASDAQ:IRBT) has given investors a clue to the company's overall direction. With commercial sales still making up for the vast majority of the iRobot's business, the company is expanding upon its consumer robotics sector in a big way. The company has already teased investors about groundbreaking technology announcements in 2015, and looks to be delivering.
iRobot recently sent an application to the FCC asking to waive a law prohibiting "the use of fixed wireless infrastructure, in order to obtain equipment certification for and market a robotic lawn mower." iRobot's potential entrance into the robotic lawn mower(RLM) market is huge, as the company's potential RLM would be the first of its kind in the United States. On top of this, demand would likely be high given the nearly ubiquitous need to mow lawns. If iRobot successfully petitions the FCC and build a competent lawn mowing robot, the company could see its product sales soar. iRobot summarized the benefits of a robotic lawn mower by stating that
"Use of RLMs improves the health and safety of consumers, is better for the environment than gasoline mowers, makes lawn cutting more accessible to the elderly and disabled, and gives people free time to spend with their families and loved ones."
Expanding Upon Commercial Offerings
While iRobot has a presence in the robotic defense and sensors segment, the robotic consumer market is still the lifeblood of the company. Sales from the company's flagship Roomba line, for instance, have literally driven the company's success. In fact, the company's vacuum and home maintenance product lines make up for approximately 90% of the company's business, showing just how important the consumer market is for iRobot.
The introduction of a competent robotic lawn mower could elevate the company to a different level. A robotic lawn mower arguably has more utility than a home vacuum cleaner, and could have the potential to even beat out the company's Roomba line in terms of sales/revenues. While the company's vacuum products are somewhat limited to a higher-end, more niche crowd, nearly every household could find use for a robotic lawn mower.
A robotic lawn mower may be exactly what iRobot needs right now, as such a product would have massive broad appeal, and help prop up the company's weakening Roomba sales, evident in its weak 2015 guidance. With tens of millions of lawns that regularly get cut in the U.S., it would not be a stretch to say that a robotic lawn mower has great potential for mainstream adoption. It will almost certainly help save valuable time for individuals, or save money for individuals who pay others to cut their grass.
Capitalizing on the First Mover Advantage
By entering the robotic lawn mower market before anyone else does, the company should be able to maintain a dominant foothold in the long-term. iRobot has already started developing its potential robotic lawnmower product, so the company should have a sizable headstart on the competition. As long as iRobot keeps up its pace of innovation, the company may even be able to monopolize marketshare in the near-term.
While Europe already has robotic lawn mowers on the market, the U.S. only allows for robotic lawn mowers that have been "installed by the placement of underground electric fences, which require digging a trench and installing buried wire, a cumbersome and costly process that has limited greatly the public's adoption of RLM technology." If iRobot enters the U.S. robotic lawn mower market before any of its competition does(and more importantly does so with a compelling product), iRobot will be poised to expand its customer base significantly.
Here is an examples of a European robotic lawn mower. iRobot's version will likely be much sleeker and more efficient.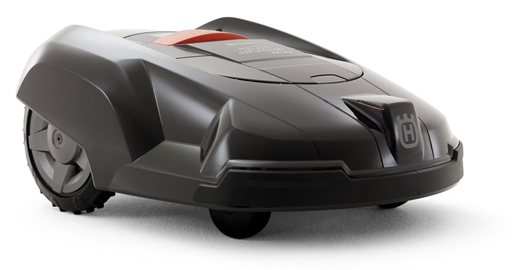 Source: Landring
Risks
For many people, the idea of a spinning bladed robot running rampant among the general populace would be enough to evoke images of the Terminator. Such concern over the dangers of an autonomous bladed machine is only natural, as such machinery would essentially be out of human control were something to malfunction. On top of this, any sort of robotic lawn mower injury caused by machine malfunction would be a PR and legal nightmare for iRobot. The company could be taking a big risk in selling such technology, since it can be assumed that a robotic lawn mower would not be as benign as a robotic vacuum cleaner, were something to go wrong.
Despite such safety concerns, the usage of robotic lawn mowers could theoretically improve overall safety by a huge margin. An autonomous lawn mower would essentially rule out the possibility of human error, which makes up for the overwhelming majority of machine related injuries. In fact, iRobot specifically brought up safety as one of its key advocating points for robotic lawn mowers. The company summarized the safety issue by stating,
"Use of the iRobot RLM will increase lawn mower safety. According to the U.S. Consumer Product Safety Commission, '[f]rom 2010 through 2012, an average of 38,000 people were treated in hospital emergency rooms for walk-behind power mower injuries.' In fact, 'emergency surgery is sometimes required to treat severe injuries resulting from hand or foot contact with the rotating blade; toe amputations are not uncommon with homeowners cutting grass.' An estimated 1,517 lethal accidents occurred with lawn mowers through the years 1997 to 2010. It is reasonable to assume that many of these injuries and deaths would not occur if consumers used a robotic mower and were able to maintain a safe distance while their lawns are mowed."
While it is very likely that the use of robotic lawn mowers would cut down on injuries and deaths dramatically, this could prove to be irrelevant from a PR/legal standpoint. If any injury or death were to happen due to a malfunctioning robotic lawn mower, the impact of such an occurrence would likely not be lessened, despite higher general safety of such robots. While a disclaimer warning about such potential risks would certainly prove to be helpful for iRobot, injury or death due to malfunction will almost certainly at least be a PR/legal headache the company.
As a sort of parallel, Tesla (NASDAQ:TSLA) CEO Elon Musk once stated that self-driving cars would need to be at least 10 times safer than human drivers before becoming accepted technology. This alludes to the fact that humans will naturally put a much higher standard of safety on autonomous machinery as opposed to human operated machinery. While this line of thought is not exactly logical, it is understandable given humans' natural fear of losing perceived control.
Conclusion
Despite having virtually monopolized the consumer robotics industry, iRobot is increasing its consumer market ambitions. The company likely knows that it cannot rely on vacuum bots forever, and is wisely pushing to expand its product offerings to include robotic lawn mowers. Robotic lawn mowers are a logical next step, as it serves a function that nearly everyone needs(likely even more so than that of robotic vacuums).
With iRobot's dominance in the promising consumer robotics industry, the company is extremely well-positioned moving forward. Given sufficient artificial intelligence(NYSE:AI), robotics can virtually take over all society's everyday service needs. While AI is certainly not at this point yet, it is advancing far quicker than most have anticipated, which also means that iRobot could grow faster than anticipated. At a mere market capitalization of $894M, and a ttm P/E ratio of 24, the company still has huge upside potential.
Disclosure: The author has no positions in any stocks mentioned, and no plans to initiate any positions within the next 72 hours.
The author wrote this article themselves, and it expresses their own opinions. The author is not receiving compensation for it (other than from Seeking Alpha). The author has no business relationship with any company whose stock is mentioned in this article.