The solar industry has largely been dependent on government aid for as long as its existence. Given solar PV's status as an emerging technology, and the unpriced externalities associated with fossil fuels, such subsidies have been seen an necessary. Despite this, solar subsidies have been a constant target for fossil fuel lobbyists who claim that such subsidies distort free-market economics. While this is false for a number of different reasons, many governmental officials in support of fossil fuels use this argument nonetheless. In fact, the vast majority of solar policy pushback has been from fossil fuel backed governmental officials.
The solar industry has only recently started to experience grid parity with fossil fuels, oftentimes without the need for subsidies. This has only motivated the fossil0fuel interests to pump more money into the political system in attempt to stop solar PV's momentum. Despite these efforts, it appears that politics are slowly shifting in favor of green energy's, with solar PV in particular. This shift could drastically accelerate the adoption of solar PV into the mainstream, which would give a massive boost to the overall solar industry.
Whereas the fossil fuel lobbyists have traditionally had vast reservoirs of wealth funding them, green energy lobbyists have had to rely on public support to combat the fossil fuels industry. With green energy's becoming more economical every day(notably solar PV), governments should start to see an acceleration towards policies favoring green energy. Solar PV's lethal combination of public backing and newfound/increasing economic power should irreversibly tip the political scales in its favor. The solar PV industry as a whole, and especially its standouts such as First Solar (NASDAQ:FSLR), SunPower (NASDAQ:SPWR), SolarCity (SCTY), and SunEdison (SUNE), will gain immensely from such a political shift.
Increasing Credibility
The main argument against solar PV has traditionally been that its technology requires tremendous amounts of subsidies to even compete with fossil fuel based energy sources. This argument is rapidly becoming irrelevant as solar has proven its ability to continually decrease its price/watt. With such a central argument against solar PV falling away, solar friendly policies are having a much easier time becoming accepted in the political realm.
The increasing credibility of solar has created a larger readiness to embrace solar policies. Such a renewed willing to embrace solar PV has been epitomized by President Barack Obama's renewed push for green energy friendly policies in his 2016 fiscal budget plans. In the planned budget, the President proposes extremely ambitious green energy measures, such as a permanent extension to the 30% solar ITC.
Policies such as this will give the solar companies a massive boost, as these companies more or less their business models around these tax credits and subsidies. SolarCity, for instance, currently gets tax benefits equivilant to around $1.80/watt, which is a huge part of the company's profit margin. With solar PV technologies proven ability to improve, it only makes sense to incentivize the continued growth of these technologies.
Policies such as the solar ITC have, and will be vital to solar companies' continued success. Here is a graphical depiction of the solar ITC's effect on SolarCity's business model.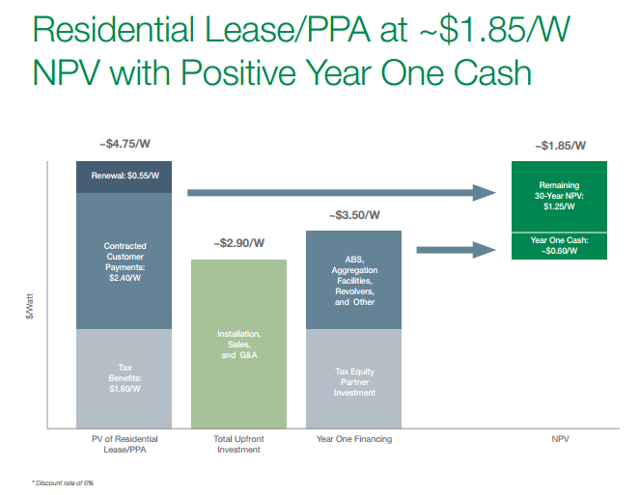 Source: SolarCity
International Pressures
Fossil fuel lobbyists have also argued that because their is no coherent international climate agreement between the world's top polluters, it would be unfair and ineffective for one country(specifically the U.S.) to go at it alone. This argument is also starting to become irrelevant as international countries are starting to form climate pacts at unprecedented scales. Just recently, for instance, President Barack Obama and Chinese President Xi Jinping agreed to a historic climate deal at APEC. On top of this, the United States has agreed to work with India to help India meet its massive solar PV ambitions. Clearly, an international climate coalition is forming, which means that another political argument against the use of solar is becoming irrelevant.
On the other hand, this is great news for the solar industry. Not only will the solar industry directly benefit from such climate deals, but it will also indirectly benefit from the removal of yet another political tool used by fossil fuel interests. As the arguments against renewables quickly fall by the wayside, the probabilities of solar friendly policies passing become significantly higher.
Moving Forward
With the economic and geopolitical arguments against the use of solar rapidly disappearing, fossil fuel interest will likely increasingly turn to a complete denial strategy. Already, prominent politicians(who are backed by fossil fuel interest) are beginning to state with more consistency that there is no hard evidence that climate change is man made. The fossil fuel interests have even resorted to bribery in an attempts to buy climate scientists.
While this strategy of flat out denial will surely be less effective, it is still working to some degree. Whether or not these politicians actually believe what they are saying is a different story. The fact that they could give out some sort of coherent reason to oppose renewables is enough to challenge such green energy policies.
Such denial is of course very damaging to the solar industry as a whole. Nonetheless, the fossil fuel interest have less and less to hold on to in terms of arguing against solar PV technology. Once the parties of the government get on the same page about Solar PV, the industry should see an unprecedented amount of upside. Already, some traditionally pro fossil fuel political groups are starting to warm up to solar. In fact, tea-party conservatives have even teamed up with liberal environmentalists to fight for more solar power implementation in Florida. If more of these coalitions form around the country, the solar industry should see massive benefits on a state, and even federal level.
Because the economics are rapidly shifting in favor of Solar PV, even the strategy of denial may not work for long. Solar companies that are currently reliant on tax credit and subsidies will surely benefit from the shifting green energy politics. While the solar PV industry should certainly not be dependent on subsidies and tax breaks in the long-term, such governmental assistance is fundamental to the industry's overall success.
Conclusion
The politics seem to be slowly shifting in green energy's favor. This should accelerate the adoption of solar PV technologies, with solar standouts such as First Solar, SolarCity, SunPower, etc, gaining immensely in the process. This is a prime opportunity to invest in the solar markets, as these shifting political trends have not been totally factored into solar stock prices. If solar PV keeps gaining political momentum, the industry as a whole should see some tremendous upside.
Disclosure: The author is long SCTY.
The author wrote this article themselves, and it expresses their own opinions. The author is not receiving compensation for it (other than from Seeking Alpha). The author has no business relationship with any company whose stock is mentioned in this article.