(OTCPK:OXYS)
http://finance.yahoo.com/q?s=oxys&ql=1
Timely News, Investor Alerts, and Updates on Small Cap &
Micro Caps
With a 318 % Upside You'll Want To Own This One
~ Tuesday, June 30, 2015 ~
Third Party Coverage of OxySure Systems, Inc.
Recent New Highlights:
OxySure Systems Named as Supplier of Backup Support, Medical Equipment for Health Services at Special Olympics World Games Los Angeles 2015 (LA2015)Marketwired(Wed, Jun 24)
(Global Exposure-New Contract-Potential-An Honor)
OxySure (OTCPK:OXYS) and Z-Medica Sign Distribution AgreementMarketwired(Mon, Jun 15)
(Emergency Medical Market Exposure-New Product)
BUYINS.NET Updates OxySure Systems (OTCPK:OXYS) SqueezeTrigger Price and Market Maker SurveillanceMarketwired(Tue, Jun 9)
(Positive Buy Volume Should Force Cover
Share Price Could Realize As Much As A Double/Triple)
OxySure Systems (OTCPK:OXYS) Unveils Plans to Add Drones for Emergency UseMarketwired(Tue, Jun 2)
(Military-EMS-Search & Rescue-Humanitarian Aid)
(Zero Manufacturing Costs-Cost Built Into Package)
(Purchasers Assume-Cover Manufacturing Costs)
We Believe OXYS is a LONG PLAY with Short Term Gain Potential
Advantageous Entry or Cost Average Level
OXYS "Saving Lives Daily"
** Should you want or need more information please contact us :
robkreh@smallcapsolutions.com
robkreh@msn.com
MicroCap MarketPlace : Pre-Market Alert
(Third Party Coverage)

| | |
| --- | --- |
| ~ Tuesday, June 30, 2015 ~ | OxySure Systems (OTCQB: OXYS) |
This is the One Medical Technology Company You Want to Own NOW!
"Seven Investment Highlights Suggest You Can Pocket over a 300% Gain with OXYS"
---
This Texas-based medical technology company is the "real deal." OxySure has produced 11 consecutive quarters of revenue growth...
... and is well on its way to being the world leader in short-duration/emergency medical oxygen and respiratory solutions for mass market use.
"I firmly believe every $5,000 you invest represents potential gains of $15,900 before this time next year!"
Mike Casson
Executive Editor
OxySure Model 615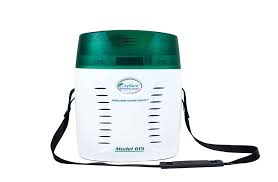 OxySure's patented technology combines two dry, inert powders to create medical oxygen. This portable emergency oxygen system has been approved by the FDA for sale over the counter without a prescription. It also has CE Marking approval in Europe.
I have personally visited the Company's state of the art manufacturing facility in Frisco, TX and this is the real deal. Here are Seven Key Investment Highlights that support my thinking about OXYS:
Shares currently trading at 75% discount to projected price target - OXYS closed at $0.55 per share on Friday 6/26/2015. SeeThruEquity price target set at $2.30 per share.*
First Mover Advantage - OxySure pioneered this technology and is the first to commercialize it.
Patented Technology - OxySure's technology is protected by a robust portfolio of patents and patents pending, helping to ensure the Company maintains a durable competitive advantage.
$$$ - Recurring Revenue Model - the Model 615 has a reusable housing and a replaceable cartridge, which requires replacing after each use or upon expiration of its shelf life. Recurring revenues provide better earnings predictability.
Enormous End User Market - short to mid-term as big as the automated external defibrillator (NYSE:AED) market of 2 million units in the US (3 million worldwide); long term as large as the fire extinguisher market of 100 million units in the US (500 million units worldwide)… End market is any public or private place where people are at risk of any medical emergency. That is a potential market size in excess of $100 Billion, and OXYS is the only player.
FDA Cleared - OxySure's Model 615 is cleared by the FDA for over-the-counter sale, without the need for a prescription. Model 615 is also CE Marking approved for Europe, which means it can now be sold in all of the 27 countries belonging to the European Economic Area.
Additional Vertical Markets - OxySure's technology allows it to develop much needed solutions in the future for other vertical markets such as mining, aviation, sports & recreation, wound care and skin care.
Market Activity and Portfolio Recommendation
OxySure is trading in the $0.50 to $0.60 range and this looks like a very attractive entry point to potentially double, triple, even quadruple your money.
I fully expect the market will move OXYS up to full value in the coming months and suggest you take a good look at this one today.
Bottom Line... if you're in the market for a high growth medical technology company to add to your small-cap portfolio, OxySure Systems is the real deal and is the one you'll want to own... NOW.
Yours for profitable investing,

Mike Casson
Executive Editor
MicroCap MarketPlace
For more information about the company, please visit www.oxysure.com
*Based on closing price for OXYS of $0.55 on 6/26/2015, Yahoo Finance and SeeThruEquity, LLC Update: May 11, 2015

Disclosure: I/we have no positions in any stocks mentioned, and no plans to initiate any positions within the next 72 hours.