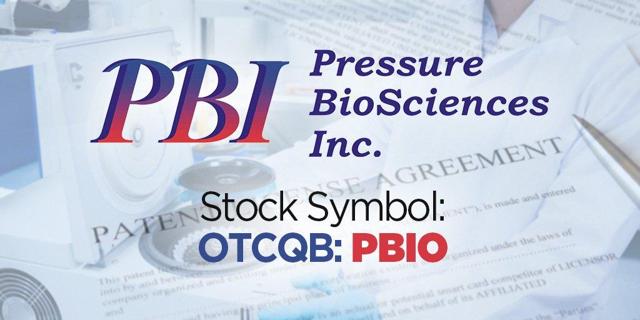 http://pressurebiosciences.com/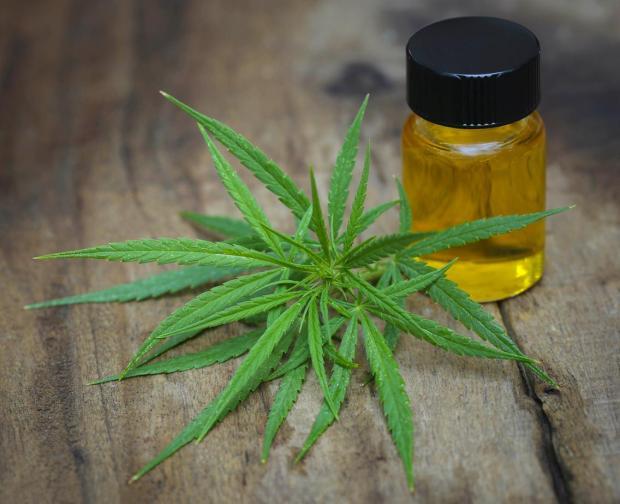 Has a New Process called Ultra Shear Technology or UST. Already with Two Patents issued they anticipate the patenting of UST to continue to be approved across the globe over time. Europe, the U.S. and others to follow China where the first two patents were issued. A Center of Excellence has opened in China and International expansion will continue according to the Organic Growth Plan.
UST now opens the door to the Cannabinoids-CBD Oil Multi Billion Dollar Market as well as several others.
With the passage of laws permitting medicinal use of cannabis in at least 32 U.S. jurisdictions and Canada, producers of cannabinoids for medical purposes are racing to improve delivery methods for their formulations.
As a result, new, patented technology from Pressure BioSciences Inc. (OTCQB: PBIO) may provide the ideal transport for CBD and other cannabinoids. PBIO's Ultra Shear Technology ("UST") has the capacity to develop water-soluble nanoemulsions that can be employed to improve the bioavailability of cannabinoids.
Cannabinoids, such as cannabidiol (NYSE:CBD), are hydrophobic (like oil & water). In practice, this means they do not dissolve and meld readily in water, which may seem to pose a problem, since, by composition, the human body is more than half water.
Emulsions are mixtures of two or more liquids (e.g., oils in water) that cannot be blended into each other without the addition of chemicals called emulsifiers (e.g., surfactants). Emulsions are used in multiple everyday products, including food, medical products, pharmaceuticals, nutraceuticals, cosmetics, industrial lubricants, and even cannabis oil extracts (e.g., CBD). Nanoemulsions have been shown to have improved absorption while providing higher bioavailability, greater stability and other advantages, when compared to the standard, much larger macro- and micro-emulsions.
Interestingly, PBIO believes that its patented UST may be able to make commercial-scale nanoemulsions that would require far less emulsifying agents than current methods, perhaps even none. Emulsifying agents are chemicals; some are natural, some are not. With consumer demands for non-additive natural products, the availability of nanoemulsions that require little or no chemical emulsifiers should be well received by consumers and manufactures alike.
Nanoemulsions offer an advanced mode of drug delivery that's expected to improve the bioavailability of a wide range of active agents. These nano-sized emulsions, in which two immiscible liquids are usually combined to form a single phase by means of an emulsifying agent that combines surfactant and co-surfactant, typically have droplet sizes that fall in the 20–200 nanometer range. It would take 10 million nanometers to cover a length of one centimeter (about 0.4 inches). The UST Process requires no use of Surfactants
Late last year, PBIO announced a partnership with Phasex Corporation. The aim of the collaboration is to combine PBIO's patented UST and Phasex's supercritical fluid ("SCF")-based processing methods to enable the development of stable, water-soluble nanoemulsions of nutraceuticals, including CBD-enriched plant oil. Phasex is a pioneer in the development of SCF-based toll processors, which are used for extracting, purifying, recrystallizing and fractionating a wide range of polymers, natural extracts and other chemicals.
Phasex's SCF extraction technology with PBIO's UST makes a great deal of commercial sense. Currently, there is a market for new methods of turning hydrophobic extracts into stable, water-soluble formulations.
UST offers the potential to solve that problem by producing stable nanoemulsions of oil-like products in water. The range of commercial applications is extensive and includes inks, industrial lubricants, cosmetics, pharmaceuticals and nutraceuticals (Multi-Billion Dollar Markets), as well as medically important plant oil extracts such as CBD. UST utilizes ultra-high pressure-driven fluid dynamic shear forces, combined with controlled temperatures, to engender homogenization.
Basically in Layman's Terms what you just read is:
Oil n Water Do Not Mix or Meld-But the Process explained above does. Think of a Glass of Water-Pour in Olive Oil-They Do Not Mix/Meld but the UST Process breaks that down into millions of Tiny Little Nano-Scopic portions so small now forcing the two to Meld and hold as one.
PBIO believes they can Increase the Absorption Rate from about 20% currently elevating it to 80%. It should result in Smaller Doses with the same or better desired result.
The Medical Marijuana space since 2013 has Grown Exponentially annually. 2017 sales reached about $3 Billion, and by 2020 it's anticipated to top $6 Billion in Sales.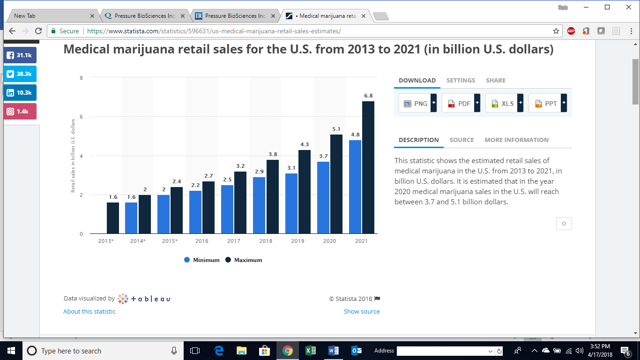 Medical marijuana retail sales US 2013-2021 | Statistic
View How the UST Process Works:
Pressure BioSciences, Inc. Ultra Shear Technology Opens Doors to CBD Oil Market
Current Markets PBIO Addresses are Multi-Billion Spaces. With the Redesigned Flagship-Barocycler-The "2320EXTREME" Instrument w/Upgraded Software & New Adaptable Technologies that is Believed to be Years Ahead of Competition-Several New Multi Billion $ Markets Now Open UP like Compliance, GMP, "Clean Label" Food & Beverages Industry. Imagine Foods & Beverages Stripped of Viruses, Bacteria's, Preservatives that Have a Longer shelf life.
About "Clean Label" Food
Today's health-conscious consumers demand food that is safe, tastes good, and looks appealing while being minimally processed, highly-nutritious, microbiologically safe, and free of chemical emulsifiers and preservatives. Consequently, food processors are seeking and embracing new, minimally or non-thermal technologies that can provide extended shelf-life, while meeting "clean label" requirements and consumer expectations. The current clean label food market has been estimated at approximately $62 billion in the USA and $165 billion worldwide (Nunes, 2016). A number of clean label foods are currently processed using high-pressure treatments, including many juices (e.g., Starbuck's Evolution line), seafood, meats, baby food, and fruits/vegetables. In 2015, the worldwide market for high-pressure processed ("HPP") food was estimated at $10 billion (Toops, 2016). Total Clean Label Foods comprise 33% of the Food & Beverage Market-Space now.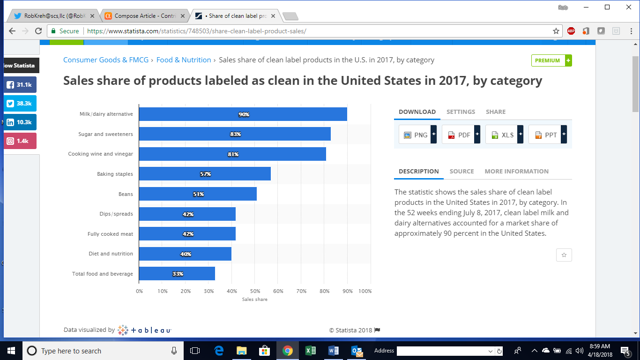 Dr. Edmund Y. Ting, Sr. VP of Engineering at PBI, a pioneer in the development of HPP and a co-inventor of UST, said: "HPP is very effective in reducing food-borne pathogens and extending shelf-life in pre-packaged foods (e.g., juices and ready-to-eat meats), thus eliminating the need for chemical additives. However, HPP remains a batch process that is not capable of continuous flow, cost-effective production of low-acid food such as milk, liquid cheese, and mayonnaise, especially if they are to be shelf stable."
Dr. Ting continued: "UST uses ultra-high pressures to generate intense shear forces under controlled temperature conditions to produce nanoemulsions with significant reductions in food-borne pathogens, perhaps reaching sterilization. Evidence suggests that under such extreme conditions, even bacterial spores can be inactivated. This leads to the potential for continuous production of extended shelf-life or room temperature stable, low-acid liquid foods. Thus, because of its importance worldwide, our initial focus will be to evaluate UST for the production of high-quality dairy products and beverages with superior consumer appeal and shelf life."

You can see why PBIO and Shareholders are excited. Interest Level is High and PBIO in 2017 set itself up for Another Banner Year. We believe (OTCQB:PBIO) is a Long Play. Some Analysts have a Target of $10.00. A Third Party has offered and opinion of "Buy"-"Steady Accumulation".
Recent Interview with CEO Ric Schumacher – Financial/Earnings Call & Company Update
http://bit.ly/2EG6egI http://bit.ly/2GMTKpq ...
If you have any questions, need more information, please do not hesitate to contact me.
Robert E. Kreh – Principal
Small Cap Solutions, LLC
(443) 567-2609

Welcome to Small Cap Solutions, LLC Marketing Consultant
*** Small Cap Solutions, LLC-PBIO Disclaimer are included in -  http://bit.ly/2GMTKpq ... 
Disclosure: I/we have no positions in any stocks mentioned, and no plans to initiate any positions within the next 72 hours.