I always found Jesse Livermore fascinating. In the books, Reminiscences of a Stock Operator and in How to Trade in Stocks, he details the good and bad of his history of trading from his youth in the 1890s until after World War I. One of his crowning achievements was his short selling during the 1907 Panic, which garnered him quite a legendary status at the time. Even J.P. Morgan sent word to him, asking that he stop selling the depressed market short in October of 1907 for fear of a complete financial collapse.
Using the IMTS (you can see how it works here), we can visualize what the market at the time was doing (bullish/bearish/weakening/strengthening, etc) and correlate the price action with Livermore's own account of his trades as well as his thinking at the time.
The 1907 Panic ended what had been a strong bull market run from the depths of the 1903 Rich Man's Panic. As you can see below, the IMTS shows the market taking its first few steps out of a bear market gingerly, with several clustered short/exit short signals (Purple to white back to purple, etc). Then on July 8th, 1904 the IMTS finally gave a Buy/Go Long signal and the price level stayed there for nearly two years until we get to Livermore's story, going from a price of 50.44 until the next time it left the bull market on April 27, 1906 at a price of 89.92.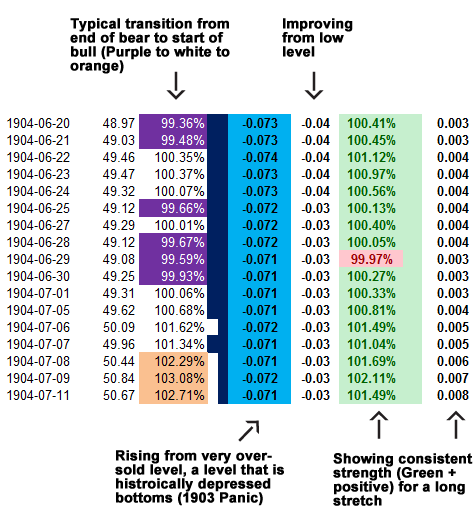 Note: This bull market run entered bubble territory on March 24-25 of 1905. Some other examples of bubbly markets can be seen here (1987 Stock Market Crash, 1929 Crash, Nikkei Crash).

Livermore's story about the Panic begins with him and his friend were visiting Atlantic City on vacation in the spring of 1906. After visiting a broker's office after breakfast, Livermore was struck with a feeling that he should short Union Pacific stock, even though it was acting strong and there was no justifiable reason to do so, much to the consternation of his friend who was bullish on the stock at the time.
Below you can see what the market (Dow Jones Industrial Average) looked like via the IMTS: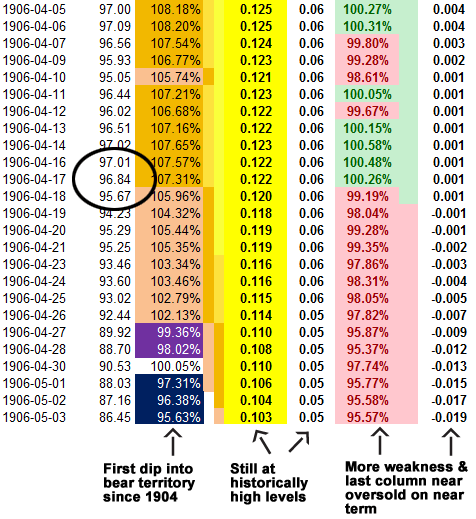 He began his short selling of Union Pacific on April 16th, two days before the great San Francisco earthquake. As you can see from the readout above, the stock market had been in bubble territory. With the huge cost associated with the catastrophe, a stock market in the later stages of a bubble was prime for a hit off of its lofty perch. Also, with the extent of the damage, insurance claims put a huge strain on both American and British insurance companies. The stock market met the news of the earthquake with a mild drop (down one level from darker to lighter orange) but was still holding in Bull Market territory, at least for a week or so.
The market left the bull market and entered bear territory on April 27. After a one-day pop back into neutral territory on April 30th, the market resumed its bearish posture and the IMTS would have given a final short signal the next day.
Livermore made $300,000 on his short selling of Union Pacific that spring, and he was convinced that a great bear market was coming so he decided to continue short selling the market into the summer and fall. Over the next six to eight months, the market had episodes of price drops followed by good rallies. This whipsaw action (rapid and ever-changing short/long signals) ended up cleaning out Livermore as he loaded up heavily on margin as he shorted the market near continuously. Multiple whipsaws can be seen in the two tables below.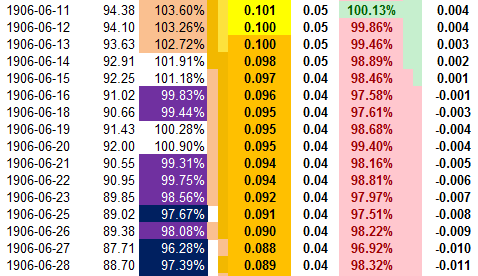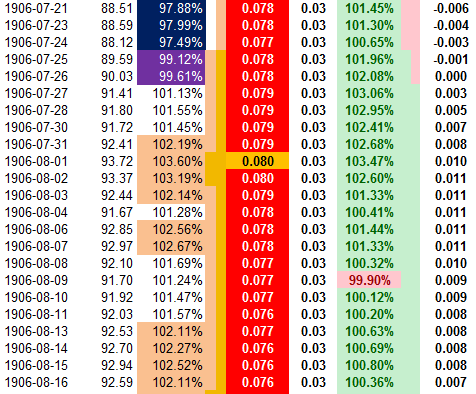 It can take a market that has serious momentum a lot of time to begin to lose steam. Much like a supertanker, a heavy market with a lot of momentum needs time to either turn or stop, much like what happened in 2007-2008.
Due to Livermore's solid standing with his broker, Harding Brothers, he was able to raise up new cash and waited patiently this time for the right moment to begin his bear raiding. He got his chance in December of 1906, when he saw several large railroads (Northern Pacific, Great Northern, St. Paul) diluting their equity by rushing to sell new shares on the market to raise funds. He knew that this was a sure sign of desperation as money was getting tighter all-around.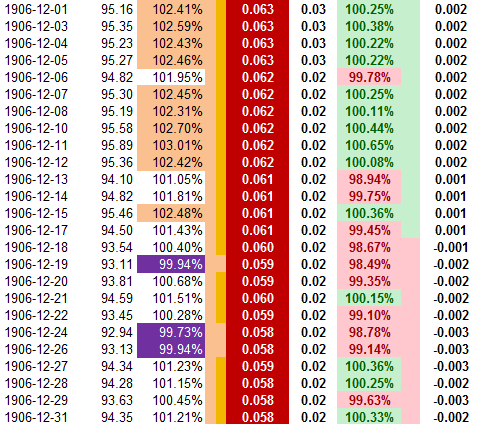 According to the IMTS, the final short signal came on January 25th, 1907. This short signal would last until the next neutral reading came on March 20, 1908.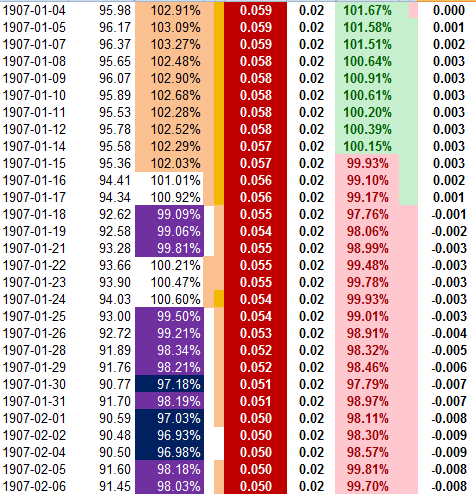 He continued to short the market until sometime in February 1907 and made a big profit on his trades when he decided to cash out and go down to Florida to take a break as the market see-sawed. His vacation was short as he got the itch to start trading again after a week or two when he returned to New York on the Monday following Presidents Day. This is how the market looked:

It was still in early bear territory (Purple & Dark blue) and was still at a high level in two other areas, so this bear drop seemed like it had much further to go. As told by Livermore, he traded on the bear side for about four months before going to Europe on vacation to Aix-Aux-Bains in France when he saw that the market had gotten flat. He left sometime in June with his winnings of $750,000 and had originally planned to return to the States in late August. While there, he got word of a new rise in bullishness in the media and the markets, he decided that the market would soon renew its drop as the full brunt of the credit crunch hadn't been realized yet.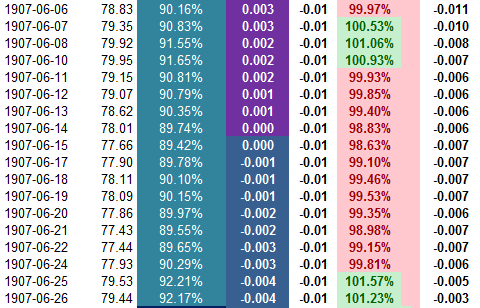 He returned at the end of July or the beginning of August and, as you can see from the readout below, the market was beginning to weaken. The price level dipped into the red zone for the first time in the middle of August. As subscribers already know, when a market lingers in bear territory for too long (blue or red) or recovers only to drop back down to these low levels once again, a further big drop is most likely coming. This was the case this time as well.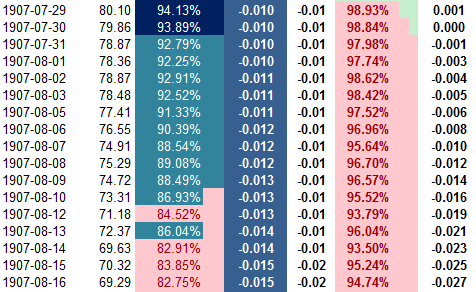 In the book, Livermore states how the money market began to 'megaphone' warnings in late September on wards, but that most people chose to ignore these warnings and kept their speculative investments.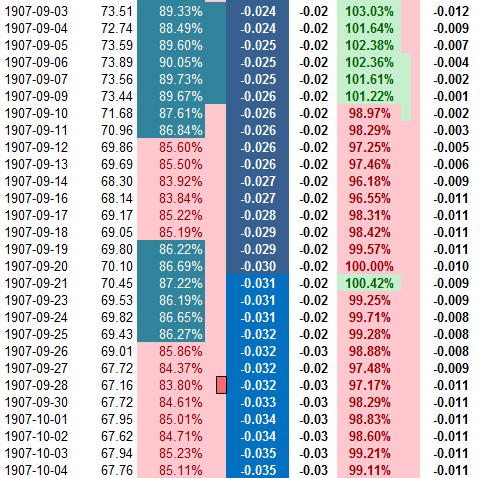 The situation grew worse and, as you can see below, the stock market began to plunge into the lowest level of the IMTS. This is where Livermore made a killing.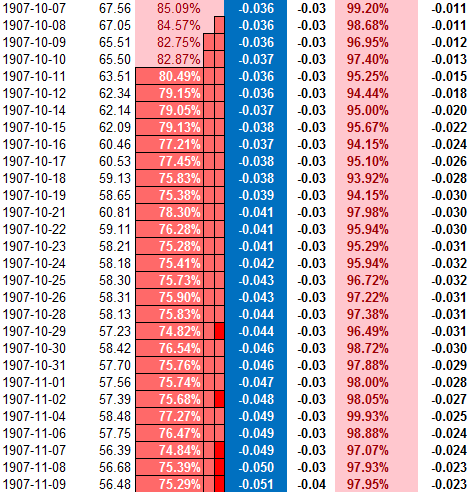 Livermore decided not to push his luck with a market teetering on collapse and exited his shorts on Oct. 24, the same day that J.P. Morgan sent word to him asking him to sell no more stock. He switched his shorts to longs. The market hit its final bottom on November 15th. As you can you above, the market was now in deep red territory and the readings in the 70%b range are historically bottoms for drops. The next indicator being in the -0.05s is also close to a deep bottom. Only the great depression hit lower in both categories. The next reading over to the right, being at -0.04, is also near historical lows, so this would have been an excellent time to exit shorts and go long looking for a rebound.
Disclosure: I have no positions in any stocks mentioned, and no plans to initiate any positions within the next 72 hours. corgano.com, ivancic.ca