Gold
Gold stabilized somewhat after its failed attempt to break through the $1,265 level last Tuesday and Wednesday. It remains at a very low level and may be close to a bottom. That said, it could also be that the yellow metal has one more drop in it before it can stabilize. Looking at the IMTS readout, while gold is oversold, at -.0.046, this is not usually the bottom when an equity, commodity, or index gets in this zone. Bottoms historically have occurred a little lower at the -0.06 zone (except for extreme cases when something gets into Depression-levels, which doesn't seem to be the case with gold. JC Penney is an example of something at that extreme level, due to threat of bankruptcy).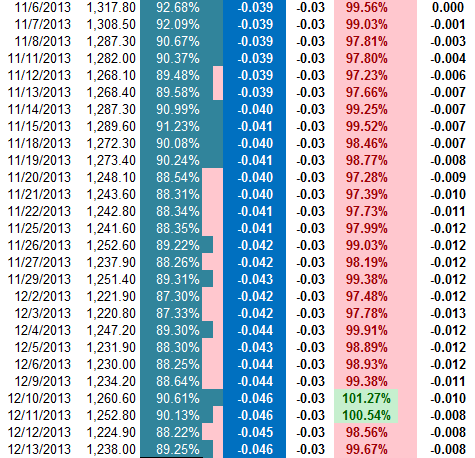 In addition the Extremes Indicator (1st colored column) is also above what typically denotes a bottom. This number, currently at 89.25%, would have to get to the 78-80% range (deep red) area for historical bottoms. It did reach this back at the end of June and the beginning of July, so normally I would call that as the bottom, but since gold has now lingered in this low area for so long, and even dropped back into it after it march higher in late summer, it has given an element of doubt that we have seen the last of gold's price drops.
Also, when you compare gold's performance in relation to yields, you see just how much an increase in yields affects gold.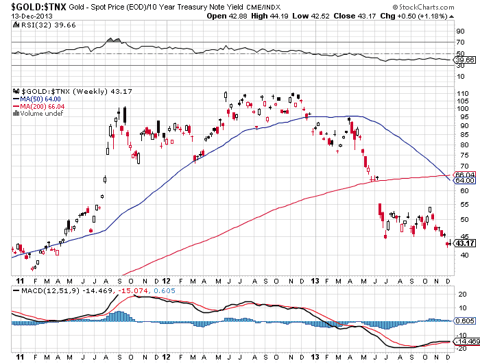 Gold suffered greatly earlier in the year when yields went higher, and it again dropped recently when yields began to rebound just recently. The rise in yields seems to affect gold in the same way that a rise in the US Dollar. It is important to watch both the US Dollar strength AND the 10 year yield strength when looking at gold. Below is the inter-market relationship between gold and the US Dollar.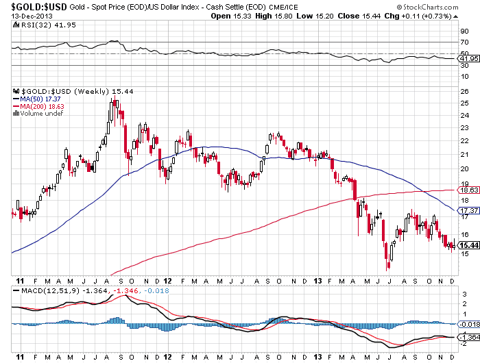 Now, even though gold looks like it had a terrible 2013, it does not compare with how the yellow metal performed back in the early 1980s. Gold rose so quickly back then to its old highs, that when the drop came, it was swift, sudden, and ferocious. Below is the IMTS of July 1981. Gold looked more like silver did earlier this year in its drop.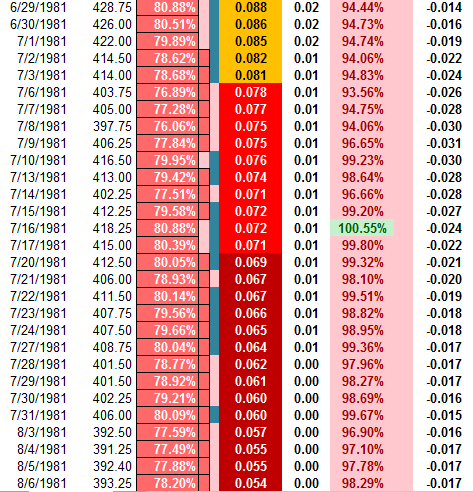 You can see that gold was dropping form a very high level during this period, with the gold coming down from the 0.35+ level (extreme bubble territory, the same levels that the NASDAQ hit during the peak of the Dot Com bubble). Gold was on a rampage, both on the way up and on the way down during those days. The gold bull market of the past 12 years has looked more stable and subdued compared to the late 1970s and early 1980s.
Back to today, gold looks like it should be close to some kind of bottom, but one more big drop is very possible. The downside target is around $1,085 to $1,110 for it to get to a normal, historical bottom. Subscribers will get notice of this, or of when gold finally begins a steady rise out of its current bear market.
Silver
Silver has revisited very deep lows and is looking both very weak and also closer to a bottom than gold does. According to the IMTS, silver is getting close to looking like it could enter the "Depressed" level which could drop below the $18.50 level and may even get as low as $15.50 at some point.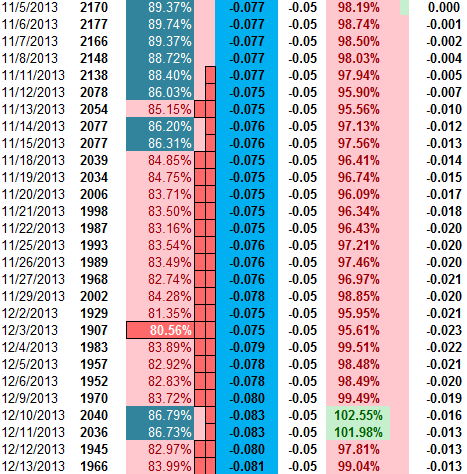 Silver has also been hit hard by the rise of yields in the U.S. Below you can see the relationship between silver and 10 Year Yields, which shows how much a rise in yields hurts silver.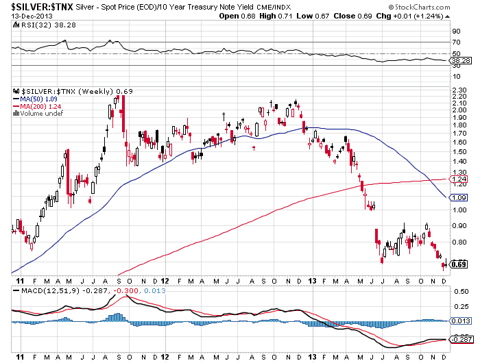 If the Federal Reserve begins withdrawing stimulus, keep a close eye on what yields are doing. If yields begin to rise, both gold and silver will likely suffer more losses. If yields stabilize or if the rise is limited, both precious metals could begin to find a bottom. A rise in yields was the tip-off for me to initiate a short position on silver on Wednesday afternoon, which proved profitable.
Subscribers will be notified immediately of any changes and signals within the IMTS as they happen with both gold and silver this coming week, especially with the Fed meeting coming up.
- Franjo Ivancic
Disclosure: I have no positions in any stocks mentioned, and no plans to initiate any positions within the next 72 hours.