Apple has dropped a bit recently, as we stated would happen in our past Apple update, since the IMTS showed that it had peaked at 0.020 (last column) on Dec. 10 and this usually means the equity would drop down in price until it gets to around -0.001 to 0.003. So, this price drop will probably go on a little bit more before a short term rebound happens.
This is how the IMTS is seeing Apple right now: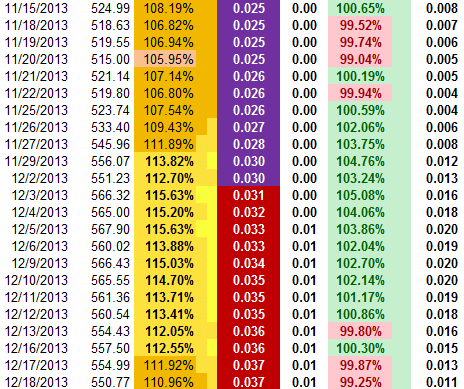 The short term indicator is still high at 0.011, so it will most likely keep dropping a bit more as we mentioned above. The rest of the readout still looks positive, so we don't think that there is much to worry about at this point, unlike Ford (for example).
Our subscribers are still long Apple, until our system begins to sound warnings which it hasn't yet.
Disclosure: I have no positions in any stocks mentioned, and no plans to initiate any positions within the next 72 hours.