I was reading an article in Bloomberg this morning where they mentioned how gold will have its worst performance since 1981. I decided to share the IMTS readout for the entire year of 1981 for gold to show what it looked like for each day that calendar year, along with interpretations of what the signals meant.
Gold's 1980 Peak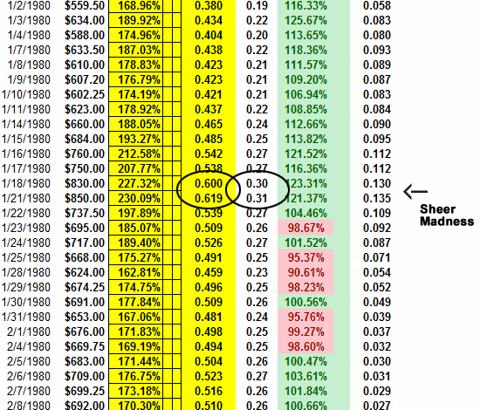 I wanted to show gold's peak at the beginning of 1980 since it showed just how insane the price got in a short period of time. This mania helped fuel the subsequent declines over the next few years and shows a distinct difference to what happened to gold the past several years as the yellow metal never got this overbought.
The main difference between what happened in 1981 and what is happening now is that, back in 1981, gold was in a sizzling bubble when it began its drop while (this year) gold was at a much more normal & reasonable level as it started 2013.
The readings on the 18th & 21st of January are extremely high and usually only seen in low-priced stocks that undergo rapid price breakouts. Hitting 0.600+ on the Extremes Indicator was a clear sign of how unstable and unsustainable the rapid rise to $850+ was for gold.
January/February 1981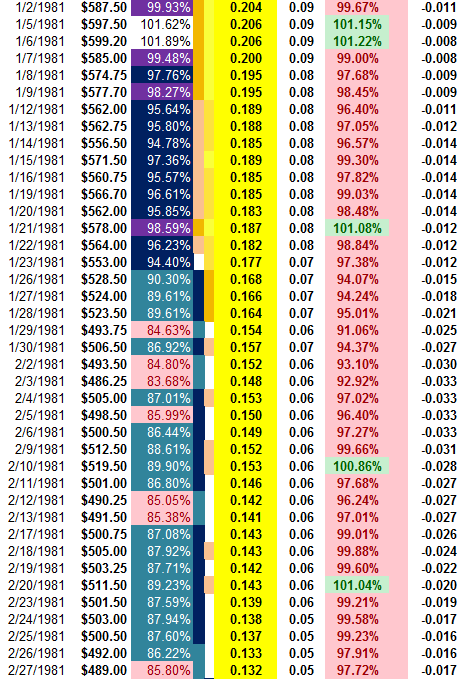 In the year following gold's peak gold had dropped down to sub-600 in price and the appearance of the white, neutral territory that it found itself on January 6th was the last time that gold would be here or higher (not in Bear/Short territory) until August 20, 1982.
The combination of being in bubble territory (Yellow 0.200+), the string of reds that it was putting up (2nd to last column) and that it had returned back into bear territory on the 7th of January were all serious warning signs that gold was headed for more declines.
March/April 1981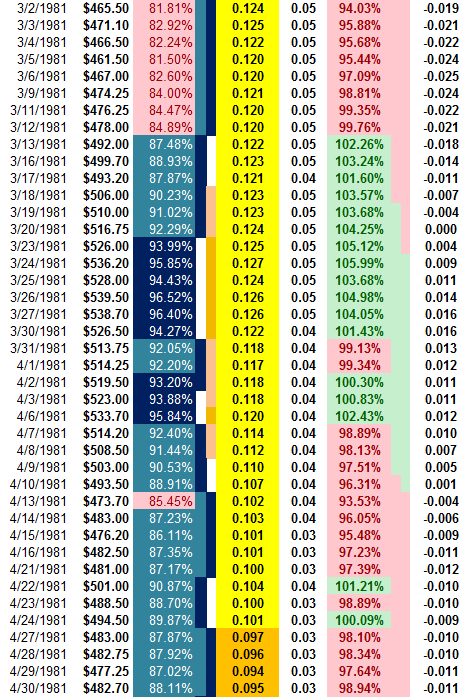 Gold began to show some strength on March 13th as it rebounded from its Jan/Feb drops. It still being in bubble territory was a very good sign that this rebound would not last. Once something begins its plunge from bubble territory (especially an extreme bubble like gold was in) it will almost always keep dropping until it reaches a more reasonable valuation or deeply oversold territory.
Gold finally left its bubble on April 27.
May/June 2981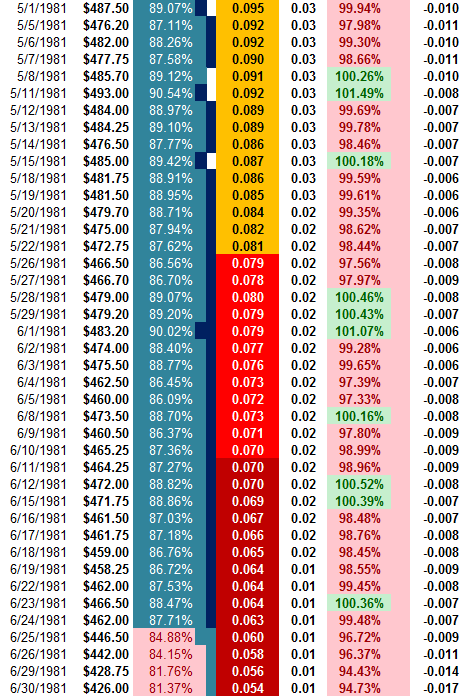 Gold spent nearly all of May and June languishing in deeper bear territory (much as gold has been doing in November and December in 2013) before it began its drop into the second lowest level in the IMTS on June 25th. That day, gold was still at a higher 0.060 level so even though it was no longer in the yellow of bubble territory, this was a clear sign that this drop into the red zone was more likely the start of another big drop rather than some type bottom.
July/August 1981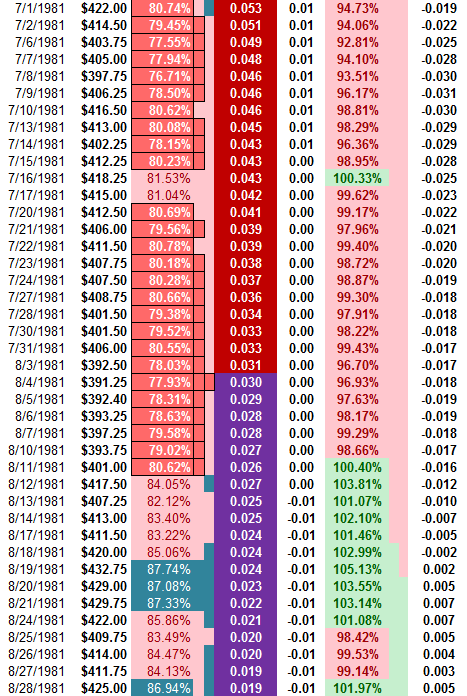 July into August saw gold string together a long line of deep reds on the IMTS (this is the lowest level in the system) and gold looked more like silver of 2013 right here. Gold has not seen this type of carnage in 2013 and by mid-to-late August back in 1981 gold had dropped down to purple 0.019 which is oversold and in normal bear markets usually constitutes the range for bottoms.
September/October 1981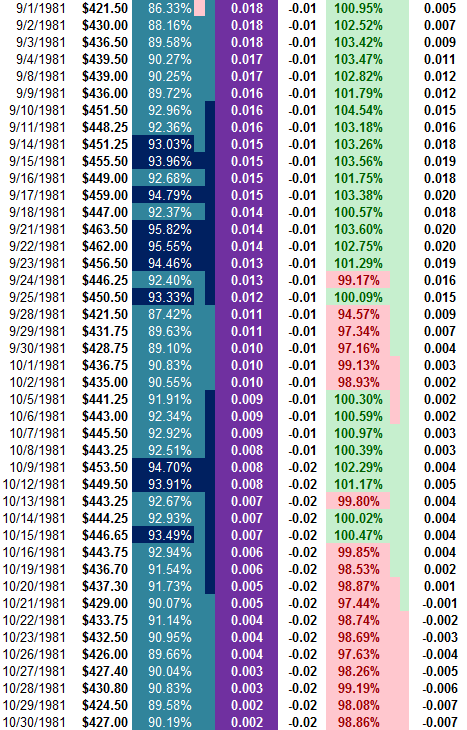 Once again gold began to languish in deeper bear territory during Sep/Oct and, coupled with already being oversold (purple 0.002)and starting to string together a line of short term reds (last column), gold was looking weak and vulnerable again. When something gets to a bottom, it usually begins a string rebound higher on the IMTS and begins to string together greens on the last column as it climbs back towards neutral territory. Since gold wasn't doing this here, it was a warning sign.
November/December 1981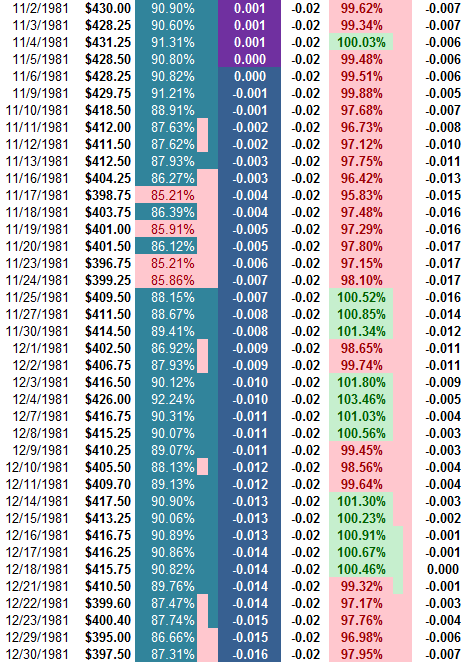 Gold ended 1981 at a lower price again and still very weak. By the end of December, gold was looking very close to what gold looks like right now in December 2013. In the first quarter of 1982, gold dropped back down to the reds and deep reds of the lowest levels in the IMTS and finally found a bottom (at least in the near term in 1982) in late June before rebounding back into bull territory on August 20 of that year.
Disclosure: I have no positions in any stocks mentioned, and no plans to initiate any positions within the next 72 hours.