Back on December 18, we told subscribers that were invested in Ford (NYSE:F) to go to cash, and then on December 19 that Ford was now a short candidate. Let's see how Ford has done since then.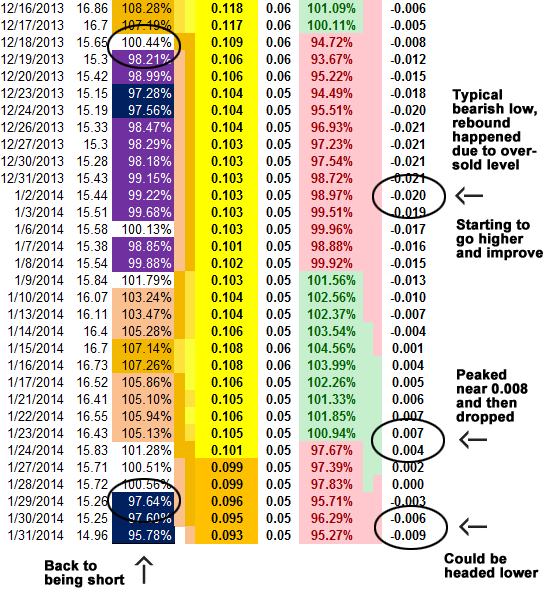 Ford kept dropping and being weak until it found a short term bottom between Christmas and New Year's. We told subscribers to go back to cash after new Year's as the IMTS began showing some noise, alternating between being short and cash for a week. Since the short term indicator was improving from what is a typical bottom reading of -0.021 and rising to -0.016 by the end of the first week of January. This type of improvement signals that the price is increasing due to oversold conditions.
Subscribers were told to go long on January 10, but were told to go to cash again on January 24. With Ford still being in bubble territory, it still had a long way to go before getting down to a normal level. Since the 24th, Ford has dropped strongly to now being below $15. With the short term reading being -0.009, it may rebound a bit soon, but all signs are pointing to continued weakness and losses. Subscribers will be kept up to date and be told when the IMTS shows some type of bottom, so that they can go long and take advantage of it.
Disclaimer: We currently do not hold any positions in Ford (F) and do not plan on initiating any within the next 72 hours.
Disclosure: I have no positions in any stocks mentioned, and no plans to initiate any positions within the next 72 hours.