Perhaps some of you, like me, watched PBS's recent and fascinating series on the Roosevelt years. In 1933 newly elected U.S. President Franklin D. Roosevelt took the helm of a depression-racked country. Instigating a 'whatever it takes" approach, president and his Democratic congress signed into law many popular measures -- collectively known as the New Deal.
Of course America and the world are much different now than in the 1930's. While both the Great Depression and the Great Recession (as the 2008-2009 financial crisis has been dubbed) were debt crises most similarities stop there.
Before the Roosevelt years the U.S. government did little in the way of social welfare. Now, however, many of Roosevelt's New Deal programs (social security, minimum wages, FDIC bank insurance. etc.) are firmly entrenched in the government. Almost all the developed nations in the world now have enacted similar measures.
Another big, perhaps more important, difference is that while debt to GDP fell rapidly during the hard times of the 1930's - no such thing is happening today. While GDP has risen modestly in the last 5 years global debt, now approaching 200 trillion, has marched up tostaggering heights.
Collapsing Commodity Prices
Exchange Traded Funds (ETFs), due to their averaging attributes, are excellent trend indicators.
Commodity ETFs show how prices rose modestly for the first couple years after the financial crisis but, in the last six months, have pretty much collapsed.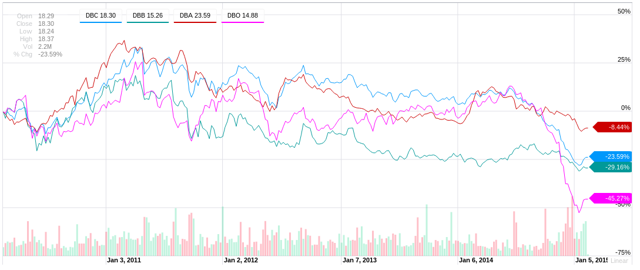 Source: Yahoo Finance
In the last five years agricultural commodities, as evidenced by the Power Shares Agriculture ETF (NYSE: DBA), has fallen 8.4% while base metals (aluminum, iron, copper, etc) as evidenced by the Power Shares Base Metal ETF (NYSE: DBB) has fallen 29.2%. Oil as shown by the Power Shares Oil ETF (NYSE: DBO) has fallen a whopping 45.3%. The broad-based Power Shares Commodity Tracking ETF (NYSE: DBC) has fallen 23.6%.
How can this occur when the monetary bases of currencies across the globe have increased so dramatically since 2008? It's the exact opposite of what most predicted when the Fed (and other central banks) started massive balance sheet expansions. Shouldn't more dollars chasing the limited assets create inflation?
Why Have Central Banks Failed To Boost Inflation And Asset Prices?
It's a complex question, beyond the scope of this article, but here are what others more knowledgeable than I think:
HSCB postulates that "Rather than removing deflationary trends, monetary stimulus merely allows central banks to export deflation to other parts of the world."
Bill Gross, in a recent SeekingAlpha article, notes that demographics, technology, and globalization all tend to promote deflation and that as yields move closer and closer to zero, credit increasingly behaves like cash, losing its multiplicative power. Bill, in his article, goes on to predict: "When the year [2015] is done, there will be minus signs in front of returns for many asset classes. The good times are over."
If, as Bill Gross believes, the good times really are over, what's an investor to do?
Where Can Investors Look For Meaningful (and safe) Returns?
I've noticed that REITs have done quite well in the current, low-interest rate environment. In fact, REITs may be one of the best income generating assets still available to investors. Many REITs yield 4% or more and are regularly increasing their dividends.
Since all REITs must distribute at least 90 percent of taxable income to shareholders, management is usually focused on funds from operations (FFO), This asset sector, is the best measure of health. Also, since many REITs pay monthly dividends, one can easily match income with budgets.
Looking once again at ETF trends, we see that while the broad-based commodity ETF DBC, as noted above, has fallen 23.6% over the last 5 years the Vanguard REIT ETF (NYSE: VNQ) is up nearly 100%. If the trend is your friend, REITs are now the place to be.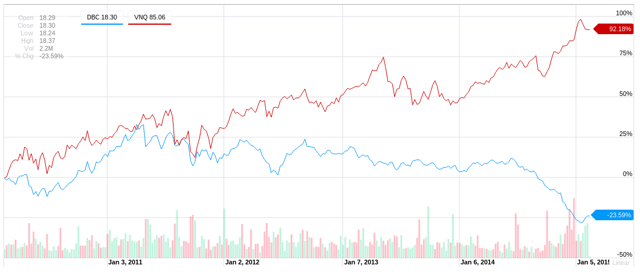 One can take a no-brainer approach here and simply buy VNQ. With 145 REITs in its holdings, VNQ provides investors with a well diversified position in U.S. commercial real estate. Perhaps it isn't such a "no brainer" idea after all -- VNQ has doubled over the last five years.
It's true, REITs often decline as interest rates rise. Yet it's worth noting that many REITs maintained, or even increased, dividends during 2008-2009 financial crisis. Below I profile three such REITs.
Realty Income Corporation (NYSE: O) is one of the most popular, investor friendly, and fiscally sound REITs available. This REIT owns over 4,200 triple-net leased, mostly freestanding properties, Top tenants include Walgreen, FedEx, Dollar General, LA Fitness, and Family Dollar. No one tenant provides more than 6% of revenue.
Realty Income is a dividend aristocrat having increased its dividend for over 25 consecutive years. Currently Realty Income pays a 4.4% annually and has a monthly distribution -- the company is know as "the Monthly Dividend Company." Realty Income has had 79 dividend increases since 1994. If you only buy one REIT, this is probably the top choice.
HCP, Inc. (NYSE: HCP) invests in healthcare related properties. Holdings include senior housing, skilled nursing facilities, medical office buildings, hospitals, and other healthcare related buildings. With the baby boomers reaching retirement age HCP should do well.
HCP is also a dividend aristocrat and has 29 consecutive years of dividend increases. Currently the company pays a quarterly 5.3% annual dividend.
Just recently HCP's top tenant -- HCR ManorCare (29% of HCP's revenue) -- which owns post-acute skilled-nursing facilities, disclosed it is being investigated by state and federal agencies. It's possible HCR ManorCare may be subject to refunds and fines. The extent this will affect HCP, if at all, is uncertain at this point.
W. P. Carey Inc. (NYSE: WPC) holds and manages properties in the U.S. and Europe. The firm invests in properties that are mostly triple-net leased to single corporate tenants. Holdings are highly diversified by region and property type. Holdings include office, warehouse, industrial, retail, hotel, R&D, and self-storage buildings. W. P. Carey believes that diversification is one of the best ways to mitigate risk for investors
Carey has never cut its dividend and has increased dividends every year since the company went public in 2000. Currently Carey's quarterly dividend yields 5.4%.
Further Research
If you are not aware of it yet, SeekingAlpha has a prolific author and REIT expert: Brad Thomas. If you invest in REITs I strongly recommend you read Brad's articles.
Some Cautionary Notes
No investment is without some risk. As we saw during the 2008-2009 financial crisis REITs too can fall in value. REITs have bond like characteristics in that rising interest rates may cause principle declines.
Perhaps Realty Income provides the best summary of REIT risks on its website where even this excellent company admits (though it has never done so) that "dividends that you thought you would get might be cut or discontinued." Give them credit for honesty.
FDR boosted American morale and helped lead us out of the Great Depression but it still remains to be seen what or who will lead us out of the morass of this Great Recession.
Disclosure: The author is long O, HCP, WPC.