If you're already an Industrial Insights member, thank you. For those who follow me but are not aware, Industrial Insights is my Marketplace offering here on Seeking Alpha. The service provides deep research into a sector of the market traditionally underfollowed by many within the market, but it is now one that has recently come back into favor after a stellar performance last year. I'm a firm believer that there are significant opportunities within this sector, and I've dedicated a substantial amount of my own time and energy into research in these companies.
What is driving this blog post? We're lapping my one year anniversary of bringing the service online, and a lot has changed since then. Recently, I've taken the step to be able to dedicate my full time to equity analysis and research here on Seeking Alpha, with Industrial Insights a top priority in that respect. While there are many knowledgeable analysts on the platform, very few have taken the step to dedicate that much time and energy towards it. I'm hoping that means better returns over the next year, although the first one was certainly a success: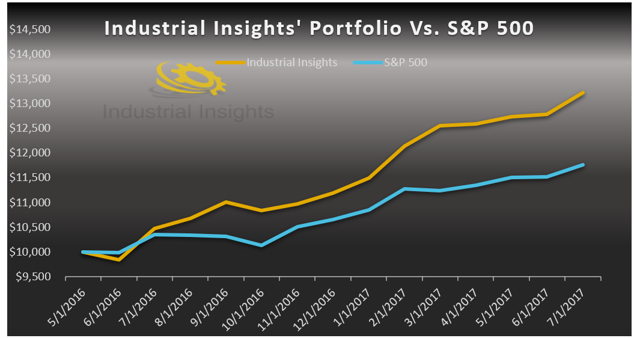 Since inception last year, Industrial Insights' returns have significantly outstripped returns of benchmarks, all with much higher Sharpe Ratio (risk-adjusted return). Out of closed positions, 90% have been successful trades, and 79% of all recommendations (including open positions) currently are in the green. If your portfolio is of any meaningful size, it paid for itself quickly. At the end of the day, we all have limited time, and being a member of services like these helps investors find great ideas quickly, all while being part of a community. I'm a member of several Marketplace services here on Seeking Alpha personally, so I've seen it from the position of a subscriber; it is worth it in my opinion.
I'm all about transparency, so all of these trades are detailed, and every action I take in my personal portfolio is reported to members. This isn't play for me – this is my own real money on the line just as it is yours, and every position I recommend is one that I currently own. This aligns my interests with those I'm aiming to assist. If you're unsure of the concept, I consistently run two week free trials in order to give subscribers the opportunity to make sure that the service I'm providing fits with their expectations; this means no cash outlay risk. Give it a whirl – you might be surprised at how much value it can bring.