*Note: This is a work in progress article, pending official submission*
CenturyLink: a dividend yielder primed for success.
Summary:
Roll-out of new products: PrismTV, cloud hosting, and gigabit broadband services allow the company to grow revenue to offset its declining traditional telecom services.
CenturyLink remains a solid attractive growth option with a robust dividend yield of 5.52%.
Has solid financials that should allow for no further dividend cuts.
Business Growth Factors:
CenturyLink's (NYSE:CTL) current growth is the culmination of a successful string of new products. In the current year, CenturyLink has released services such as PrismTV, cloud-hosting services, and internet fiber speeds of up to 1gigabit. Additionally, CenturyLink has also ventured into the foreign market, offering its network hosting services into the Chinese market. Each venture has allowed the company to make continued gains towards greater profitability.
A. PrismTV
One of CenturyLink's newer products is PrismTV. The program was unveiled in the Omaha, Colorado Springs and Phoenix markets and was met with immediate success, totaling over 200,000 customers since its roll-out. The program continues to grow and within the same select markets there was a net increase of roughly 40,000 (Q1: +24,000 and Q2: +16,000) PrismTV subscribers. In total, this allows for the PrismTV to reach a total of 2.1 million homes and accounts for a roughly 10% penetration rate.
The PrismTV service has been a bountiful addition to the CenturyLink product line and its recent success has prompted the company to aggressively move into more markets. By the end of 2014, CenturyLink is hoping to gain market share in the Denver Market which would push their total coverage into 2.2m homes by the end of 2014. Assuming the conservative assumption that CenturyLink will only maintain its 10% penetration rate for the product, we can forecast at least an increase in roughly 20,000 subscribers for 3Q2014. However, the unveiling into a new market is likely to lead to a spike in subscribers for the 4Q2014 term as it would coincide with the
As the product reaches a wider audience, CenturyLink's strategic revenue (non-traditional telecom services) continues to increase, a great trend that we will examine in more detail later.
With with an aggressive stance, CenturyLink is also pushing the PrismTV experience into the Denver market before the end of 2014. In total, this allows for the PrismTV to reach a total of 2.1m homes and accounts for a roughly 10% penetration rate. The company's foray into the Denver market by the end of 2014 will allow the company to total 2.2m homes in 2014, with expectations of 300,000 subscribers by the end of 2014. Although the numbers aren't staggering, PrismTV remains an attractive venture for the company as roughly 95% of PrismTV subscribers also end up signing up with CenturyLink broadband services. As PrismTV rolls out into new markets it will continue to bolster CenturyLink's network sales as well.
CenturyLink's hosting services were also overhauled. The company recently expanded its gigabit speed services into 16 territories which include Las Vegas, Seattle, and Portland. CenturyLink's aggressive expansion into new markets is an effort to capitalize on hungry residential and business consumers for faster internet speeds. As the clamoring for Google Fiber has proven, the everyday consumer desires faster internet options. Expanding its network services also has some additional benefits. Along with bringing in new business, its infrastructure advancement also allows for better use of its cloud-storage systems. By improving infrastructure, it allows for better products to be sold. CenturyLink's programs, such as ManagedOffice benefit from its internet speed improvements.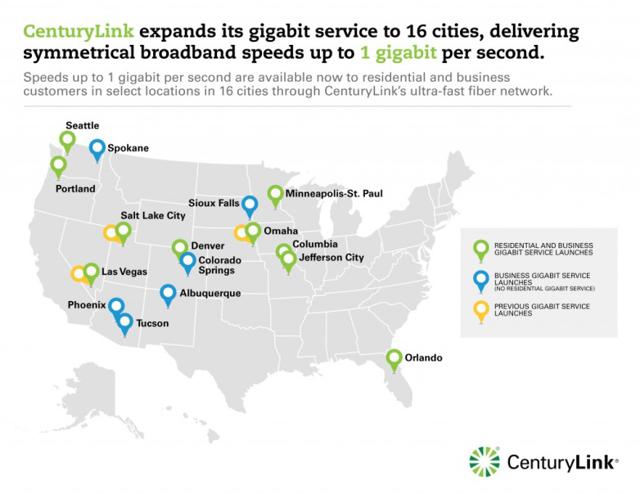 CenturyLink's final growth factor is resultant from its recent push into the foreign market. In early October, the company announced it was expanding its global presence to the Far East, the Chinese markets. The company stated that it initially aimed its global hosting services at multinational corporations in China. This bodes well as CenturyLink's expansion into the foreign markets and it offers a competitive advantage in establishing a global brand.
Financial Performance:
CenturyLink's growth factors have translated directly into financial profit. Looking at the financial records, CenturyLink has shown improvements in both 1Q14 and 2Q14 compared to their 1Q13 and 2Q13 counterparts.
Amounts in $-millions
| | | | | | |
| --- | --- | --- | --- | --- | --- |
| Quarter | Total Operating Revenues | Operating Cash Flows | Free Cash Flows | Dividends | Core Revenue |
| First Quarter 2013 | $ 4,513 | $ 1,933 | $ 1,066 | $ 341 | $ 4,116 |
| First Quarter 2014 | $ 4,538 | $ 1,788 | $ 860 | $ 309 | $ 4,110 |
| Second Quarter 2013 | $ 4,525 | $ 1,858 | $ 703 | $ 320 | $ 4,109 |
| Second Quarter 2014 | $4,541 | $ 1,813 | $ 677 | $ 307 | $ 4,101 |
Source: CenturyLink quarterly earnings reports
A cursory glance at the table shows increases in both total operating revenues. From 1Q13 to 1Q14, CenturyLink saw an increase of roughly $25m in total operating revenues. Between 2Q13 to 2Q14, CenturyLink also saw an increase of about $16m in total operating revenues. Both figures are be correlated to the increase in new "strategic revenue" (refers to PrismTV, cloud services, and gigabit internet services) which is helping to offset the declining "legacy revenue" (or old phone line systems). To put into perspective, as of 2Q14, the strategic revenue amounted to 50.6% of total revenue. Comparatively, in 2Q13, the strategic revenue was only 48.3%. The increase in strategic revenue is a good thing, as it is helping to steady the overall cash position which bodes well for future trends.
CenturyLink was heavily doubted when it reduced its dividend rate in February 2014 but, judging the financial data makes the current dividend yield of 5.52% to be a reasonable rate that is both unlikely to increase nor decrease. CenturyLink's free cash flow in 2Q14 was a value of $677m is more than enough to pay the roughly $307m in dividend payments. But, as CenturyLink continues to expand its broadband network both domestically and in foreign markets, it is safe to assume that a dividend increase is not likely in the coming months.
How it all translates to success:
Now a simple question you can ask yourself, is how does this trend of success translate into potential growth for the company?
CenturyLink is in a prime position for future long-term growth. At the expense of its previously immense dividend yield, CenturyLink re-invested the funds to focus on the growth of projects aimed to bring in strategic revenue to offset its aging legacy revenue.
The success of many new projects such as PrismTV, cloud-hosting services in both domestic and foreign markets, and the expansion of its high-speed Ethernet network have allowed CenturyLink to rise its strategic revenues to comprise a total of 51% of its total revenue. These new, high-value, and subscriber based projects reflects positively in the company's financials. As CenturyLink's total operating revenues continue to creep upwards, the company is looking like a strong hold for the long-term.
Disclosure: The author has no positions in any stocks mentioned, and no plans to initiate any positions within the next 72 hours.